Behind the scenes of Affinity Previews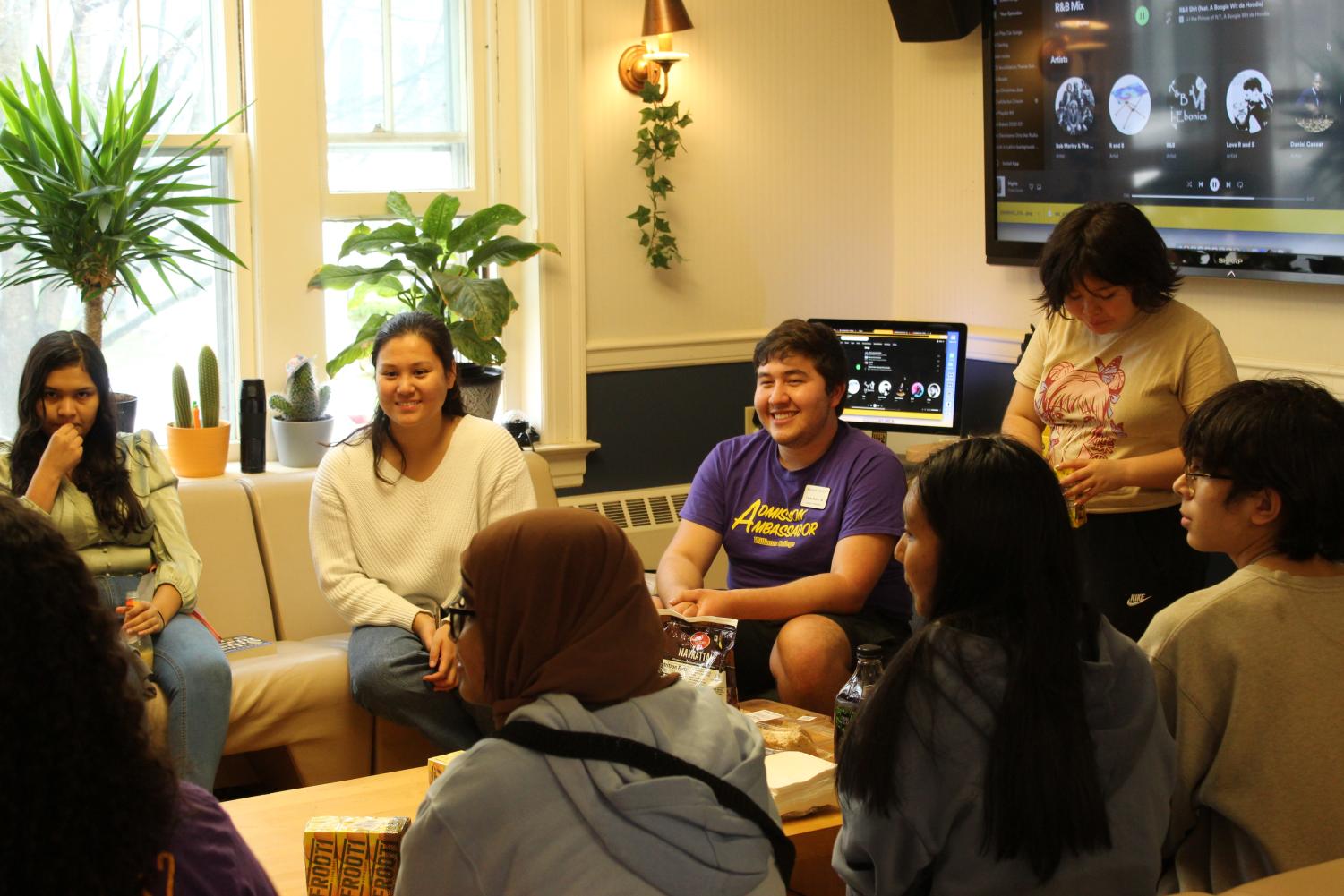 May 1 — known around the United States as National College Decision Day — marked the deadline for applicants to Williams admitted through the regular decision process to accept their spots in the Class of 2027. But between the notification of their acceptance and the deposit deadline, the cohort of accepted students had the chance to experience the College through Williams Previews — an annual three-day event organized by the Office of Admission where admitted students meet current students, faculty, and staff either virtually or on campus. 
Beyond the Office of Admission's activities, incoming students from marginalized groups can also attend Affinity Previews — supplementary programming intended to familiarize them with the College and its resources. This year, Affinity Previews took place on April 16 and 17.
In 2019, the College held its first ever Affinity Previews programming: Black Previews, organized by students, consisted of events for Black prospective members of the Class of 2023 "to more accurately portray the experience of Black students at the College," the Record reported.
"Affinity Previews was important in showing people what they could experience here and having honest conversations," organizer Adna Mohamed '22 told the Record. 
However, Black Previews faced a mixed response when proposed to the campus. At a 2019 College Council (CC) meeting, student organizers faced arguments that, in order to receive funding per CC's bylaws, events must be open to the entire campus — described by Tyler Tsay '19 and Isabel Peña '19 as "anti-Blackness disguised as strict adherence to constitutional rules and bylaws" in a Record op-ed. "Why do we bend the rules for some groups but penny-pinch, berate, and attack Black students trying to make Williams a more livable space?"
Mohamed explained that the controversy left students feeling unsettled; nevertheless, she emphasized the importance of the program. 
Bishoy Yacoub '23, the chair of Black STEM Student Association, said his experience at Black Previews in 2019 motivated him to get involved with the return of the event this year. When he matriculated to the College, fewer Black students had enrolled than in previous years, and he felt particularly isolated. However, through Black Previews, Yacoub said he found community at the College, and in his senior year, he wanted to revitalize the program. 
"The goal was to provide an honest experience of what it's like to be a Williams College student and navigate the space as a Black body," Yacoub said.
Yacoub started to brainstorm in November and began formally planning with other Minority Coalition groups before spring break. This year's Affinity Previews consisted of programming by a spectrum of affinity groups on campus.
Even before the admitted students arrived on campus, Yacoub said, leaders promoted the Black Previews Instagram page and set up a system to match Black admitted students with Black Williams student hosts. When students arrived, Yacoub and other organizers tabled outside Weston Hall. 
Black Previews 2023 consisted of over 10 events with several Black affinity organizations, a conscious effort to ensure that intersections within the Black community were represented, Yacoub said.
"The turnout was incredible," Yacoub said. "I started crying a little when my pre-frosh said, 'This inspired me to go here.'"
He was pleased by the overwhelmingly positive response from prospective students. "I was getting all of these messages on the Black Previews Instagram being like, 'I have been so inspired – I wasn't even considering Williams, but the honesty and the support that I felt in this institution made all the difference,'" Yacoub said. "It's really heartwarming, knowing that the legacy that inspired me to come to Williams is also being given back."
Frances Leung '25, co-chair of Asian American Students in Action and the Chinese American Student Organization, helped organize Asian Previews. "Understanding that Asian and Asian American students on campus have very different experiences from Black and Latinx/e students was important to framing what Asian Previews would provide," she said.
Leung also spoke to prospective students about the College's new Asian American studies concentration and other ethnic studies programs. "It was really important for us to engage with these students who may have very complicated relationships with Asian America and give them a better idea of what Asian American studies might be," she said. 
Mohammad Faizaan '23, another organizer, said he got involved in the program to amplify the voice of the South Asian Students Association within the greater Asian Previews programming. 
He also saw Asian Previews as an opportunity to discuss insitutional history. "I think as a student, it's really powerful to hear what upperclassmen have gone through in a candid way that doesn't try to mask what this institution has historically done," he said. 
Latinx/e Previews consisted of events coordinated by a variety of student organizations – from a kickback hosted at Goodrich Hall, an affinity-wide lunch at Dodd House, and a discussion hosted in collaboration between the Disabled Student Union and Vista.
María Fernanda Estrada '23, a co-chair for Vista, led planning for Latinx/e Previews. She noted in an email to the Record that Vista worked closely with the coordinators of Black Previews, Asian Previews, and the Office of Admission to coordinate across Affinity Previews programming. 
Estrada pointed to the organizers of the 2019 Black Previews as an example of student activism that inspired her and other Affinity Previews organizers. 
"Particularly for Latinx Previews, we wanted to highlight the idea that Latinidad presents and manifests itself in various ways and there are a myriad of organizations to turn to within the Latinx affiliate organizations to find community," Estrada wrote. "I hope we highlighted that no matter how close or far you are from home or how in touch you're with your Latinx identity, there can be a familia at Williams to lean on."
Further programming was hosted by the Muslim Student Union, the Williams College Jewish Association, and Williams Firsts. 
Tenzin Tselha, a prospective student who attended Williams Firsts programming – which sought to introduce first-generation college students to the College – said the more intimate setting made it easier for her to meet other students and feel more at home, she told the Record. One first-generation senior who shared her interest in biology even offered to walk Tselha to an event on the subject.
Tselha said she appreciated the students' honesty about both good and bad experiences at the College. "It was nice to see that there's a community [at Williams] who you can rely on if something does happen to you," she said.
Yacoub said he hopes Affinity Previews will continue in subsequent years and stressed the program's potential to make a lasting impact on prospective and current students.
"There is power in coming together within all of our communities, regardless of our differences," Yacoub said. "We want more of the people who look like us here, and Affinity Previews does that."