PAC hosts monthly stand-up nights in Perry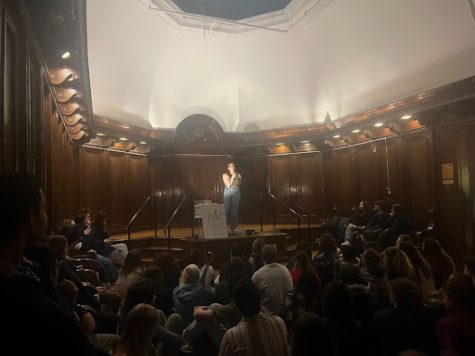 What could a jam-packed crowd of College students be doing in Perry Goat Room on a Friday night? Watching a stand-up comedy show, of course.
Since May 2022, People Against Comedy (PAC) — the College's stand-up and sketch comedy group — has hosted what its Instagram page describes as "monthly-ish" stand-up comedy shows featuring sets from both new and returning performers, core members of the College's comedy scene and those who were so close to escaping its orbit.
As serious reporters committed to hard-hitting journalism, we naturally went to investigate the group's most recent show on March 10. And reader, we finally found the answer to an age-old question: Is there any way you can get dozens of college students to willingly sit criss-cross applesauce on a dorm floor of dubious cleanliness for an hour straight? The answer is yes, and the way to do so is to regale your audience with stand-up comedy about embarrassing childhood stories, embarrassing high school stories, and Catholicism. 
With joke topics ranging from constructing anti-vaping-themed escape rooms to being "math-sexual," the sets covered the full spectrum of the human experience.
Greer Ingoe Gerney '25 and Lizzie High '24, members of the PAC board, handle the logistics of organizing the shows. The shows happen once every month in the academic year except for November and April — when PAC has its fall and spring semester sketch comedy shows. Gerney and High handle the administrative aspects of booking venues and checking out equipment, such as speakers and microphones, from the library; they also solicit original stand-up submissions, read over sets, and decide who will perform at each show.
Since PAC is a no-audition group that prioritizes accessibility to comedy, according to Gerney and High, anyone can perform regardless of prior experience. When more people express interest in performing than there are slots available, Gerney said they operate on a "first-come, first-served" basis, but they give priority to those who have not yet performed in a PAC show.
"You don't have to apply to do this sort of thing, and we want to get new folks up on stage," Gerney said.
"Anyone who's interested can and should get involved," High added.
The popularity of the stand-up shows has caught on. "Every show has either had the same number — or a greater number — of audience members than the last show, which is really fun and exciting," High continued. 
When asking for submissions, Gerney and High offer advice to overcome writer's block. They  ask  simple, but deeply profound questions to first-time stand-up writers. "What's your 'weird?'" Gerney said. "What's something weird about you? What's weird about your hometown or people that you're friends with?"
High also suggests that diving right into drafting a set can be helpful. "Start typing and don't stop," she said. "Come out with 1,000 words about something that you can read back and edit later."
Gerney's other tips are to avoid punching down and to draw on personal experiences. For High, telling embarrassing stories is part of the joy of comedy. "It's fun to laugh at myself," she said. "And if I'm laughing at myself, laughing is really fun, so other people should do that too." Gerney and High said this is exactly their goal at a PAC stand-up night.
The stories in the sets are, well, mostly true. "For mine, there's a lot of embellishment," High said. "But if there's one part of my set where it's like, 'There's no way that happened' — that's usually the true part."
The challenge of organizing stand-up night — aside from requesting to use certain rooms — is making editorial decisions, Gerney said. "There are a lot of different things that are funny to a lot of different people," she continued. "We don't ever want to be the arbiters of what's funny."
Gerney and High welcome stand-up writers and all senses of humor with open arms. "We're friendly," Gerney said of PAC. "The most exciting thing for us is when somebody shows up and says, 'I would love to do this.'"