Farewell to Farwell: Pete Farwell '73 reflects on 44 years at the College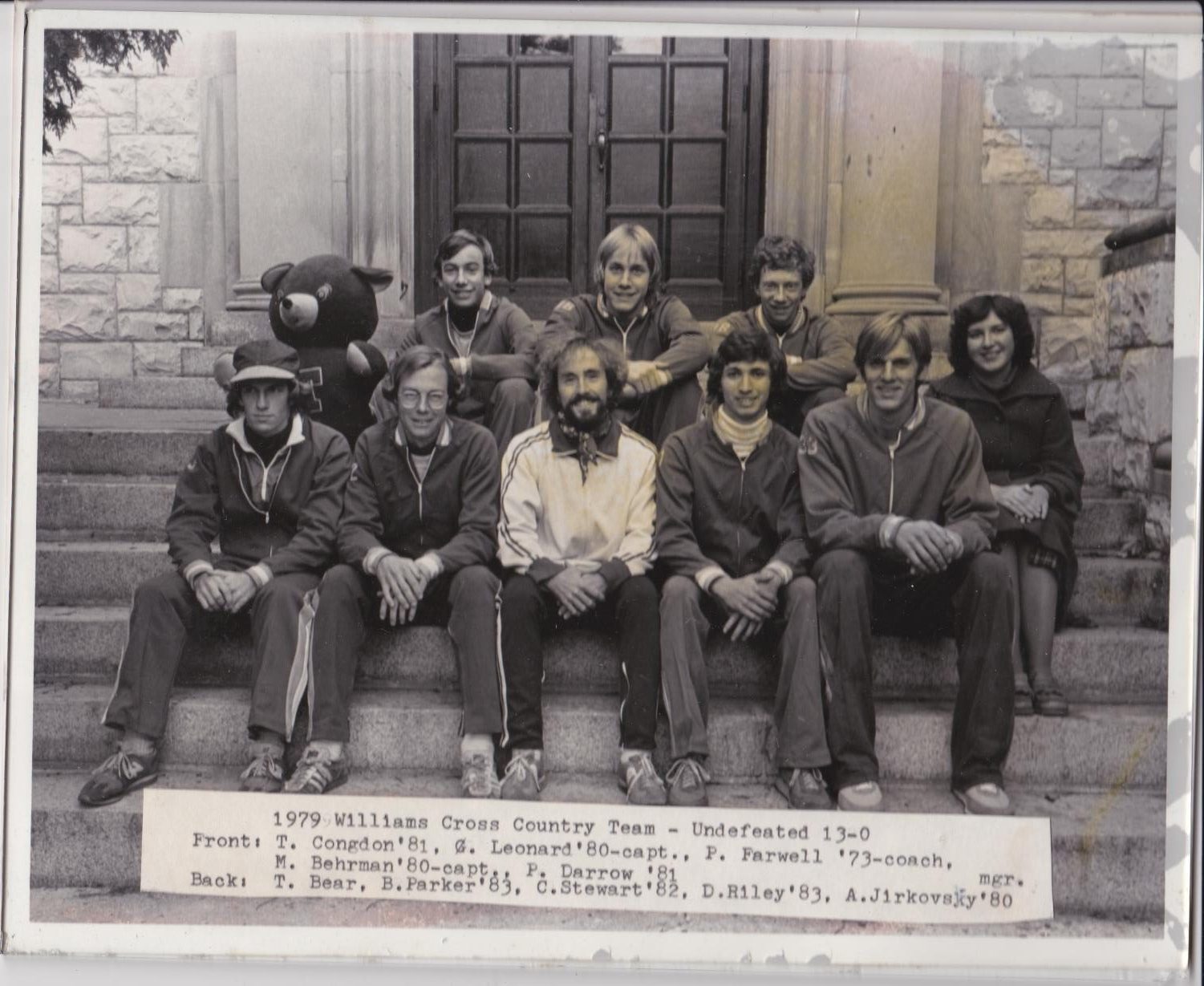 "I often say I haven't worked a day in my life," Pete Farwell '73 told me in his trophy-laden office. "I so much enjoy being with the teams."
Farwell has "worked" at the College for 44 years now, beginning in 1979 as one of the coaches of the men's cross country team and now serving as head coach for the men's and women's cross country teams and assistant coach for the men's and women's track and field teams. With Farwell set to retire in June 2023, his fall 2022 cross country season was his last in an official coaching capacity — though he plans to help out at home track meets and practices this spring.
His long and committed history with running began, as so many things do, with the universal, indefatigable, evolutionarily-fated desire to run 1,000 miles in one summer. Farwell joined his high school's cross country team as a freshman almost on a whim — "pretty good" was his succinct summation of his experience. But as a rising junior, he felt his improvement had stagnated due to a lack of off-season training in favor of other pursuits — something he was determined to fix.
And how does a runner improve? More running.
As an Illinoisan, his coach was keenly aware of a particular high school cross country team in their state, which was known as the best in the country year after year. Word got out that the team's summer training regimen included each runner completing 1,000 miles in runs over the three-month break. Imitation is the sincerest form of flattery, so other schools — including Farwell's — set out to pay their respects.
The pledge to run 1,000 miles that summer was how Farwell found himself ill-prepared and outmatched on an eight-mile team run to kick off training. "We got to this forest preserve on the trail, and I'm [in the] back with one other guy, and we were left well behind," he said. "The next day I was so sore I couldn't run at all for a couple of days."
1,000 miles over a summer works out to approximately 10 miles a day — a feat that outstretched Farwell's capabilities at the time. Instead of running 10 miles in a row, he ran three miles three times a day. "I started running morning, noon, afternoon," he recalled.
Before long, he began running five miles twice a day, then finally could run 10 miles in one go. "That was when I really made a commitment to running — not just to compete, but to train," Farwell said.
Farwell went on to run cross country, indoor track, and outdoor track during each of his four years as a student at the College, even clinching the 6-mile school record. During Farwell's time as a student at the College in the early 1970's, the landscape of Williams cross country and track was vastly different, both physically and structurally. The outdoor track was a third of a mile long instead of the standard quarter. It lapped the baseball diamond, and was made of gravel. The NESCAC didn't even exist as a conference when Farwell entered the College in 1969.
When Farwell graduated, he went back home, got a job, and trained on his own to qualify for the Olympic trials. "I did make the time to get into the trials — [but] missed by nine seconds of getting where you could get [transportation] paid for," he said. "I was going to go anyways, but then got a foot injury that sidelined me." Though disappointing, the experience coincided with the events that led him into his coaching career. Eager to return to the College, Farwell worked with then-coach Tony Plansky to create a cross country alumni meet — a tradition that continues to this day — so that he could run at the College once again.
At the meet, a group of boys from Mount Greylock Regional High School approached Farwell and asked if he would consider moving back to Williamstown and coaching their track team. After some time and consideration, he agreed.
When Farwell was hired by the athletic director of the high school in 1978, he was told, "'Well, I think we can take you, but I have one big reservation about hiring you… You must be crazy to come out here to coach for three months and get just $200 a month.'"
"'Yeah, I guess I'm a little crazy, but I want to do it,'" Farwell replied.
After a year at Mt. Greylock, he assumed the role of head coach of the College's men's cross country team in 1979. Later, he would also become head coach of women's cross country in 2000, and since 1988, he has served as both the head and assistant coach for men's and women's track and field. One of the biggest changes to the program that Farwell oversaw was the integration of the men's and women's cross country teams, since he served as head coach for both teams. Under his tenure, the teams were put on the same training regimen and began holding practices at the same time. "The two teams really worked well together and learned from each other," he said. "Both teams improved… I'm glad that worked out because that's made these last 23 years even more exciting."
Farwell's time coaching for the College has been defined by his interactions with the students he works with. His job comes with logistical and administrative duties beyond coaching his athletes — but running practices, he said, has uncontestedly been his favorite part of the day. "You go into coaching because you love the sport [and] you love working with the students," Farwell said.
He recalled an instance in which one of his runners, worried about how frazzled Farwell looked walking into practice, asked him if he was okay. "The office demands are behind me," Farwell responded. "As soon as I get to practice, this is what I live for."