College admits 255 students to Class of 2027 through early decision after record-breaking 943 applications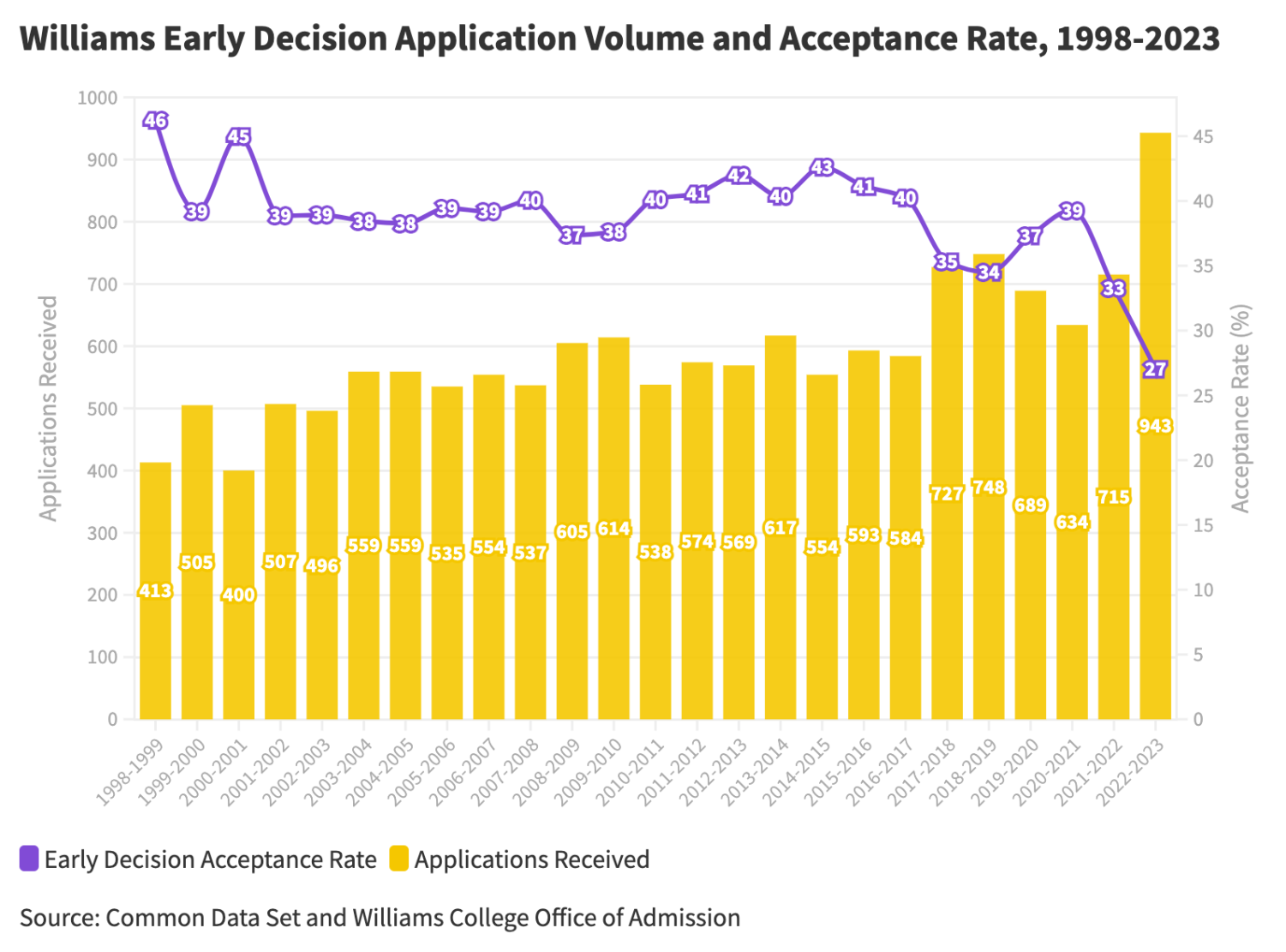 The College accepted 255 students — 27 percent of applicants — to the Class of 2027 through early decision today. In total, the College received 943 early applications this year, making it the largest early decision applicant pool in the College's history. This year's early acceptance rate, a six-percent decrease from last year's, is also the lowest on record.
The College has additionally decided to extend its test-optional program for at least three more years, through the 2025-2026 admission cycle.
The College deferred 144 applicants for early decision — 15.2 percent — for reconsideration during the regular decision process, according to Dean of Admission and Student Financial Services Liz Creighton '01. She noted that the College typically later admits 20 to 30 deferred applicants. The remaining 544 early applicants were denied admission.
This year marks the third consecutive admission cycle in which the number of early applicants has notably increased. The College's second-largest early decision candidate pool consisted of 748 applicants for admission to the Class of 2023.
Early applicants to the Class of 2027 were the first students to apply to the College following the announcement of its new all-grant financial aid program, which eliminated all loans and work-study contributions from aid packages. Many current first-year students said that the new policy, which was announced before they were required to accept or reject their offers of admission, was a strong selling point for choosing Williams over other schools. 
As a result of its three-year test-optional pilot program, the College did not require applicants to the Classes of 2025, 2026, and 2027 to submit SAT or ACT test scores, though applicants' tests were considered if submitted. Creighton noted in an email to the Record that the College has chosen to extend the pilot for an additional three years, through applicants to the Class of 2030. "At that point, we'll evaluate the pilot and make a longer-term decision," Creighton wrote.
Other institutions of higher education, including Harvard and Cornell, have similarly decided to extend test-optional policies originally put in place during the COVID-19 pandemic.
Unlike applicants to the Class of 2026, for whom all writing supplements were optional, applicants for the Class of 2027 were required to submit a short essay in which they reflected on an interaction with someone whose background, identity, lived experience, or perspective differed from their own. "We were excited to give applicants the opportunity to reflect on their experiences learning and engaging across difference," Creighton wrote. "The supplemental question gives us one more piece of information in our quest to understand each applicant's perspective and lived experience."
The College expects to receive between 10,000 and 15,000 additional applications via the regular decision process, Creighton said. Last year, the College received 14,305 regular decision applications and accepted 1,048 students through that round, enrolling a first-year class of 577 students — the largest in the College's history.
Regular decision applications to the College are due by Jan. 9.
This article was updated at 11:20 a.m. on Dec. 10 to correct the duration of the test-optional extension. It will be extended for at least three years, not two.