Temporary 'pod' in Sawyer dazzles some, baffles others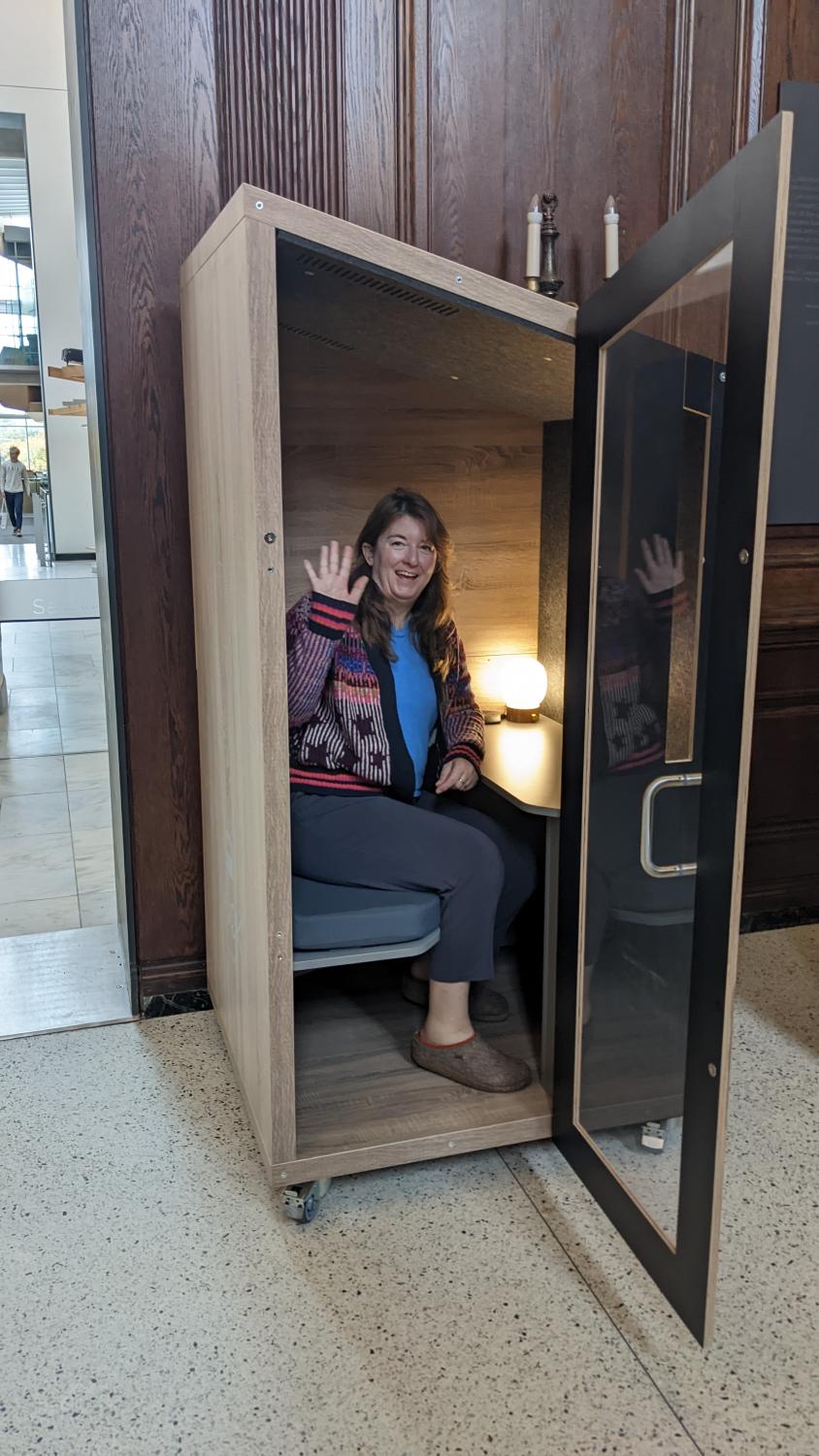 During its two-week tenure, the Sawyer Library pod was hard to miss. Standing just under six-and-a-half feet tall and covering a rectangular footprint of 36 by 40 inches, the small structure sat in the most heavily trafficked part of the building — right next to the library's main entrance. Its sleek, minimalist design posed a stark contrast to the old-school grandeur of the lobby. And its full-length window allowed passersby to view the pod's occupant as they studied, not unlike how one might observe a small animal's glassed-in exhibit at the zoo.
The pod, branded as the Nook Solo by its manufacturer, was tested by Williams Libraries as a potential addition to the various types of study spaces available to students. As its surname suggests, it is designed to fit exactly one person. According to the manufacturer's website, the pod includes four power outlets, some soundproofing, and two "ultra-quiet" fans for ventilation.
Director of Libraries Jonathan Miller wrote in an email to the Record that "pre-dating the pandemic, but certainly accelerated by the pandemic, we have seen a need on the part of students for private space where they can take a phone call or participate in an online meeting in a way that maintains their privacy and also does not disturb other library users." He added that, more generally, he has heard from students who appreciated having access to distraction-free study areas.
Despite its portability, this particular Nook posed some challenges for library staff. Its placement in the busy lobby was a physical necessity. "It came fully assembled, which meant that we could not get it through the security gates," Miller said.
Though he said that the pod's location was not ideal, Garrett Makosky '26 found it useful for concentrating on work. "I had an essay to crank out in a relatively short time," he said of his experience trying out the pod. "Even if it didn't actually block you off from anyone else, it created an atmosphere of privacy and concentration that helped me work better."
The library encouraged students to provide feedback on the pod via a QR code posted on one of its walls. Responses to this survey were largely positive; Miller shared with the Record a word cloud of all the responses, in which word frequency corresponded to font size. The largest word, by far, was "MORE."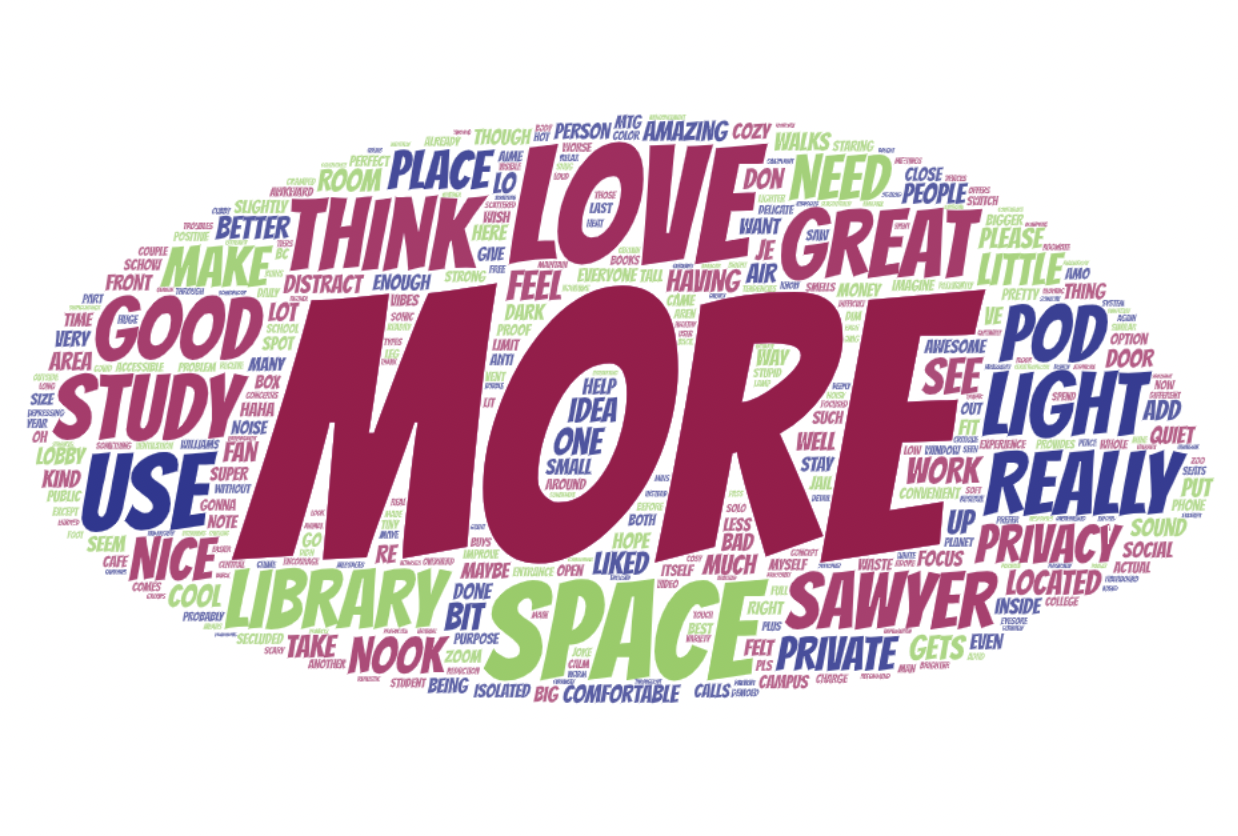 "I think it's a great idea and should be incorporated in other spaces and areas of both Sawyer Library and campus in general," one anonymous respondent wrote in the library's survey.
"I love it," wrote another. "As a student with ADHD, these pods could make using the library a much more comfortable experience. These limit distractions so much, and the small pod space is perfect to prevent me from getting overwhelmed by my surroundings." (The pod's manufacturer also makes a "Sensory Nook" model, designed for neurodivergent people who especially stand to benefit from a soothing or stimulating environment.)
Detractors among the survey's respondents described the pod as "dystopian," "claustrophobic," and "scary."
Carolina Skinner '23 said that she was skeptical of how representative the survey's results would be. "It's just people who would be more inclined to go into the pod who are giving their opinion on the pod," she said. "I personally sat in there for a few seconds, found it to be a bit claustrophobic, and also just kind of stuffy."
Skinner added that her brief sojourn in the pod was unpleasant for another reason. "It was smelly," she said.
Miller spoke positively of the pod, mentioning that he could imagine them being incorporated into other, non-library buildings on campus. He added, however, that if the College was to purchase some, it was not likely to do so within the next year due to its tightening budget.
He also offered an assurance to those who were skeptical of the new study option. "Research indicates that students like flexibility and variety when it comes to study spaces," he wrote. "We are certainly not contemplating filling your libraries with thousands of individual pods, like some dystopian scene from a Matrix movie!"