Tossing teddy bears and collecting betting jerseys: Men's cross country and rugby talk team traditions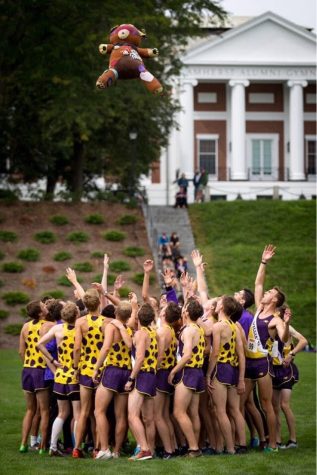 Athletes are no strangers to tradition. From superstitions before games to bonding rites, these customs can tie a sporting community together and inspire devotion among fans and players. 
The College's men's cross country and rugby teams are two groups that have unique, longstanding, and heartening rituals that deepen team bonds. 
Men's cross country 
At 44 years old, T-Bear certainly looks his age. The teddy bear is eccentric, to say the least — it is approximately the size of a small child, with colorful patches, stuffed animal heads sticking out of his body, and other colleges' logos haphazardly sewn all over it. "Frankensteinian" is how Elias Lindgren '23, co-captain of men's cross country, described him. 
Despite T-Bear's distressed condition, for the past 44 years, the men's cross country team has gathered around T-Bear at each meet to toss him in the air and catch him right before their race starts. 
"It's a bad omen if it hits the ground," Lindgren said. The mythos surrounding the T-Bear toss began in 1978 after a first-year on the team won him in a post-race raffle and began bringing him to practices and meets. At one of these meets, the team threw T-Bear into the air right before racing. When the team performed well in that meet, they decided to continue the tradition as a good-luck charm.
That year, the MIT cross country team stole T-Bear and stitched their logo on his head. Since then, teams across the country have taken it upon themselves to steal the bear and leave their mark on him, whether through trickery or brute force. 
The heists and subsequent return missions have grown more and more elaborate throughout the years. From teams breaking into dorms where T-Bear is held to following anonymously sent GPS coordinates to a random thicket of Maine woods, the stories of losing and subsequently retrieving the bear transcend belief. Just this past Saturday at the NESCAC Championships, a member of the Hamilton team attempted to tamper with T-Bear by posing as an Iowan spectator clueless about T-Bear's history and asking to hold him. "He was denied this request," Lindgren said. "But we actually almost let him hold the bear, because we were so sold on the idea that he was from Iowa." 
In the past few years, though, teams have begun resorting to more physical methods of acquiring the bear. Particularly at Nationals, since most of the team isn't running and instead surrounding the bear, "some will try to steal the bear, and there will be a massive pile-on of people, and it just devolves into a big fight," Lindgren said. 
"We really do wish that teams would lean more toward getting the bear through cunning rather than just physically overpowering us," he said. Members of the team have had their injuries exacerbated in skirmishes, and the team has had to shift from a "protect the bear at all costs" mentality to a "relinquish the bear if you are in physical danger" mentality.
It would be impossible to say that the team does not treat the security of T-Bear with utmost seriousness. At meets, the women's team, injured runners on the men's team, and even spectators are recruited to form a quasi-defense squad for T-Bear, colloquially known as "Bear Force One." When the track team attends cross country meets, they are frequently drafted into this group of elite protectors, Lindgren said. "We'll have the biggest, burliest thrower just hold him very tight, because nobody really wants to mess with him," he said.
 All the tussle over T-Bear — and his ripe age — has left him worse for wear and littered with other teams' logos. "It's kind of like the Ship of Theseus," Lindgren said. "He's been repaired so many times that I'm not sure how many of the original parts are left." 
Over his 44 years of life, dozens of patches and decorations have been affixed to T-Bear, and he's suffered injury after injury — he was once even decapitated after a particularly rough clash over him — but the team remains as devoted to him now as in the beginning.
Where is T-Bear now? "He's in a secure and undisclosed location," Lindgren said, revealing no more information about his whereabouts. 
Men's rugby 
Anyone even tangentially connected to the College is familiar with the legendary feud between Williams and Amherst, and the men's rugby team is certainly no slouch in its contribution to it. 
Twice every year, the rugby team faces off against Amherst in a grudge match — once in the fall and once in the spring. The week leading up to the match is referred to as "Amherst Week," and during that week, "everything changes," according to Carlos Hernandez Tavares '25, a member of the team. 
The larger rugby community — including less active members of the team, former players, and fans — show up to practices, cheering on the team, helping run drills, and volunteering to scrimmage against the starters. The night before the game, the team gathers in a circle to swap stories, sing songs, and talk about what the team means to them. And for the entire week leading up to the game, the upperclass members wear their "betting jerseys" to practice every day. 
The betting jerseys are a longstanding tradition between the rivals — the starters on each team procure jerseys to wear during the game as a bet, and the winner of the game keeps their jerseys, while the loser forfeits their jersey to the winning team.
In recent history, Williams has taken home far more betting jerseys than it has given up. Until spring 2019, Williams had a seven-game streak of beating Amherst in both games. When Williams lost in 2019, it upended the hopes and expectations of many on the team. 
"A lot of the seniors who lost had one Williams jersey that they had all four years and seven Amherst jerseys that they just collected," Hernandez Tavares said. "So those seniors had to give up the jersey they've had for four years now — wearing it to every single [Amherst Week] — in their senior spring." 
Amherst continued defeating Williams' rugby team for two years before the natural order of things was restored in fall 2021, Hernandez Tavares' freshman fall. He still remembers the words a senior said to the team the night before that game. "Tonight's the night we build a dynasty," he said. 
And so they did. They won the next day and beat Amherst in the next two games, collecting betting jerseys with every win. 
The giddiness of beating Amherst in their grudge matches has left an indelible mark on his memory, Hernandez Tavares said. "That level of memory — like you can feel yourself being there again — that only happens in Amherst week," he said. "It's a special thing." 
This article is the first in a two-part series about team traditions. Next week's article will profile the women's soccer team and Williams Ultimate Frisbee Organization (WUFO).