Student marathoners find joy and community in recent runs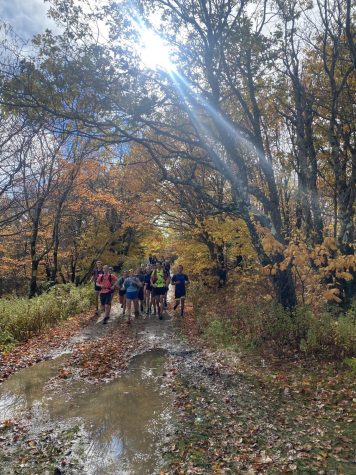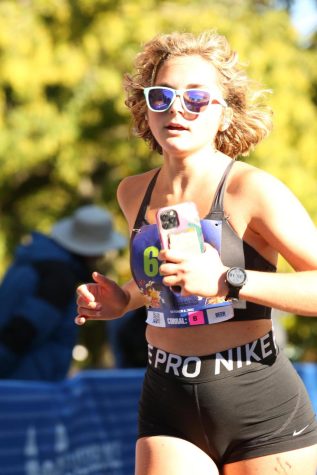 Every year, as October marches briskly along, an air of anticipation creeps onto campus. Students plan for trips during reading period and speculate about which fortuitous Friday will be deemed Mountain Day. This year, however, as the leaves changed and the College began the rapid, increasingly bleak trudge into midterm season, some students found themselves neither relaxing nor studying over their mini-vacations but instead running marathons and half-marathons.
Over reading period, students ran full marathons across the country and half-marathons more locally, while this Mountain Day, Nordic skiers continued a long-established tradition of running a marathon through the mountains with their teammates. The Record spoke with three students about their experiences training for and running these famed races.
For Jesse Schumann '25, running the 2022 Chicago Marathon took three years. Though he ran the course in a matter of hours, his journey to the finish line began much earlier — in fall 2019.
There are three main ways to qualify for the Chicago Marathon: Run and submit a qualifying time, win a randomized lottery, or raise at least $1,250 for a local charity of one's choice.
Schumann and his cousin, planning to run the marathon together in 2020, each raised $2,000 for Back On My Feet, a Chicago nonprofit that utilizes running and community to help people experiencing homelessness find housing and employment.
When the COVID-19 pandemic hit and the 2020 marathon was canceled, Schumann deferred his entry until 2022, making the marathon a culmination of three years of waiting.
Though running the 26.2 -mile race is often thought of as a feat of athletic prowess, students also described an intense emotional aspect as part of the experience. Schumann said he was brought to tears at mile 15 of the race after seeing a woman's reaction to hearing her daughter cheer for her from the sidelines. Seeing the mom recover her motivation and speed up was emblematic of what he found so special about running marathon, he said.
"It was very much a happy cry," he said. "It just hit me that there [are] 40,000 people running this race, and all 26 miles there's someone cheering us on or playing music, and it was like — 'This is so cool that so many people can come together just to encourage each other.' It was a very 'I love life' moment."
Sophie Bellwoar '25, who ran in the Hartford Half Marathon over reading period, also emphasized the emotional connection that running facilitates. A large part of her motivation to run competitively came from her mom, she said.
Bellwoar took up running during her freshman year of high school due to an ultimatum from her mom: She could either run with her or go to therapy. "I hated it [at first]," she said, reflecting on her first few months. "I thought it was horrible, and it was really hard for a really long time. But then it started to get easier, and [now] I love it, and it became really fundamental to my relationship with my mom."
Running together for three hours every week brought Bellwoar and her mom together in serendipitous ways. "I would open up to her about things that I wouldn't if we weren't running together," she said. 
The mother-daughter pair ended up running four half-marathons together. Bellwoar's fifth, the 2022 Hartford Half, was the first she did alone — though her mom was there to see her run a 1:35:38 time and finish first in her age division.
"She was really proud," Bellwoar said of her mom's reaction. "She never posts on Facebook — I think the last time she posted was for my high school graduation — but she posted for this."
Though they were unable to train for and run the race together due to distance and time constraints, Bellwoar said that the half-marathon, in some ways, still brought them together. "Especially when I'm just doing six-mile easy runs, I definitely missed my mom because those are the ones we would do together," she said. In order to remedy their absence from each other, she said, "sometimes we'll run in our separate states and still call each other on the phone."
Schumann, too, felt that his training brought him closer with family members. He and his cousin began running together as a way to bond, leading to them running multiple half-marathons together and culminating in the full Chicago Marathon during reading period.
Schumann's venture into running, particularly marathons, was heavily influenced by his cousin's encouragement, but also his other family members who were serious runners. "There's kind of this whole lineage in my family of people running marathons," he said. "Running, but specifically marathons, is now this thing that my mom had done, her dad had done, and now I've done and maybe will continue to do."
Hadassah Lurbur '24, a member of the women's Nordic ski team, also followed a longstanding tradition — but this one was based at the College. Every Mountain Day, the men's and women's Nordic ski teams set out to run a marathon. Not all of them complete the rigorous 26.2 miles, as their route includes both elevation and distance — not to mention the slippery slopes and drizzly morning of this year's Mountain Day.
Their path snakes up Pine Cobble and then down into North Adams. They continue up Mount Greylock and venture down to Stony Ledge for a cider, donut, and a cappella break before taking Hopper Road back to campus and finishing out the requisite distance with laps on the track.
Though it has historically been common for the men's Nordic team to complete the full marathon, last year was the first in Lurbur's time at the College that anyone from the women's team had completed the full marathon.
In 2021, three members of the women's ski team ran the full marathon, while this year, two members of the women's ski team — Lurbur included — completed the full route.
"It's really great to have people on the women's team who are going to try for it, because then it opens the door up for anybody else to try," she said. "[Next year], everybody's going to try if they can."
Lurbur, Bellwoar, and Schumann all said they felt that the marathons and half-marathons weren't about the competitive element. "None of us are really runners," Lurbur said of the Nordic ski teams. "That's what makes it so great. None of us are trying to go fast. It's completely just for fun."
Bellwoar emphasized that despite the intimidating nature of a half-marathon or marathon, anyone is capable of accomplishing it. "It is something that anybody can do, and it's not just for these elite runners," she said, recommending that everyone try it. "It really changed my life."