Elections prompt WSU constitutional change, no juniors run for Honor and Discipline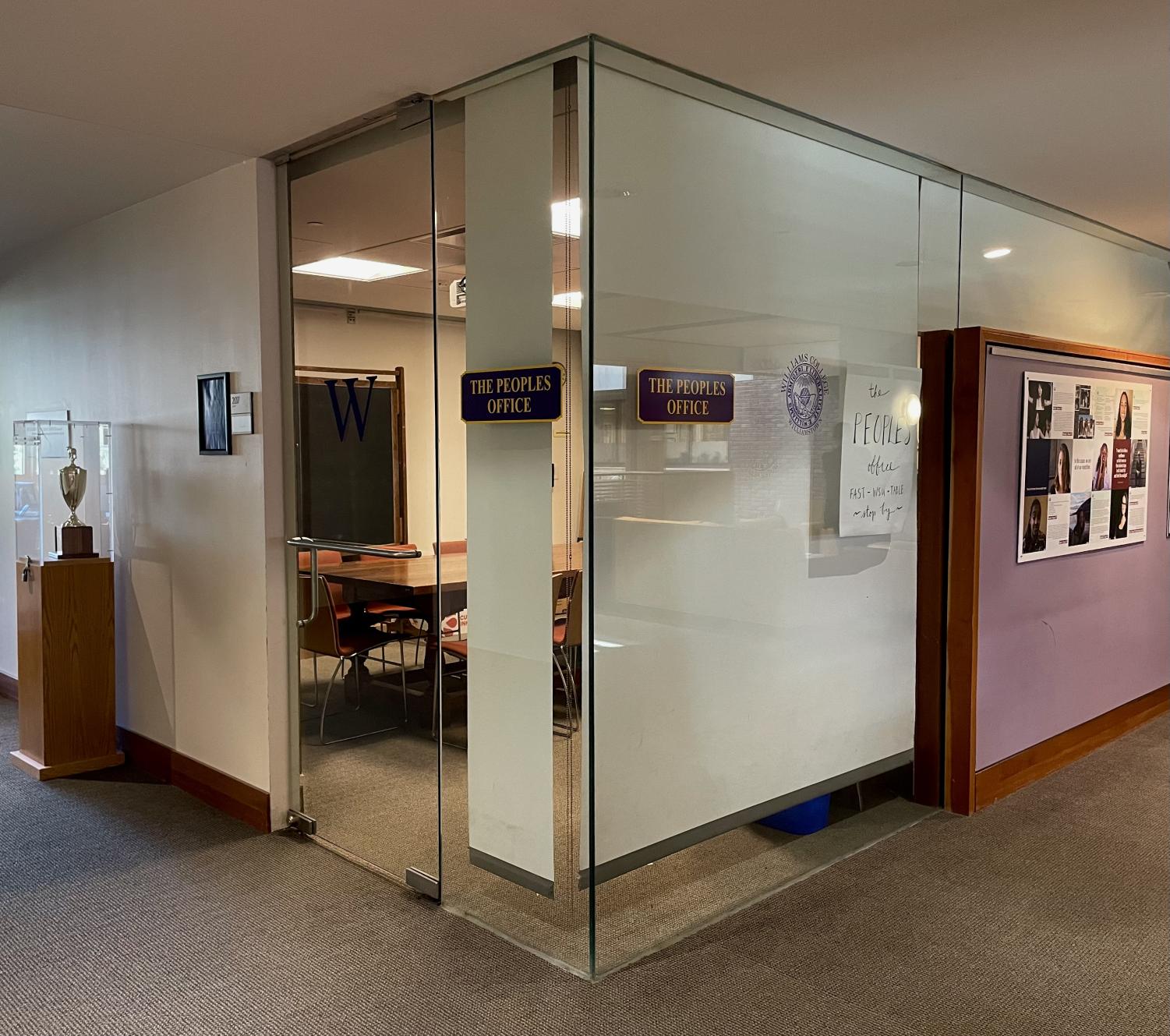 Last week, the student body elected 12 members to the Williams Student Union (WSU) for the fall semester and six members to the Honor and Discipline Committee for the academic year. Two seats on the Honor and Discipline Committee remain unfilled.
The students elected to WSU were Manny Copeland '23, Caitlin Han '23, Yunjin Park '23, Gwyn Chilcoat '24, Samir Ahmed '24, Will Ding '24, Shoshie Hemley '25, Bobby Verhey '25, Ali Hashim '25, Jeffrey Zigbuo '26, Wes Morrison '26, and Dylan Safai '26.
Hashim, however, resigned immediately after the election, so, following a constitutional amendment to WSU, Quinn Casey '25 — the next-highest vote recipient among the Class of 2025 — will fill the seat.
[Editor's Note: Casey serves as a social media editor on the Record and was not involved in the writing or editing of this piece.]
The elected members of Honor and Discipline are María Fernanda Estrada '23, Simon Kent '23, Sam Sidders '25, Schuyler Colfax '25, Harper Treschuk '26, and Qi Wang '26. No members of the Class of 2024 ran for a seat on the committee.
The election process
Voter turnout among the student body was 25.8 percent, according to the raw election data released by WSU and The Advisory Board for Lobbying and Elections (TABLE), the student organization responsible for running committee appointments — including Honor and Discipline elections.
Students voted for WSU and Honor and Discipline candidates from Sept. 21 until Sept. 24, but the election process was not without interruption. Unlike last WSU election, the elections were held on time, but the ballots were scrapped shortly after they were sent out on Sept. 21, with a follow-up email notifying students that a corrected ballot would be sent later in the day.
"We unfortunately had no choice but to reset the election due to unforeseen technical difficulties, and thankfully, the mistake was caught early," WSU wrote in an email to the Record. "Our apologies for any confusion and all the extra emails – we're working with TABLE to put measures in place so this doesn't happen again."
Typically, each class elects three WSU representatives and two Honor and Discipline members. For the Class of 2023, every candidate ran unopposed. For the Class of 2024, candidates for WSU ran unopposed and no students ran for Honor and Discipline, leaving the class's two seats on the committee vacant. The Class of 2025 fielded four WSU candidates and four Honor and Discipline candidates, while the Class of 2026 saw nine WSU candidates and five Honor and Discipline candidates.
Among the classes with contested races, turnout was noticeably higher; 270 first years voted as opposed to only 74 seniors. "We expected lots of first year engagement due to very competitive elections and it is understandable that turnout was lower for unchallenged elections," WSU wrote. "We believe that less competitive elections for upperclass seats are a reflection of incumbents doing a good job, and fewer people tend to join new activities after their first year."
WSU
Hashim, who ran on a self-acknowledged farcical platform of using the College's endowment to purchase farmland in Nebraska, immediately resigned after defeating incumbent Casey by a margin of nine votes. When asked by the Record whether he intended to win, Hashim said, "No, it was an accident," and that he asked people to rank him last on the ballot.
Since his candidacy was a joke from the start, Hashim wrote in his resignation to WSU that he could not, "in good conscience, serve in this honorable role."
While Hashim's candidacy harkens back to the Papa Smurf controversy of the College Council in 2019, his election and subsequent resignation raised significant issues for WSU, which has not had to address any constitutional crises before in its six-semester history. "We did not yet have procedures for such a circumstance in our constitution," WSU wrote in an email to the student body. "As a result, we have drafted and voted on a constitutional amendment to address resignation proceedings."
The constitutional amendment allows members to resign by notifying all the other members and contains provisions for filling the vacancy. If a resignation is made within a week of an election, the next-highest ranked candidate by voters for their class year will fill the seat, or it will go vacant if there are none. If a seat is opened midsemester, a by-election will be held to fill it.
"Through this change, Quinn Casey will now be a full member of the WSU as a class of '25 representative," WSU added.
For WSU members, the Union offers a unique opportunity to bring their experiences and backgrounds to learn about, serve, and improve the College. "I've learned a lot about the history of this institution and how it works today (much of which I've learned from my co-reps), and I've met many people who have told me their stories, issues, and concerns," Chilcoat wrote in an email to the Record.
Likewise, Han hopes to build off her past experience on WSU as she serves this semester. "This is my fifth semester on WSU and I'm looking forward to continuing working alongside all the other lovely reps (old and new!) to advocate for important campus changes on behalf of students to admin," Han wrote to the Record. "As a senior now, it's been gratifying seeing WSU evolve over the past few years into the organization it is today, and I'm confident it will serve the student body well for years to come."
For Verhey, WSU offers him the opportunity to serve students at a critical moment, as the College navigates the remnants of the COVID-19 pandemic. "Coming out of the pandemic, I am very excited to help bring back some pre-COVID fun back to Williams and advocate for students' wants and needs," he wrote.
Other focuses of WSU this semester include a new short-term bike rental system, improving the current student storage program, advocating for an Indigenous studies program, and pursuing disability justice by bringing more accessibility to the College's campus and culture. The group also plans to carry forward their "Written in Stone" and Haystack Monument plaque projects from last semester, which hope to reclaim campus space for marginalized groups in the context of the College's history.
Honor and Discipline
The Honor and Discipline Committee election was originally supposed to run last spring, but it was scrapped by TABLE and postponed to this fall due to ballot issues. In a Sept. 10 email to the student body, WSU and TABLE fielded self-nominations, in which the Honor and Discipline Committee is mentioned as having "two positions open on the Honor and Discipline Committee for first-year students," generating confusion as to whether or not upperclassmen were supposed to submit self-nominations for the postponed election, or whether their self-nominations from the spring would be automatically reused.
"We expected to field new self nominations from all students who were interested in applying, and students who applied last semester were not automatically re-added," TABLE wrote to the Record. "[The] language was somewhat confusing, and [we] apologize to any students who felt that as a result they did not submit any self-nomination for the position."
"This year, everything just seemed chaotic," Sidders, a re-elected sophomore representative and the newly-appointed student chair of Honor and Discipline, wrote to the Record. "With all the wrong links being sent out, it got kind of confusing… Overall, I don't mind the election process, but I wish there was a bit more of a heads-up, specifically for Honor and Disciplinary. I even missed the self-nom deadline in the spring, because it was buried in some FAST/TABLE email."
As for the lack of junior representation, TABLE and the dean's office are aware and are looking for a solution. "We do believe that not having all of the spots filled could potentially impact the committee's work," TABLE wrote. "To this end, we are currently working with the Honor and Discipline Committee faculty chair and the College administration to fill these seats."
The lack of turnout also raises concerns about how the honor system is seen on campus. "If only a quarter of students care enough to vote for their representatives, and not a single junior cared enough to run, it seems obvious that academic honesty doesn't matter as much to students as it did when the honor code was ratified," Colfax said. "Of course, that doesn't mean we should abandon our commitment to honorable conduct — instead, we should encourage cultural changes to prioritize it."