Berkshire DA will not charge officer involved in fatal shooting of 22-year-old Pittsfield man Miguel Estrella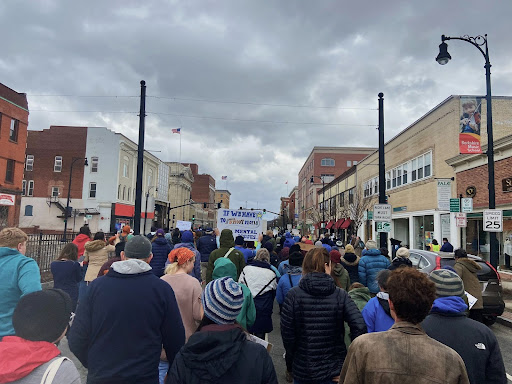 Berkshire District Attorney Andrea Harrington will not press charges against the police officer who fatally shot Miguel Estrella, a 22-year-old Pittsfield resident, in March.
Announcing the findings of her office's report during an Aug. 5 press conference, Harrington said that the investigation established that Officer Nicholas Sondrini acted in self-defense when he shot Estrella. According to the report, Harrington said, Sondrini was within his lawful authority per Massachusetts General Law to use lethal force proportional to the threatened harm in order to prevent death or serious bodily harm after exhausting "as many attempts at de-escalation [as] is feasible."
"My office has placed a high priority on providing a detailed and objective criminal investigation, as this is a matter of public trust," Harrington said. "I am confident that we've exhausted all investigatory avenues to ensure full transparency as to the events of that evening."
On March 25, Pittsfield police responded to an emergency call requesting help for Estrella, who was injuring himself with a box cutter. One of the two responding officers shot Estrella twice after he advanced on police and attempts to subdue him failed, according to the Findings of Fact issued by the DA's office.
During the press conference, Harrington also mentioned some of the pieces of evidence that led her office's investigation to this finding, citing third-party eyewitness reports that confirmed the officers made attempts at de-escalation, which included giving verbal warnings, creating physical distance, calling for additional resources, and using a taser.
"The facts discovered during the course of this investigation do not establish probable cause to charge the officer, nor would the Commonwealth be able to meet its burden of proof beyond a reasonable doubt required for a criminal prosecution," Harrington said. "These are sad and tragic circumstances, but they are not criminal in nature."
In the wake of Estrella's death, Berkshire residents gathered in downtown Pittsfield on April 10 to march for Estrella, demonstrating their support for Estrella's family. Demonstrators traveled from Persip Park to the steps of City Hall, where members of Estrella's family and community addressed the crowd, before speakers — including Estrella's mother Marisol Estrella — concluded the march in Park Square.
Another march through Pittsfield is planned for Sept. 25, and to local activist and Westside Pittsfield resident Dana Rasso, it is critical for the Pittsfield community to continue its advocacy in the wake of Harrington's decision.
"Like many of us, I was disappointed but unsurprised by the results of the DA's investigation," Rasso wrote in an email to the Record. "But just because the DA exonerated the police doesn't mean we as a community are giving up. If what happened to Miguel doesn't create change, then what kind of a community are we? We're going to make change for Miguel and for us all."
A Force Investigation Team (FIT) from the Pittsfield Police Department (PPD) also conducted an investigation into the fatal shooting and completed a report in May that established Sondrini's use of force against Estrella on March 25 was compliant with PPD policies and state law.
The Berkshire Eagle obtained a copy of the report through a public records request and reported on the findings on Aug. 20. The report was not made public by the PPD upon its completion, according to the Eagle, which also reported that Pittsfield's Police Advisory and Review Board was denied access to the report.
The Estrella shooting marks the seventh time in the past two decades that a Pittsfield police officer has shot someone, according to the Eagle. The report from the DA's office is also the seventh time during the past twenty years in which the officer involved was cleared of wrongdoing.
Elina Estrella, Miguel Estrella's sister, delivered a statement at the Aug. 5 press conference on behalf of the Estrella family. She expressed the pain and grief that her family had felt since the fatal shooting, thanked community members for their support, and articulated the need for serious improvement in procedures for handling mental health crises.
"Miguel died because there's something wrong with the way that we deal with mental health crises," she said. "Every day, we still think about the what-ifs: What if Miguel had been assisted by a mental health professional who was trained in de-escalation? What if the police had been more proactive in getting Miguel the medical help that he needed that night during the first encounter, even if he had denied cutting himself or wanting to hurt himself? We need to do better. We need to answer these questions so that this doesn't happen to anyone else."
"Miguel was becoming the change he wanted to see in his community," Elina Estrella continued. "This loss didn't just affect his family and friends — it affected his colleagues, his community, and this is how we want him to be remembered."