March in Pittsfield commemorates life of Miguel Estrella, killed by police shooting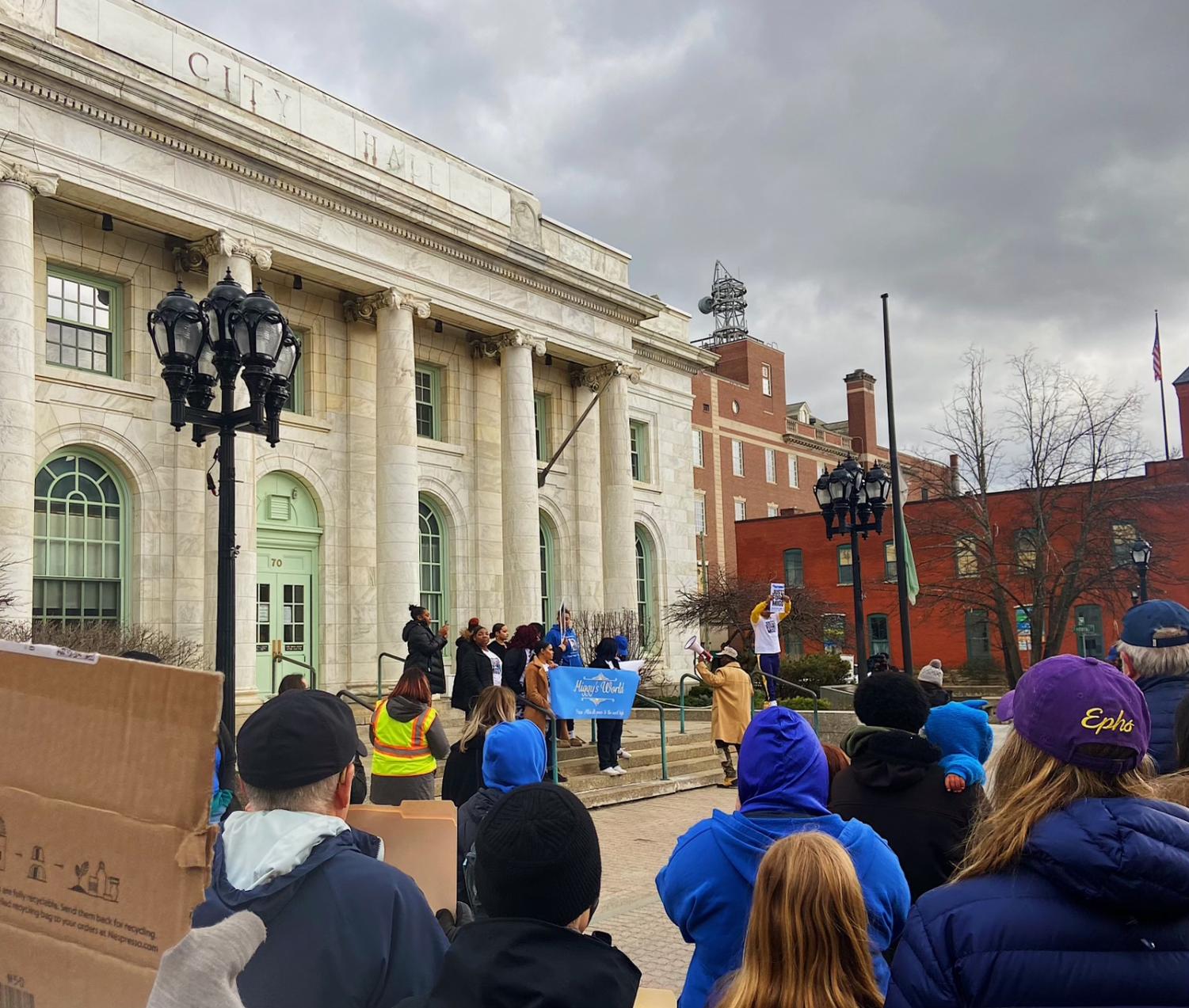 A large crowd gathered in downtown Pittsfield on Sunday to march in response to the killing of Miguel Estrella, a Pittsfield man who was fatally shot by police responding to an emergency call on March 25.
A statement from Berkshire County District Attorney Andrea Harrington's office reported on by The Berkshire Eagle noted that the Pittsfield Police Department was called after Estrella injured himself with a knife. According to the DA's office, Estrella advanced on police and attempts to subdue him failed, and one of the two responding officers shot him twice. Those who knew Estrella, including friends and family, questioned why officers used deadly force on him instead of de-escalation tactics, the Eagle reported.
Chanting "Justice for Miguel" in both English and Spanish, Estrella's friends and family, in addition to local activists, demanded information about the fatal shooting at Sunday's demonstration. The march also sought to promote reforms to the city's emergency resource system that would enable mental health professionals — not law enforcement officials — to respond to individuals in mental health crises.
On March 25, police first responded to a call reporting self-inflicted injuries to a man with a history of mental illness and asked for medical help on his behalf, according to the Eagle. Minutes after the police left Estrella after the first call, officers responded to another call that said Estrella "needs to be taken to the hospital," according to a statement from the DA's office, as reported by the Eagle.
Both officers at the scene of the shooting have been taken off duty and placed on administrative leave, as reported by the Eagle, and the DA's office is currently pursuing an investigation into the shooting.
Estrella's sister Elina wrote on the webpage of a crowdfunding campaign created in the 22-year-old's memory, "This march is for Miggy's rights as a human, to grieve as a community, to stand for justice, and most importantly [to] represent Miguel for who he was, who we lost, and who will never be replaced."
Sunday's demonstration began at Pittsfield's Persip Park, and the crowd traveled south to City Hall where members of Estrella's family and the Berkshire community spoke on the building's steps. The march ended in Park Square where speakers including Estrella's mother Marisol Estrella, who spoke in Spanish with an interpretation provided in English, addressed the crowd and demanded information about her son's death.
"The question is, what happened to Miguel on March 25," Marisol Estrella said on Sunday as published in a press release by Dana Rasso on behalf of the event's organizational co-sponsors. "I want answers. He asked for help and he didn't get help. He was a youth, like so many of our youth, who asked for help in crisis, and instead he was met with violence."
Local activists are also calling for the agencies involved in investigating Estrella's death to provide information about the events of March 25 to the public. "The fact that there's been a lack of any information from them is really concerning — from the police and the District Attorney's office," Amillie Coster, a member of the Berkshire chapter of the Democratic Socialists of America (DSA) who attended planning meetings for the march, told the Record.
Sunday's march was planned by local organizations such as the NAACP's Berkshire County Branch, Invest in Pittsfield, the Berkshire DSA, Central Berkshire Habitat for Humanity — which Estrella was involved with — and Manos Unidas Cooperative, of which Marisol Estrella is a member.
On Tuesday, the DA's office issued a public update that said once the investigation is complete and all evidence has been shared with Estrella's family, the DA's office will make its findings available to the Pittsfield Police Department and the local community.
"I recognize the community's urgent need for details, and I've requested that the involved agencies prioritize this investigation," Harrington said. "Typically, these types of investigations take four to six months to complete but I am committed to significantly reducing that timeframe without compromising accuracy, thoroughness, or objectivity."
At the march, speakers argued that professional individuals trained in responding to mental health crises should have responded to the situation rather than law enforcement officers. "Miguel didn't need guns, he needed help," Corey Johnson, Estrella's brother, said at the demonstration. "Miguel didn't need the police, he just needed help."
Meg Bossong '05 is an organizer with Invest in Pittsfield, a group that advocates for the city to invest its budget in resources such as housing and education, rather than the police department. For her, Estrella's death raised doubts about the efficacy of the Pittsfield Police Department's available mental health resources. According to the Eagle, the department employs mental health professionals who accompany police officers as they respond to calls, and on March 25, the on-duty co-responder's shift finished six minutes before the police responded to the first 911 call about Estrella.
"There are many, many models of emergency response and that's one of the big questions about Miguel's death," Bossong, who is also Director of Sexual Assault Response and Health Education at the College, said in an interview with the Record. "The mental health co-responder['s] shift finished [earlier] on Friday. I think there are important questions about how that resource is deployed. Are most emergencies happening late in the afternoon on a weekday? Probably not."
Members of the College community joined Pittsfield locals at the march. Manny Copeland '23, who interned for the NAACP's Berkshire County Branch last summer and conducted research on racial relations in Pittsfield, traveled to Pittsfield on Sunday to attend the demonstration. Copeland told the Record that she participated in the march to express solidarity for impacted Berkshire residents outside Williamstown's borders, noting that the impacts of events are not circumscribed to the localities in which they occur.
"I think that a lot of students perceive the Purple Bubble as being an actual literal thing, like they cannot impact the community and the community doesn't really impact them," Copeland said. "And I think that is, in some ways, a rather privileged view."
While mourning the loss of Estrella, speakers also remembered the death of Daniel Gillis, a Pittsfield resident fatally shot by the police in 2017 after holding a knife to his own throat and threatening self-harm before he "charged at officers" with the knife, according to a statement from police reported on by the Eagle.
As part of commemorating Estrella's life, the leaders of the march wheeled a small wooden structure that Estrella had built while volunteering for Habitat for Humanity, which attendees of the march were encouraged to sign, to demonstrate Estrella's contributions to the Berkshire community.
"Miguel was a rock, a reliable team member who kept our builds going," Dubois Thomas, who worked with Miguel at Habitat for Humanity, said on Sunday, as published in Rasso's press release. "Miguel's efforts now provide affordable shelter for [several] families in our community."
"An emergency that should have been [met] with love and compassion instead was met by fear and violence," he said. "Our system killed Miguel and it is on us to change that system now."