One in Two Thousand: Katharine Cook '24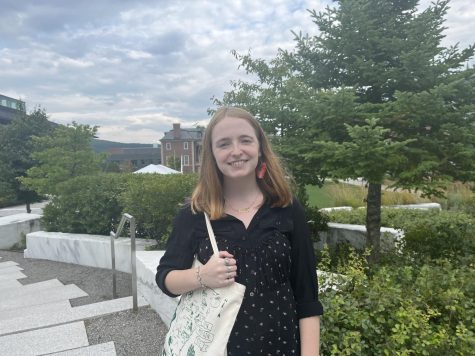 Each week, we randomly select a unix from a list of all current students at the College for our One in Two Thousand feature. As long as the owner of a selected unix is willing to be interviewed and is not a member of the Record board, that person becomes the subject of our interview. This week, the computer (using a script in R) chose Katharine Cook '24, who discussed her love for Christmas carols, biology, and life in New York City. This interview has been edited for length and clarity.
Megan Lin (ML): So you're a biology major, but not pre-med. How did that come to be?
Katharine Cook (KC): I really only got into biology my senior year of high school. I was one of those little kids who loved animals, read endless books about them, and was obsessed with this movie March of the Penguins. I had all sorts of animal moments growing up. And then I hit sixth grade and I had a chemistry class. I was 12 years old, in a new school, with a chemistry teacher who was very intense, and just had sheer panic the entire year. I thought, "Oh my god, this is science. I hate it. It's awful. I'm never doing this again." And so I became a humanities person. But then senior year of high school, I ended up in a biology class where our teacher had a lot of freedom to decide on the course content. She taught us about bacteria, antibiotic resistance, and gene editing with CRISPR. I found all this stuff just so cool that I decided to take BIOL 101 on a whim, and I kept liking the bio classes I took. I sort of lied to myself for a while and said, "Oh, I'm just doing it to fulfill the divisional requirements." [Laughs.] But then I hit Ecology fall of sophomore year and loved it, and I finally decided to commit to being a bio major.
ML: You originally started as a music major, right?
KC: Yeah, I thought I would major in history, music, or Russian.
ML: What kind of music things are you involved in?
KC: I'm in Concert Choir, Ephoria, I take voice lessons, and I usually do Lessons and Carols, which is a Christmas Service they have every year, because I love Christmas carols.
ML: What's your favorite Christmas carol?
KC: That's a hard one. Probably "O Holy Night."
ML: Why that one?
KC: It's so beautiful. I feel like a lot of Christmas carols are more verse-chorus-simple melody-esque. They're fun to sing in a group, which is part of the reason why I love them so much, but "O Holy Night" has more of a melody and it's kind of more artistic.
ML: Do you ever make your own arrangements of songs?
KC: I arranged one song for Ephoria, "Traitor" by Olivia Rodrigo. I love Olivia Rodrigo. She's so good.
ML: That's really awesome. What are some of your other favorite artists?
KC: I have a very not-eclectic music taste. [Laughs.] But I guess I love Taylor Swift, and I've gotten into Lucy Dacus recently.
ML: Tell me about your favorite Taylor Swift era.
KC: That's really hard, actually. I love Taylor Swift because she has a song for every single emotion you could possibly feel. There's a lot of sad indie, and there's upbeat, cheerful, "I'm-in-love" music. I feel like I had a very complicated relationship with her. But I remember when I first started to like her as a kid, the two songs that really stood out to me were "You Belong with Me" and "Love Story." So that era is very precious to me. I decided to be angsty for a while and not like her but then I came back to it.
ML: The classic 2010's hate-on-Taylor-Swift time.
KC: Yeah, exactly, the whole "I'm not like other girls" thing. But I came out of that and realized that I am like other girls, which is good.
ML: If you were to pinpoint which Taylor Swift era you're in right now, which would it be?
KC: That's a very hard question. [Laughs.] I think maybe Fearless. It's very youthful, and I'm obviously not in high school anymore, but I have a very optimistic view on how I'm feeling about my life right now.
ML: You might be the only Williams student to say that.
KC: [Laughs.]
ML: Moving on – you're from New York, which is a pretty different environment from Williamstown. What do you miss the most about it?
KC: I feel like there's something about the energy of being in crowds that I really like. People complain about Times Square and navigating New York and the subway system – and it can be overwhelming at times, but I grew up being shaped by my experience of getting more confident navigating the city. A big memory I have is, in high school, I played viola and I would have to carry it back and forth from school to home with me, so I would end up walking through the station. There'd be tons of people all around me, music blasting, people talking, all that. And I would just hold it in front of me like a javelin or something and just walk through the subways. I feel like I get a lot of comments about the way I walk and how fast I walk, and I feel like that's where it comes from.
ML: Tell me a little bit about your personal style. I feel like your outfits are always on point.
KC: I've always thought of it as a way to sort of express my personality. And I think dressing well has always made me feel more confident and more put-together. I just feel better about the day when I'm feeling good about what I'm wearing. A lot of people talk about this idea of your body being your temple, and I don't know exactly what I think about that, but my version of it is that what I put on my body is sacred to me, so it's very important to present myself in a way that reflects my personality and makes me feel good.
ML: Have you been following New York Fashion Week last week?
KC: No, I'm completely out of the loop when it comes to high fashion. The closest I've come is watching The Devil Wears Prada. [New York Fashion Week] happens right when I'm going back to school, so my mind hasn't been on it. I guess the two big New York things are that and the UN [United Nations General Assembly] meeting, but I'm always more aware of the UN meeting because the traffic's terrible and I see stuff about it on the news.
ML: Do you ever get to see important people there for the UN meeting?
KC: I don't live far from the UN, but it's far enough that I really don't see anyone. Actually, I feel really bad for them because the area around the UN does not have anywhere good to eat. [Laughs.]
ML: If you were to recommend one place in New York for the UN ambassadors to eat, where would it be?
KC: Oh god, I'm so bad at recommending restaurants.
ML: I mean, you definitely don't have to do it often here.
KC: That's true, there are only five. [Laughs.]