'The Good Place' considers the afterlife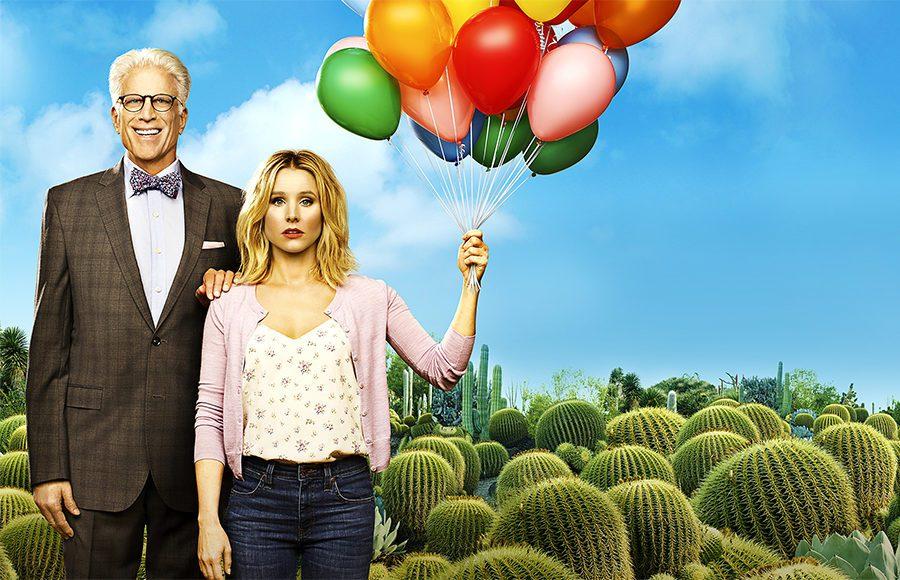 Given the current state of the United States and the world, most of us just want something that simply makes us feel good inside. Well, one of the best shows on television has returned to do just that.
The NBC sitcom The Good Place returned for its third season on Sept. 27, and it remains to be an offbeat, uproarious and purely enjoyable half-hour. You wouldn't think a show that heavily features the works of philosophers like Immanuel Kant, Soren Kierkegaard and T.M. Scanlon could be both critically and commercially successful, but somehow, it is. And this praise is for good reason. Thanks to shows like Breaking Bad and Mad Men, television is smack in the middle of the "Age of the Antihero," where plots are constructed around white men, but with a twist – they're bad.
Audiences have been encouraged to root for villainous humans for the last decade or so of television, but The Good Place almost actively rejects that premise. In this case, the show features literal demons, but they are far from central to its plot. The Good Place is unique in the context of 2018 T.V. shows because it centers around people who have glaring character flaws but progressively become better by helping each other and constantly striving to become the best versions of themselves.
The Good Place centers around six individuals, including four humans: self-proclaimed Arizona "trash bag" Eleanor Shellstrop (Kristen Bell), neurotic and worldly moral philosophy professor Chidi Anagonye (William Jackson Harper), self-important British socialite Tahani Al-Jamil (Jameela Jamil) and well-meaning but impossibly stupid Floridian Jason Mendoza (Manny Jacinto). They are joined by eternal being Michael (Ted Danson) and Janet, the "anthropomorphized vessel for all knowledge in the universe" (D'Arcy Carden).
As a professor of moral philosophy, Chidi teaches Eleanor and Jason about ethics while he, Michael, Tahani and Janet are all faced with moral quandaries and experience emotional growth as well. Throughout the first two seasons, Chidi overcomes his paralyzing fear of making decisions, Michael deals with an existential crisis, Tahani learns that there is more to life than appearances and Janet encounters feelings and emotions for the first time. All six characters struggle with facing these challenges at various times throughout the show, but eventually, they overcome their insecurities and address them head-on, much in the way that countless people have been helped through therapy.
Of course, kindness and fundamental decency don't just set The Good Place apart in the current television landscape; these qualities are also increasingly hard to come by in real life. In a world that grows darker by the day, it is refreshing to watch a television show whose central premise revolves around people trying to better themselves and those around them with no cynical strings attached. Sure, each of the characters have shown their flaws at times throughout the show – even the not-a-robot Janet – but the thesis of The Good Place remains the same no matter what: just because people make a series of bad choices does not mean they cannot be redeemed at any point during (or after) their lives.
While The Good Place is by no definition a political show, its message of fundamental decency is particularly salient at this specific moment in time, where social media anger is the dominant societal emotion, and the president of the United States attempts to bully anyone from members of his administration like Jeff Sessions to activist-athletes like LeBron James. This is even a point addressed on the show, when Michael says, "[This incident] was a rare occurrence…like someone on the Internet saying, 'You know what? You've convinced me I was wrong.'" The show is well aware of its purpose and function, so if you ever need a pick-me-up, log in to Netflix and search for it. The first two seasons are there, just waiting to warm your heart and mind.