Candidates for Williamstown Select Board gather for on-campus debate ahead of May 10 election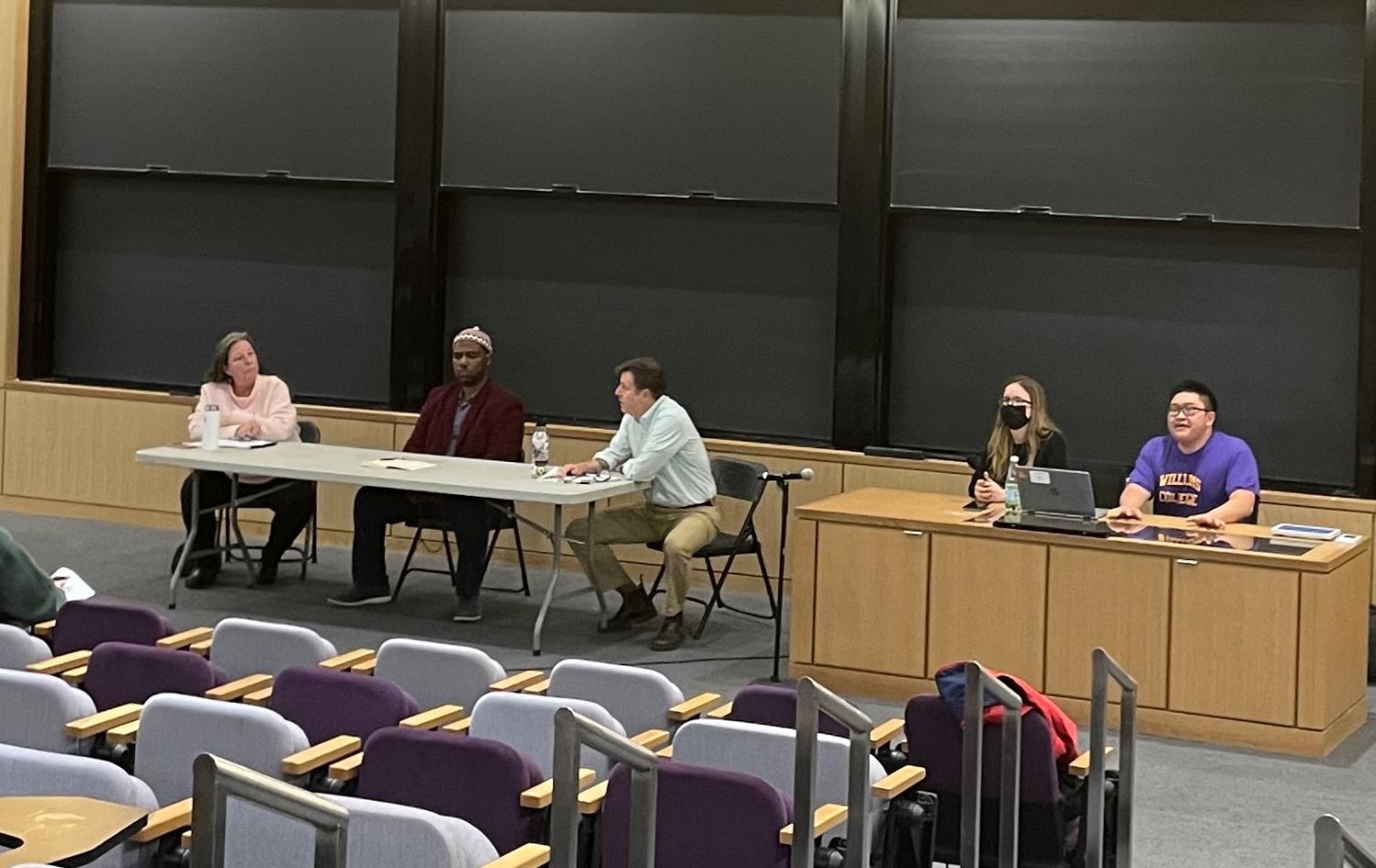 When Williamstown voters head to the polls on May 10 for this year's local elections, they will choose between three candidates to fill two seats on the Town's five-member Select Board: Bilal Ansari, Randal Fippinger, and Jane Patton. On Friday afternoon, the candidates came together for a community forum on campus in Bronfman Auditorium, co-moderated by members of the Record and Ephvotes, the College's civic engagement organization, to share their campaign platforms with voters.
The 90-minute discussion was tense at moments, with the three candidates speaking about previous experiences in town government, personal connections to Williamstown, and what they hope to accomplish if elected to the Select Board. Patton, the general manager of Taconic Golf Club who is currently serving her third term on the Select Board, addressed her track record and experience in Town government, while Ansari, who is the College's assistant vice president for campus engagement in the Office of Institutional Diversity, Equity, and Inclusion, and Fippinger, who is the visiting artist producer at the College's '62 Center, made the cases for what their leadership would bring.
All three candidates spoke about their devotion to the Town and its community. Both Fippinger and Patton noted that they had sent their children to local public schools, while Ansari shared that his family has lived in Williamstown for over a century. Still, Ansari acknowledged, his relationship with the Town's government has at times been fraught, particularly when it comes to the handling of racial bias incidents in the Williamstown Police Department (WPD). If elected, he said, he would like to help foster a more inclusive environment. "It's complicated, but it's still always done in love," Ansari said.
"It's a wonderful way to show others how to lead and [show others] accountability and, through modeling that, create a space where people feel like they have a place here where they belong," he said. "By doing that, you set the example of leading with compassion."
As a three-term incumbent seeking re-election, Patton spoke of what she hopes to achieve in a fourth — and what she says would be a final — term. "The reason I'm doing this is because I feel like there's more work to be done," Patton said. "I cannot leave without trying to participate in finishing that work. It's just now starting to feel as though we're making some headway. We still have a long way to go [and] a lot of voices to hear and learn from. That's a process I'm invested in."
The Town's Diversity, Inclusion, and Racial Equity (DIRE) advisory committee proved the most contentious topic of the afternoon, as the candidates disputed each other's accounts of the committee's formation and subsequent difficulties arising in its efficacy. DIRE was established in 2020 by the Select Board under Patton's leadership and all three candidates have served on it at various points.
The committee first met in July 2020 following the murder of George Floyd in May 2020, and its focus shifted to address allegations of sexual and racial harrassment brought against the WPD later that summer. The committee's discussions about racial incidents in Williamstown often grew heated, both Patton and Ansari said. To Patton, critiques of the Town's government often crossed the line into personal attacks.
Ansari said he remembered things differently, positing that Town administrators' negative reactions to residents' critiques displayed their fragility. "We were just asking for accountability," he said of the relationship between BIPOC members and town officials. "And all we got were excuses, after excuses, after excuses."
Despite being the first committee in the town's history with a majority of BIPOC members, Ansari said, DIRE repeatedly became a site of animosity toward residents of color, with some committee members becoming the targets of threats and hateful messages. Ansari, who served on the committee upon its founding, stepped down after a year and announced his resignation at a May 2021 Select Board meeting, noting that he felt he was being treated with disrespect. He was one of six committee members, five of whom were people of color, to resign that summer.
Fippinger joined DIRE last fall and is now the committee's chair. At Friday's forum, he spoke about how he and the committee as a whole have tried to move forward from the events of last May. "We have our good days, we have our bad days, we have hard conversations," he said. "But I like to believe that the bumps are good bumps, because we're all engaging in hard, hard conversations. And I'm proud of the work … that we're trying to do."
In his closing remarks, Fippinger took what Ansari said he interpreted as a jab at his resignation from the committee. Fippinger urged voters to consider reliability and steadfastness when making their decision. "Who's going to stick with it when it gets hot?" he asked. "Because it will get hot."
Ansari, during his own closing statement, addressed Fippinger's comment. "I just want to say I heard those subtle comments about 'stayability,'" he said. "I needed a mental health break and I took it. I make no apologies."
All three of the candidates stressed that the town has significant healing to do. Patton acknowledged the hurt that many in Town have felt over the past two years and vowed to help rebuild a strong sense of community. "We need to, stone-by-stone, brick-by-brick, find ways to restore trust, and I'm fiercely committed to doing that," she said.
Fippinger expressed his readiness to take on this work. "I want to go out and I want to listen to people — I want to participate in community conversations," he said. "For me, it's all about … listening to people and feeling that we're all part of this process. We all have valuable things to add to the community and to the community conversation."
The 2022 Town Election will take place on May 10 from 7 a.m. to 8 p.m. in the Williamstown Elementary School gymnasium. 
Correction: A previous version of this article incorrectly said that "In his closing words, Ansari took what Fippinger said he interpreted as a jab at his resignation from the committee." It is actually Fippinger who took what Ansari said he interpreted as a jab at his resignation from the committee. We regret the error.