Behind the scenes at Goodrich's weekly Boba Night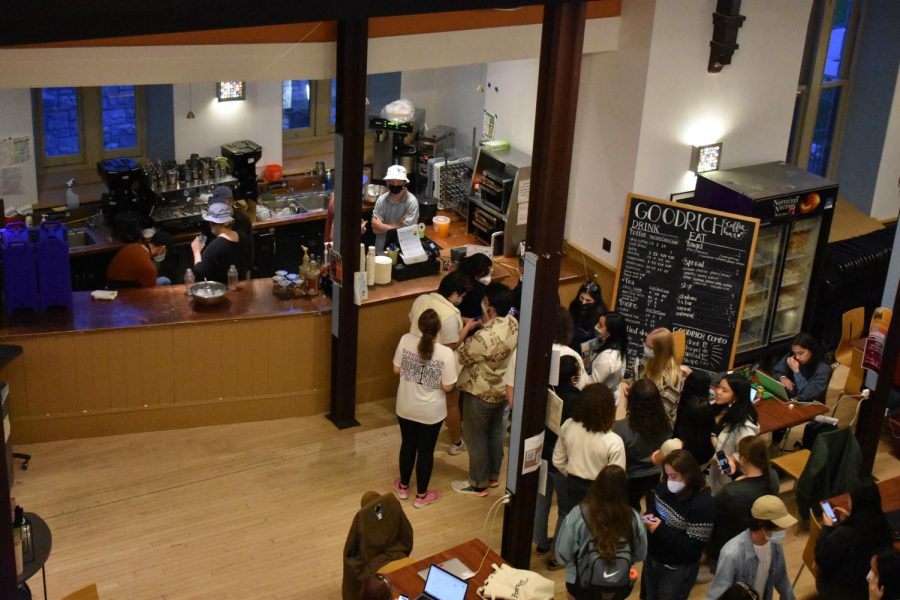 Just after 7:30 p.m. last Tuesday night, a line seemingly spontaneously formed at Goodrich Coffee Bar, quickly stretching around to the stage in the student-run coffee shop. An often busy location and popular study spot, Goodrich has a unique attraction on Tuesday nights: boba.
Running from 8 p.m. until 10 p.m. every Tuesday, Goodrich offers bubble tea, a popular drink made from tapioca pearls and tea that originated in Taiwan. In addition to its usual array of espresso drinks and bagels, on Boba Night the menu features a rotating list of milk teas, fruit teas, and add-ins. While some flavors like Okinawa brown sugar and Thai tea are frequently on the menu, there are also new flavors to try, like winter melon, and a soon-to-be-introduced black sesame flavor.
Since Boba Night began in 2016, the event has been a popular one, with some students lining up well before Goodrich opens for service. One such student, Sebastian Van Der Weide '23, was first in line last week to get a drink for his girlfriend, who wouldn't have been able to join the line until hours later. "I'd rather control the time I'm waiting," he said of his decision to arrive early.
It is a viable strategy, since the line grows so quickly. Jess Zhu '25 had been discouraged by the wait before and tried to arrive earlier last week. She still faced a considerable wait, but decided that the boba was worth it. "You can't really get some of [these flavors] elsewhere in Williamstown," she said.
The long wait times are in part due to the logistical challenges that Boba Night presents, according to Ezra Joffe-Hancock '25, who manages the event at Goodrich.  "Generally what we're doing is just constantly making more pearls," he said. "We make them on little hot plates, so we run out really quickly."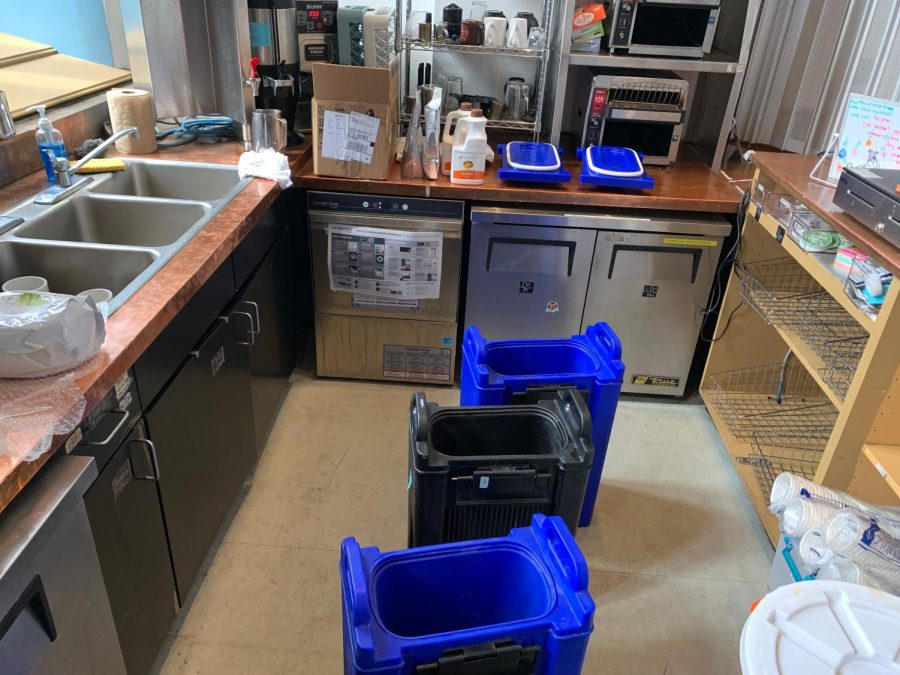 The tea itself is pre-made during a prep shift on Tuesday afternoons, but the boba pearls are made fresh. Maintaining supplies for Boba Night is difficult because it requires working with different ingredients than normal. "We almost never run out of coffee, so we could just always have that going during shifts," Joffe-Hancock said. "But if we mess up and don't make enough pearls, then we have to wait for them to cook, and that can sometimes lead to a buildup." Baristas normally start the shift by making six pounds of tapioca pearls, and they typically make another six to 12 pounds over the course of the night.
Though wait times continue to be around half an hour or more, baristas have found creative ways to streamline the process. "One of our baristas, Onassa [Sun '25] came up with the idea of using color-coded sticky notes so you wouldn't have to write the tea flavors and only write the toppings really quickly," Joffe-Hancock said.
Another strategy he mentioned was having each ingredient be strategically placed behind the counter. "As soon as you take the order, it goes right next to the toppings and ice station, and then that can easily get moved to the drink checking station," he said.  
Despite its challenges, Boba Night remains a beloved Goodrich tradition — not just for the students who line up but also for the baristas. "I really like how it functions as a magnet for a lot of people," Joffe-Hancock said. "Dining halls are nice, and we can catch up with people over meals. But it's also nice to have a really student-centered space."
Joffe-Hancock said that he is excited to see some new changes come to both Boba Night and Goodrich as a whole. The team is considering giving out more free samples of new flavors for people to try before they make a decision. "It's nice for people to get the chance to spread out without the anxiety of being like, 'Oh, I'm going to waste my swipe on something that I didn't like,'" he said. They are also considering adding other specialty nights in addition to Boba Night and the recently piloted Affogato Night.
Thanks to the draw of boba and the hard work of Goodrich baristas, Boba Night has become a Tuesday evening staple. Kaela Zarrillo '23 frequently comes to Goodrich on Tuesday nights with her friends and remembered once reading a particularly heart-wrenching book while there. Though the book was sad, "I was comforted by the boba," she said.