Corridor '62 Gallery opens on campus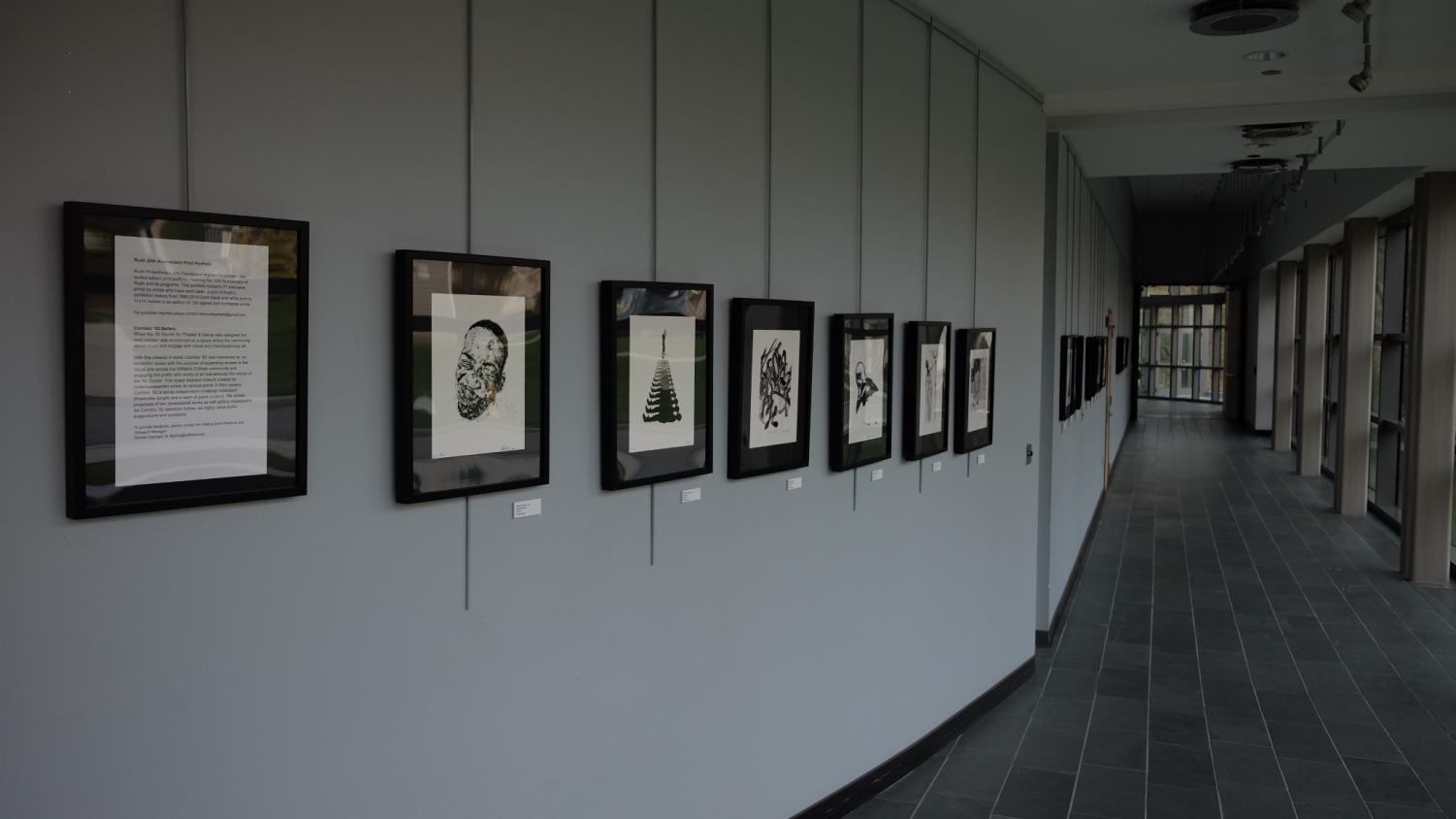 Recent visitors to the '62 Center for Theatre and Dance might have noticed visual artwork adorning the corridors from the main lobby to the Center Stage. This exhibition, which will be displayed through May 6, is the pilot project for Corridor '62 Gallery, a space that intends to use the '62 Center's corridor to introduce the College and Town community to the work of artists from underrepresented backgrounds.
The exhibition's curator, Shawnette Smalls, said the focus of the space would be to connect marginalized artists and curators with the Williamstown community. When asked about the inspiration behind the project, Smalls explained that it fortuitously came to fruition after discussions with Visiting Artist Producer and Outreach Manager Randal Fippinger. "While out to dinner with Randy and his wife, we were discussing the '62 Center's corridor and how he would love to activate the space with artwork," Smalls said. "From my research, the corridor in the '62 Center was supposed to be utilized this way from the design of the building. This project seems to be a serendipitous realization of the original intent of the corridor."
Currently, the corridor displays 21 prints from a limited edition print portfolio from the Rush Philanthropic Arts Foundation's 20th anniversary project. "I happen to own a set that I was able to make available for the display," Smalls said. "My vision, from the need that I've assessed around town through my own observations and community building dialogues, was to dedicate the space to the same marginalized artist groups that I serve through my work at Gallery 51 and Rush Arts Philadelphia art galleries." 
The selection of prints is a brilliant survey of works by contemporary artists from varying points of their careers, particularly those of Black artists. A standout piece is Wayne Hodge's Android / Negroid #14 (2015), a bust shot of a figure with the upper left face replaced with machinery — a complex mixture of suspensions, gears, gun barrels, and other metallic contraptions. The imagery references "Black androids," the 18th, 19th, and 20th century machines that were designed as racist caricatures of Black people. Hodge's striking image ponders how technology can be used to define and marginalize segments of society. It also rings as a prescient warning to how we live our technology-immersed lives. 
Another eye-catching work is Battle on Anghiari Study II (2015) by Kehinde Wiley. Wiley, a portrait painter, rose to fame and prominence in the last few years with his photorealistic paintings of Black people. Many might recognize him as the artist behind former President Barack Obama's official portrait, which he was commissioned to create in 2017. Wiley frequently references iconic works by Old Masters (a term that refers to painters who worked in Europe before 1800) that portray white people and substitutes the figures in the painting with urban Black and Brown people, nudging us to imagine a world that subverts the language of race and privilege. Battle on Anghiari Study II, while lacking the distinctive colors and patterns prevalent in Wiley's other works, is nonetheless a remarkable example of the care and attention he puts into capturing the essence of his subject.
The exhibit suggests a bright future for Corridor '62 to become a prominent community art exhibition space for the College. "WCMA, the Clark, and MASS MoCA all run amazing programs and do community building work with marginalized communities to extend access where it is lacking," Smalls said. "However, the pathways into museums for marginalized communities are still being developed. This program works to meet the immediate need of providing one of many needed accessible platforms for the display, curation, and viewing of the artwork of marginalized communities." 
Smalls said there are plans to expand the program, particularly by establishing an online display space and soliciting work from students at the College. "I worked with Mellon [Curatorial] Fellows Jordan Horton, Nicholas Liou, and Destinee Filmore to select the present and upcoming exhibitions," Smalls said. "We are currently developing the process by which artwork and curatorial themes can be proposed and equitably considered." 
Smalls also hoped students would recognize and resonate with the values that Corridor '62 Gallery stands for. "We hope that [the students] will appreciate the development of the space but also be aware that there is a much greater need for this type of work to take place on the campus and throughout the country and the world than Corridor '62 could ever imagine beginning to fill."