'The growing pains of going coed': The College's first female athletes reflect on team culture, athletic community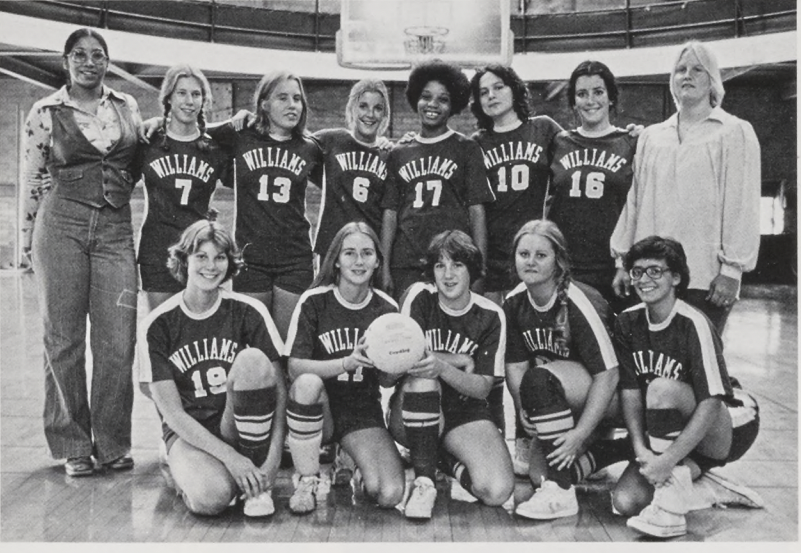 The men's varsity crew team had experienced a particularly notable spring 1970 season: According to an article from the April 25, 1970 issue of the North Adams Transcript (which merged with The Berkshire Eagle in 2014), Coaches Jack Shaw and George Marcus had revived the program from nearly two decades of inactivity, fundraising to replace leaky, secondhand equipment with brand new shells and a boathouse. 
"One of the unusual features for the Williams varsity team," the article also noted, "is the girl coxswain." 
The "girl coxswain" in question was Anne Forrestel '72, a sophomore exchange student from Smith — and the College's first female varsity athlete. Forrestel arrived at the College in fall 1969 through the 10-College Exchange Program (that now includes 12 colleges after Trinity and Wellesley joined), which allowed her to study and compete for Williams two years before the College made the decision to admit women as full-time students. 
Forrestel said she learned how to be a coxswain on Smith's intramural teams. Shaw told the Transcript that her skill and lighter weight in comparison to the male coxswains on the team gave her an advantage. 
"Shaw somehow found out about me," Forrestel said. "He did a little more research and he couldn't find any reason why I wouldn't be allowed to compete [on the men's team]. There was nothing in the rulebook that said anything about gender… It just said you had to be a certain weight." 
But within a few years, Forrestel was not the only female athlete at the College. Coinciding with the College's move toward coeducation, Title IX, which prohibits discrimination on the basis of sex in educational programs including athletics, was passed in June 1972. Thus, the first official female varsity sports teams at the College were established that fall amidst student-athlete and administrative initiatives.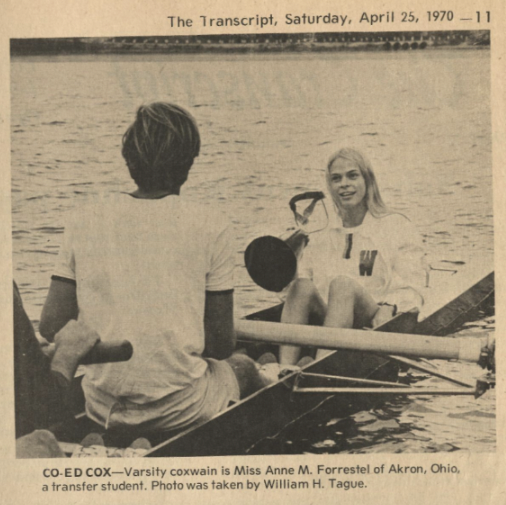 Toward an athletic community that included women 
According to previous Record reporting, the College's first coeducational class in the fall of 1970 included approximately 95 women and about 1,250 men, and the first women's athletic teams were formed alongside long-standing men's teams. Many women spoke to the benefits and challenges that joining the athletic community posed. 
As the only female member of the men's crew team, Forrestel said that her male teammates were supportive during her two years on the roster. "I have to say, the guys were great, and they were appreciative," she said. "It's hard to find a coxswain. I didn't feel that I was that good, and I didn't have a lot of training. But I did my best. And I always felt like the guys had my back. It was really collegial — and it was really fun." 
After the initial formation of teams, Beth Lee '75, a member of the women's field hockey and squash teams, also described the camaraderie that she felt on the women's field hockey team. "Honestly, I don't remember whether we won or lost," Lee said. "I just remember having a good time meeting a lot of girls. We didn't really work out much — our warm-up was taking one lap around the field, and there wasn't a lot of training, or not like it is today. But we enjoyed being together." 
Coach Leslie Orton, who was the head coach for women's skiing and led the varsity women's soccer team in its first year on the varsity level, described the sense of community that she observed on the women's skiing team. "It was a very close-knit group," Orton said. "Skiing is a little different because you're [competing] overnight. You leave on Thursday nights and spend Friday and Saturday racing, so you're always away with the group." 
For Sue Stred '78, a lifelong ice hockey player and founding member of the varsity women's ice hockey team, one of her most memorable experiences on the team was during a home game against Colgate her senior year.
"For reasons that are not 100 percent clear, most women are right shots in hockey," Stred said. "One of my closest friends was the goalie for the men's team, and he had worked with me on how to get women into slap shots at that point. He'd worked with me on my wrist shot — [it was a] beautiful wrist shot — and it went right over the [Colgate] goalie's left shoulder, and I was so psyched."
"[He] was watching that game, and he was like, 'I can't believe you did this!'" Stred added. "It was a terrific goal — it wasn't a crummy shot, or the goalie was out of position, or anything. It was just an absolutely clean goal … [it was] my moment in the sun." 
Stred recalled a mutual respect between the women's and men's ice hockey teams. "They were definitely rooting for us," she said. "We didn't have tons of people come to the games, but there were usually several of the men's players there. There was that sense of camaraderie… They didn't make us cheerleader posters, but there were no pranks, or anything that seemed negative to [me] at all." 
Liza Waters '78, senior co-captain of the 1977 field hockey team and a member of the ice hockey team, echoed this sentiment. "[The men] encouraged us, and it wasn't like they were making fun of us or anything," she said. "I think they loved hockey, and we did too… I hung out a lot with the [men's] hockey players, but my best friends are mostly my teammates from [the women's team]." 
Capaldini said that of the teams that she competed on, the women's basketball team had the most significant spectator presence. She also noted both women's and men's athletic teams consistently showed support in the stands. In one instance, she said that a professor had even attended one of her basketball games. "I ran into Charles ['Charlie'] Fuqua, who was a Classics professor," she said. "And he said, 'You've really got that corner shot down, don't you?' He'd been to the game and that just totally astounded me."
'It wasn't going to happen overnight': Challenges and institutional support
Forrestel said she received unwanted attention during competition seasons. "In two words: It was exciting, and it was exhausting," she said. "I think it was exhausting because I could never be anonymous. And there was always a lot of scrutiny." 
She explained her decision to leave the men's crew team after being a coxswain for two years. "Even though the guys were really great and the team was really great, the experience of competing was hard for me," she said. "I had competed at really high levels in field hockey in high school, so I was used to competition, but there was something about men's sports competition that felt really different to me… That was a little hard to separate from the kind of spotlight I was in — that I didn't invite — but it was just the consequence of being kind of a groundbreaker in that arena."
Still, Forrestel emphasized that the challenges that she faced did not originate at the College. "Parts of it were hard in the sense that there was misogyny lurking around too many corners — that wasn't Williams' fault, that was the time, those were growing pains of going coed," she said.
"I think Williams handled it better than any other school that I know. And as a female there, and one of the groundbreaking ones, I felt really supported by the administration [and] by my professors… I felt really welcomed and supported by my teammates and my friends. And so the way Williams did it — they did it right." 
Like Forrestel, rower Lisa Capaldini '78 said she experienced unwanted attention. A women's crew team had already been established when Capaldini, also a member of the field hockey, cross country, and basketball teams, started rowing for the College. "For crew, we would lift weights … and the guys on the football team would be lifting weights and shout female body parts to motivate themselves," she said. "And I thought, A, that's really gross, and B, it's really gross that they're doing it in front of women." 
Forrestel emphasized that she felt challenges outside of athletics more so than she did with her sport. "There was some kind of misogyny and unpleasant competition academically — that's where I think it was much harder," she said. 
In one instance, Forrestel said that a parent doubted her abilities when she was awarded the Henry A. Dwight 1829 Botanical Prize, given to the student with the highest academic standing in botany. "My father overheard the father of another Williams student say, 'Oh, she must have slept with a professor,'" she said. "There was [a notion] that women weren't smart enough, especially in the sciences." 
Between her own competition seasons, Martha Yergeau '77 was one of the first female athletic trainers for the College. She said that facilities did not always permit female trainers to deliver care. "Williams had to figure out how to accommodate us in the training rooms," she said. "There were a lot of adjustments." 
"There were some schools where we were not allowed into the locker rooms," she said. "I can remember going to Wesleyan for a football game and having to stand outside and wait for the team to come out on the field, because at that time, there wasn't a way for us to be helpful. [The locker room facilities] just weren't set up for us." 
Jessie Potter Kingston '75, who played lacrosse, also suggested that the support of the athletic department was obtained gradually. "Some of [the teams] inherited old equipment and … uniforms that didn't really fit properly," she said. "But … it came around pretty quickly when Williams realized that women could be scholar-athletes just like the men could, and therefore they deserve the same perks and uniforms." 
Along with Kingston, Becky Kano '76 taught women how to play lacrosse through a Physical Education course preceding the first women's lacrosse season. Kingston also played for the cross country and basketball teams and expressed gratitude for the support that her teams received. "The Athletic Department was truly encouraging and enabling," she said. 
Yergeau said that Bob Peck, Athletic Director of the College from 1971–2001, played a vital role in overseeing the creation of the first women's athletic teams. "I was one of the first female athletic trainers — thanks to the courage and the vision and the bravery of Bob Peck," she said. "I was not particularly appreciative [at the time] of all that Bob Peck did for us… And looking back on it, I realized he really was a visionary, and he really was supportive." 
"Within the confines of an athletic department and a budget, I think they really did well with allowing us to be heard and to make proposals, and then trying to implement them — and it wasn't going to happen overnight, even though we all wanted it to happen overnight," she said.
 'I could do whatever I wanted to at Williams': Women athletes find other communities on campus 
Lucienne Sanchez '79, who ran track and played volleyball, soccer, and basketball said that the administrative decision to dissolve fraternities before becoming coeducational may have helped alleviate some friction. "As unpopular as that decision was with the people in the fraternities, I think it was one of the most brilliant decisions that Williams College made," she said. "[It] really fostered a much more welcoming environment for women at Williams than many other schools." 
Forrestel, who attended the College during the implementation of coeducation, also said that the administrative process may have allowed for a smoother transition than at peer institutions. "Williams was really focused on helping us first women have a comfortable place to live [and] protecting [and] helping us academically," she said. "Lots of my friends from Smith went to other places [like] Dartmouth, Yale, and Princeton, and there was no doubt in my mind at the time that the easiest transition for all of us was those of us at Williams." 
Some women also said that organizations outside of the athletic department bettered their experience at the College. Forrestel said that her involvement with the Williams Outing Club (WOC) helped her feel more included in the College community. "I was lucky that I found an outlet that released stress, kept me fit, taught me new skills, and [had] camaraderie," she said. "That was really the big release [of stress] for me because there it wasn't competitive. It was just honing your own skill with your buddies." 
"There's no doubt about it — it not only influenced the whole rest of my life, but I think really helped me get through the stress of getting through Williams in that era," she said. 
As a former gymnast, Sanchez supplemented her varsity athletic experience with a Winter Study dance course offered by the Black Student Union (BSU). "It really was life-altering," she said. "I think it taught me about my body, movement, and dance." 
"My experience at Williams was the experience of a young Black-American woman, [and] I have Latin background as well, and I would say that Williams was so welcoming to me in every regard," she added. "I am grateful for the experience that I had with the Black Student Union. I found it to be a great support network. " 
"I felt like I could do whatever I wanted to at Williams… I felt like people listened and really cared and really wanted to make a difference," she said. Sanchez now serves as a trustee emeritus on the Board of Trustees. 
Nearly half a century later, women continue to be a vital part of the athletic and academic communities at the College and now make up 50 percent of the campus population according to data provided by the College (though these data do not include non-binary students). Yergeau reflected on the significance of the women to establish and join the first women's athletic teams. "In retrospect, it's really remarkable," she said. "I don't think I really appreciated it while I was there." 
"It just didn't seem like it should be a big deal to let us have sports teams that were commensurate with the men's — but here we are in 2022, and the [national] women's soccer team is still fighting for equal pay," she said. "So I don't think we necessarily appreciated the importance of the steps we were taking." 
Kiara Royer contributed reporting. 
This article is the second in a two-part series about the first women's sports teams at the College. The previous article, which focused on the creation of the first female sports teams, was printed in the Mar. 9, 2022 edition of the Record and is available at williamsrecord.com.