Student fishbowl discussion dives into the CCP's activities, Jan. 4 incident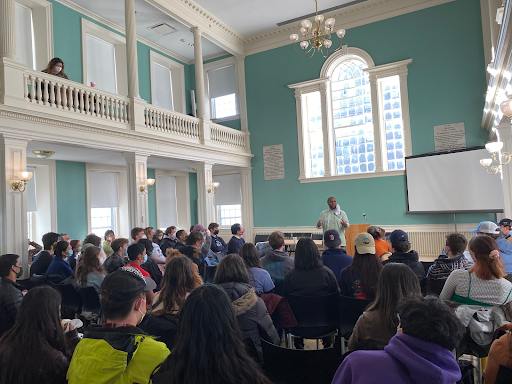 Around 4:30 p.m. on Friday, Feb. 18, a group of almost 60 students filed into a Griffin classroom, taking their seats in rows radiating out in concentric circles from where two students, Topjor Tsultrim '22 and Micaela Foreman '23, sat facing each other.
In a fishbowl discussion moderated by Assistant Vice President for Campus Engagement Bilal Ansari, Tsultrim — one of the co-founders of the College's Milk Tea Alliance — and Foreman — co-organizer of the event — gathered to engage in a facilitated dialogue on the activities of the Chinese Communist Party (CCP) and restorative justice in the aftermath of the bias incident on the Milk Tea Alliance's Jan. 4 tabling day. While tabling, Tsultrim's eagle-shaped bookends went missing, and his Tibetan flag was found on the floor before a table he had set up in Paresky Center to speak to students about boycotting the 2022 Beijing Winter Olympics. Tsultrim subsequently published an op-ed with the Record, detailing the incident and his response.
The fishbowl discussion emerged from Tsultrim and Foreman's online exchanges and Tsultrim's independent correspondence with the Office of Institutional Diversity, Equity, and Inclusivity (OIDEI) following the Jan. 4 incident.
"[Foreman] thought it would be beneficial for the broader community if they were to hear multiple perspectives, and I agreed," Tsultrim said. "I raised this possibility with OIDEI, and they got roped in."
Ansari said that hosting a facilitated dialogue was one of the various forms of support extended by the Office of Institutional Diversity, Equity, and Inclusion (OIDEI) to Tsultrim and the Alliance in the wake of the incident after Tsultrim alleged that the College fell short in its initial response. "[Vice President for Institutional Diversity, Equity, and Inclusion Leticia S. E. Haynes '99] had recommended that one of the possible things that could happen was for [the Alliance] to reach out to me or get me involved to have some type of listening circle or fishbowl," he said.
Foreman said she came into the discussion feeling hopeful. "I was hoping people would learn from both sides," she said. "I do not think I went in thinking that everyone's going to come out with my opinion. But I also think that a lot of people didn't particularly understand some of the nuance of the conversation [surrounding the CCP's activities]."
Over the course of two hours, Tsultrim and Foreman delivered their respective opening remarks and engaged in a series of questions and answers with each other until the one-hour mark, after which the floor was opened to questions from the audience. By the end of the discussion, the two had spoken about the Tibetan cause, Tsultrim's personal history and activism, contention over calling the CCP's treatment of Uyghur Muslims a genocide, and the Jan. 4 incident. The conversation also included discussions about Western imperialism, the reliability of information, and ideological clashes over perceptions of China and its actions.
Throughout their dialogue, the two interlocutors diverged widely on key issues.
"There was a lot I disagreed with," Tsultrim said in an interview with the Record after the fishbowl discussion. "In the moment, I was more concerned with making sure that I was able to provide as much history and context and narrative to counter what she was proposing."
"[Foreman] did recognize that she had more experience with the American context than she did with the East or Central Asian context that China is operating in, but that acknowledgment did not stop her [from] continuously drawing comparisons, which, because of my personal knowledge of East and Central Asian history and politics, I found profoundly misguided every time," he added.
Furthermore, the reliability of Western media coverage of the CCP's treatment of Uyghur Muslims formed a large part of the discussion between the two interlocutors. According to Amnesty International's 2021 report, hundreds of thousands of Uyghurs, Kazakhs, and other Muslim minorities are experiencing mass internment and surveillance, torture, and more, which amount to crimes against humanity at the hands of Chinese authorities. 
"I think that personal stories are uncontested facts," Foreman said. "But I think U.S. state-funded media sources are not trustworthy… I think the smooth story here would be, 'The CPC [Community Party of China] is committing a genocide of Uyghur Muslims because they hate racial difference and Islam.' I don't think that's true. That isn't to say that there isn't harm being done to this community for particular reasons. I just think that the reasons are likely much more complex than race and religion, given some of the more complex political and socioeconomic things that are at force in a place that is populated with so many people." 
"So many nations across the world have identified China's policies towards the Uyghur ethnic group in the territory of Xinjiang as a genocide, as ethnic cleansing and sterilization. You know, many nations, not just in the West have identified these conditions as meeting the bar of genocide," Tsultrim said. 
Though the atmosphere was tense at times according to Virginia Ontiveros '22, some students, including Theo Detweiler '24, noticed the way that  Tsultrim and Foreman agreed on certain issues. "I think both Micaela and Topjor agreed about some kind of a common ground like, 'Yes, we should reject all forms of imperialism,'" Detweiler said. 
Several members of the Milk Tea Alliance were also in attendance at the event, including Daniel Kam '23, an international student from Malaysia. He was drawn to the discussion out of "genuine curiosity about Micaela's point of view," he said.
According to Kam, the subject matter of the discussion seemed mismatched with the way it was framed, indicative of a wider trend of international issues being treated differently to domestic ones at the College.
"I think there are ways to be neutral without pretending like everything's completely fine when this is a discussion of imperialism and ethnic, or at least cultural, cleansing," Kam said. "I feel like that wouldn't have happened if these were very sensitive issues domestically, and somebody was trying to obfuscate the existence of those issues themselves."
Tsultrim said that, while the two differed greatly on their points of view, he appreciated Foreman's composure even at tough junctures in the conversation. "I had not witnessed any breach in cordiality [by Foreman]," Tsultrim said. "But I will say the two moments that I felt [upset] during the event was first when she spoke about how the threat of radical Islam on China's borders justified reeducation camps. And also, when another student bore their personal lived experience as a victim of the CCP's oppression, she acknowledged them and asked the audience to do their own research."
This tension between lived experiences, positionalities, and ideological differences were felt by both interlocutors. "At several times, [it] felt like [Tsultrim] was denying the validity of my opinions as a Marxist, or someone who thinks critically about Marxism, which didn't feel good," Foreman said. 
"I was also super uncomfortable with [how] behind me, there were a bunch of white kids that I assume were on the [men's] lacrosse team," she said. Tsultrim plays on the men's lacrosse team at the College, and many members of the team were in attendance at the event. "I'm not saying it's anyone's fault or anything [but] just that it did affect how I felt while having the conversation. I felt intimidated. It felt like I was on the wrong end of a power difference."
Ontiveros shared Foreman's observation. "I'm sympathetic with Micaela if she was put at unease," she said. "It's not difficult to see the power dynamics that exist between a team that is mostly heterosexual, white, male, and privileged in socioeconomic ways and a woman of color. I can see how that would be daunting."
Ted Anderson '22, one of the lacrosse team members in attendance, acknowledged that the environment could have been uncomfortable for Foreman. "So many people showed up to this thing, and [with] my team being there, that can be really intimidating," he said. "So I thought that through some tough questions from Topjor, she did an incredible job." 
"I was hoping that she didn't feel too personally attacked and that she didn't feel physically or mentally unsafe in that moment," Tsultrim said. "And I still wish that for her." 
To close out the evening, Ansari addressed the crowd. "On behalf of the Davis Center and OIDEI, we failed," he said. "We were flawed. And we apologize." 
"Was [the event] painful? Was it difficult? Was it intense? Was it heavy? Yes to all of the above," Ansari told the Record in the interview. "But was it what the students asked for and needed? Yes. And if [Tsultrim] asked me to do it again, I would do it again because he was harmed, and he expressed tonight that my office had something to do with that."
Ultimately, Tsultrim especially appreciated the "solidarity and support" from members of the campus community at large to the Jan. 4 incident and the fishbowl discussion. "The response that I have been getting from what I view as more representative of the College — the students, faculty members, staff, and the greater community of alumni — has been unequivocal and thunderously loud and overwhelmingly in support of myself, the Milk Tea Alliance, and our goals," he said.
Meanwhile, audience members diverged on their assessments of both the discussion's efficacy and format. 
According to Connor Middleton '22, there was tension between the discussion's restorative and educational goals. "I think [OIDEI's] desire to contribute to [Topjor's] healing should have and could have been divorced from this alternative desire to also have some sort of conversation or to allow someone to cast out over his lived experience, which is kind of how I saw it… I think I had a lot of issues with the setup," he said.
For others, like Detweiler, the discussion proved to be educational. "I think I just learned a lot more about the topic, from both of them," he said. "I'd seen some of the arguments that Micaela had articulated before but also hadn't really heard them not-online, basically. I think that that's what made it a broadening experience." 
Reflecting on the event in the weeks since the discussion, Tsultrim considered the Q&A segment of the discussion to have been especially meaningful. "The audience's questions, I noticed, were more and more informed by the perspectives that I had shared," he said. "I felt like I was being listened to. And that was a very satisfactory feeling." 
Foreman said that while she considered the event "successful in modeling a respectful conversation," in looking back, she wished the dialogue had been more multilateral. "I felt that while it was a necessary conversation to be had, I don't know if the format that we adopted or chose was the most effective way to do it," she said. "Because it only centers one particular Tibetan voice, but it also centers one particular non-Tibetan voice when on both sides, there [are] a plethora of things to say. I don't think either of us is able to represent the complexity of the issue."
However, both Tsultrim and Foreman hoped that such discussions would occur more frequently moving forward, as and when needed. 
"I thought the whole experience, though painful at times for myself — that pain pales in comparison to that of the people we were speaking about," Tsultrim said. "It came at very little cost to me, but I believe [it] was of tremendous benefit to the community."
This article was updated on March 13 to provide a response and more context around Foreman's quote regarding the CCP's treatment of Uyghur Muslims.