WOC, FAST provide financial aid funding for winter programs — but not without complications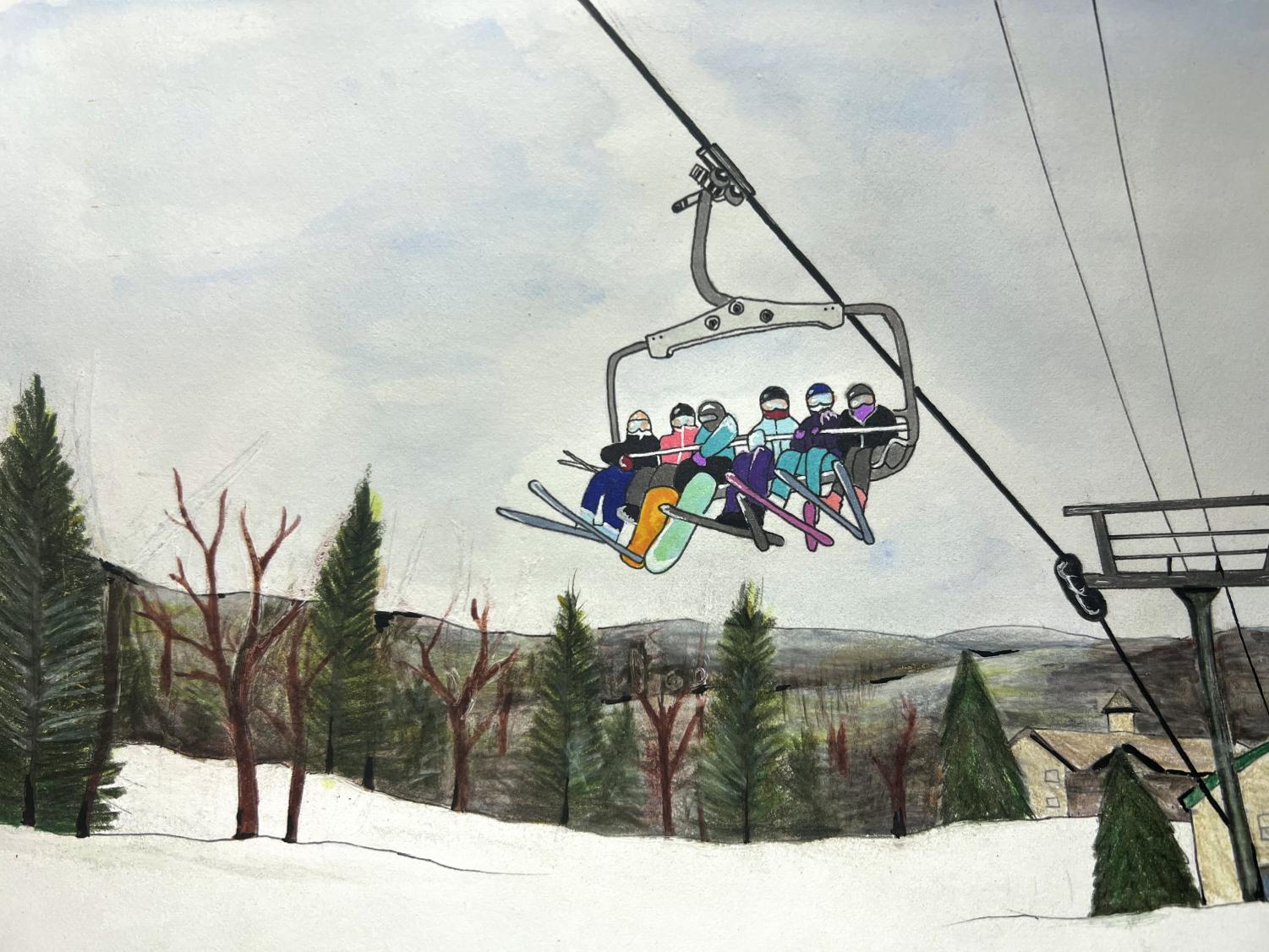 During the chilly weeks of Winter Study, time is no longer a major obstacle to embracing the outdoors — but for some, wealth inhibits access to winter activities that require extensive gear and experience. The Williams Outing Club (WOC) aims to increase accessibility for their Physical Education (PE) winter programming, which allows for financial aid students who are beginners in skiing or snowboarding to receive aid for ski passes and rental equipment.
"Skiing is something that people love to do, and it's a great winter activity, but it's also incredibly exclusive and expensive," WOC President Charlotte Jones '22 said. "We're able to make things more accessible."
Since WOC began providing financial aid for its winter PE classes in 2016, the financial aid program has grown from awarding aid to 40 students to 78 this year. This is the first time since the creation of Facilitators for Allocating Student Taxes (FAST) that the College has held a winter study, and therefore the first time that WOC has requested funds for this program from FAST — the student body in charge of distributing funds to registered student organizations (RSOs) since it replaced College Council (CC) in March 2020. But this year, an increase in the number of students pursuing this resource caused complications, and WOC was nearly unable to provide aid.
WOC Director Scott Lewis emphasized the importance of this year's WOC's winter PE offerings as an outlet for students during a Winter Study that saw heightened COVID-19 restrictions. "This is not only physical education — this is wellness," he said. "If we can offer something to get people out, I think that's a great thing for everyone."
Students in WOC's financial aid program this winter, the majority of whom were first-years and sophomores, were covered either fully or partially based on demonstrated financial need, and received aid for a three-time ski pass to Jiminy Peak, transportation, and rental equipment. Provided that they attended all three sessions, they could earn one PE credit toward fulfilling the College's four-credit graduation requirement.
In past years, WOC has received funding for its year-round programming from a variety of campus organizations, including FAST. According to the Sector Allocations tab of the FAST website, WOC is designated under the Club Sports and Competitive Teams category, which is collectively 31 percent of FAST's total budget. "WOC's programming and equipment have historically been funded by the Athletic Department, CC, FAST, and WOC Membership sales," Jones wrote in an email to the Record. "Some larger programs, such as the new bouldering facility, are financially supported by endowments managed by the Development Office."
FAST came into existence in March 2020, sandwiched between the College's move to remote instruction due to COVID and the abolition of CC. Essence Perry '22, an at-large representative for FAST who was involved in dismantling CC and forming FAST's procedures, cited issues of transparency and equity as reasons for CC's dissolution.
Perry said that in one instance, CC denied funding for Black Previews, a 2019 program that allowed current Black students to introduce the College to prospective Black students. "That's not equity," Perry said. "People were concerned that [CC] was denying groups who rightfully deserve the money they pay into the system. Part of the effort was to redistribute funds and make it transparent."
She also expressed discontent with CC's lack of transparency after reviewing old CC accounts during the change to FAST. "[CC] could tell a group that there was no money left … but there was so much money left," she said. "Transparency and equity were the main reasons… This has gone through iterations but we've really tried to make it as easy as possible."
Perry said she sees FAST's constitution and bylaws, which are public on the FAST website, as a way that allocating funds has been made more transparent. "For us, it's a 'yes' process," she said. "If we can't say yes based on our bylaws, we want to work with you to make it a yes somehow."
Jones, who was serving as WOC treasurer during the switch from CC to FAST, explained how the immediacy and scale of WOC's needs made funding complicated under both governing bodies. For example, WOC did not receive approval for funding for new bikes and bike racks in time to use them last fall. "We were able to ask from FAST, but we weren't able to use [the bikes] in the fall" she said. "And we were hoping to, but it took a while to get through the system."
One initiative built into FAST are office hours, which have taken place on Zoom this year due to COVID, where student treasurers of RSOs can meet with the five FAST student representatives to ask questions about budget requests, reimbursement forms, and other concerns. Spencer Huang '24, the FAST representative in charge of allocating funds for club sports and competitive teams, sees office hours as a way to foster communication with FAST. "It's easier for people," he said. "Usually we don't get too many, but we get a couple people per meeting who come in and ask questions, and we clarify."
But some students say that they still struggle to communicate with FAST. According to Sam Holmes '22, WOC Vice President and Treasurer, office hours were less convenient because of his practice schedule for the men's crew team. "It was hard because I couldn't make a lot of meetings, and I couldn't be the only treasurer that was doing an athletic [commitment at that time]," he speculated. "To interact with FAST, you don't have to go to office hours — you can submit a request without going — but it's a little more difficult, because you can't answer any questions, and they have their due diligence and they have to make sure your [proposals] are real."
According to Jones, WOC and FAST were in conversation with each other during FAST's formation to communicate changes that might occur in the switch from CC, including potential changes in allocations for financial aid. "We were informed that FAST would not be funding financial aid for skiing, but that they said they had spoken to the financial aid office and that financial aid would cover the cost of skiing," Jones wrote in an email to the Record. "FAST claimed that we could no longer use FAST funds to pay student equipment room workers under the same principles. We followed up with Financial Aid almost immediately after the meeting, and we were told that a) FAST had not confirmed skiing financial aid with them and b) the Financial Aid Office is not able to cover skiing financial aid, as they cover so many other things."
She continued by outlining the communications that have occurred to ensure that financial aid for winter programs could still be provided. "The Financial Aid [Office] is incredibly helpful in helping us determine how much aid WOC members receive, and we are really grateful to be working with them," she wrote. "We have repeatedly emailed and spoken with FAST representatives about solidifying a new source for aid over the past two years, and we have never gotten a clear answer. As a result, we have been meeting with other offices by ourselves over the past six months as we think that skiing financial aid is really beneficial to the student body."
Lewis and Holmes characterized a similar understanding of FAST's policies — but the FAST bylaws and constitution make no mention of provisions or limits on providing financial aid. In response to the Record inquiry, Perry wrote in an email "I'm not aware of the financial aid bylaw, but FAST can provide funding for groups to run events of all types, especially events that are geared towards affinity groups, such as low-income students."
Despite initially seeming like FAST would not be able to provide the funding needed to provide aid, in December 2021, Holmes secured funding for the Winter Study PE classes in a last-minute bargaining meeting with FAST, in which FAST agreed to provide $4000 if WOC subsidized costs with $3500 of membership sales; an agreement that enabled the financial aid program to continue this January. "That call was very easy, and it worked out really well," Holmes said. "But it just happened very late."
Jones also mentioned inconsistencies with communicating with receiving funds from FAST across WOC's offerings. "We tried all of our options and really needed [the financial aid] to happen," Jones said. "[Holmes] went back in, and within a half hour had the funds. But with [funding] new bikes, it took us almost a month."
"It's just really hard to tell what you're going to get," Jones said. "It's unclear to me what the system is."
Perry provided rationale for FAST's initial decision to defer the funding. "[During] conversation in December, we did not force WOC to subsidize this themselves, they actually came to us with the proposed amount of $4500," she wrote in an email to the Record. "We tried to find alternative funding sources (such as reaching out to financial aid and OCL), but unfortunately, we could not find funding."
"This led us to give them funding in December when they reached back out," she wrote. "In addition, the fact WOC collects dues is against FAST's bylaws, as all events funded by us should be free, we still provide WOC funding," Perry wrote. "We have, however, made an exception for WOC, and in return, they use some of their collected funds to help offset high-cost items. Unlike any club, WOC has access to funds from multiple places such as student dues, Athletics, and FAST. Just this year, WOC has already received over $20,000 from FAST."
Since FAST and WOC split the cost of funding for the program, the funding that they were both able to provide has had tangible effects. Liv Chambers '25, who received financial aid for beginner downhill ski lessons, characterized her experience skiing in the WOC program this winter as "a positive one."
"I'd only ever been skiing twice before the program," Chambers said. "I had fun doing [the lessons] with my friends… It made me feel more connected to them and the outdoor experience at Williams."
Perry expressed hope in FAST's ability to better represent the student population. "I've been really proud to say that FAST has been a majority POC organization for the last few years," she said. "I want that to keep happening and for students to feel like this is their money, and they are paid for their labor and can effectively do their job."
In the future, Perry says she envisions students shaping the trajectory of FAST. "I want more transparency and for [FAST] to be even easier for students to navigate," she said. "FAST is not supposed to be like an old document that is sedentary — if students are uncomfortable, it's something that is intentionally designed so that they can change it, and students have extreme autonomy in making those changes."
Correction: A previous version of this article incorrectly attributed a quote from Essence Perry '22 to Charlotte Jones '22.