Women's swim & dive finishes undefeated regular season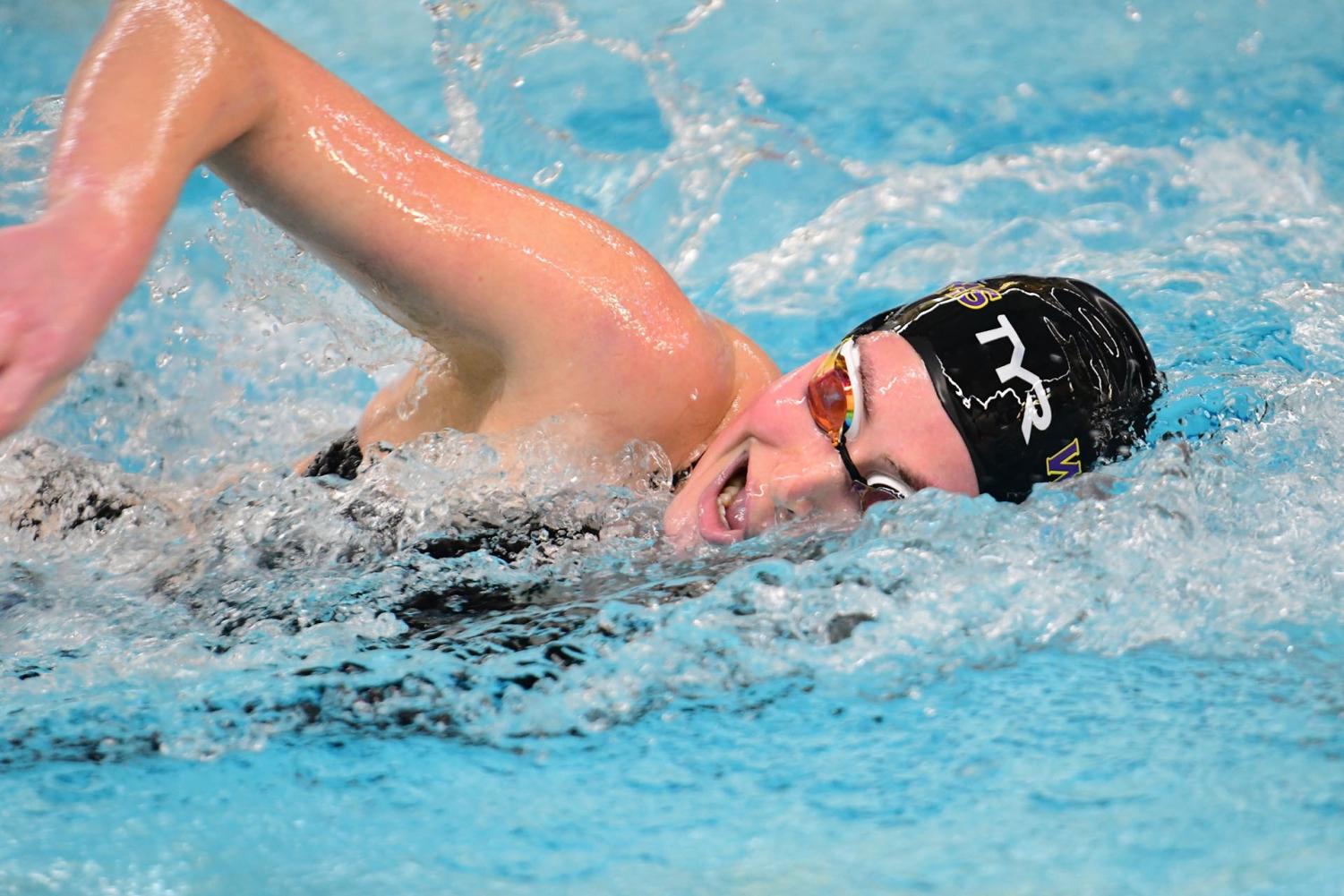 Women's swimming and diving (6–0, 2–0 in the NESCAC) beat Hamilton 192-97 and Middlebury 179-110 on Saturday in its last dual meet of the year to mark yet another undefeated season. Williams won fifteen of the sixteen events that day. The team, which has not lost a Div. III dual meet since 2008, increased its Div. III dual meet win streak to 117.
The meet began with a ceremony to honor the team's seven seniors: Courtney Brown '22, Molly Craig '21.5, Casey DeLano '21.5, Emily Lock '22, Abby Matheny '22, Georgia Panitz '22.5, and Kerryann Reynolds '22. The group has contributed significantly to the success of the team in and out of the water over the past several years.
Saturday's lineup featured sprint-focused events with strokes of 50 meters instead of 200. The meet began with the 200 medley relay. The team, which consisted of Sophia Verkleeren '25, Amanda Wager '23.5, Samantha Kilcoyne '23.5, and Lock started the Ephs off on the right foot with a well-executed win.
Emma Schulman '24 made her collegiate debut in the 1000 freestyle and Schulman maintained her consistent pace to steadily pull ahead and finish first in 10:46.97. The freestyle events continued with the 200, in which Lillian Bushway '24 and Wager took the top two spots, finishing in 1:55.74 and 1:57.49, respectively.
The 50s of stroke commenced with backstroke where Verkleeren and Bainon Hart '24 showcased their sprinting abilities and earned first and second. In the 50 breaststroke, specialist Wager pulled ahead of the field, finishing in 30.70.
Despite an extremely quick turnaround between events, Verkleeren showed up again in the 100 butterfly to take her second individual win of the day with a 58.75. Kilcoyne led the field in the 50 freestyle with a 24.70.
In diving, Adelaide Herman '25 was far ahead of her competitors. She finished first on both boards, scoring 227.78 on 1-meter and 278.85 on 3-meter. Herman wrapped up an incredibly impressive first regular season as an Eph, and she has set herself up well for the upcoming championship meets.
Kilcoyne's tempo translated from butterfly to backstroke as she won the 100 back in a 58.29. The Ephs' first-year breaststroke squad of Charlotte Wishnack '25 (1:07.09), Isabelle Hiller '25 (1:09.72), and Rika Yahashiri '25 (1:09.88) showed their strength in the 100 taking first, third, and fourth, respectively.
Going three for three in individual wins on the day, Verkleeren put together a great 500 freestyle to finish in 5:13.14. In the final 50 of the day, Liz Ramoy '25 won from the outside lane in 26.72. Freestyler Panitz showcased her versatility by clinching first in the 200 IM (2:11.94).
The team travels to the Middlebury Invitational next weekend, Jan. 28–29, for a three-session timed finals meet.