Football celebrates 50th anniversary of Walk tradition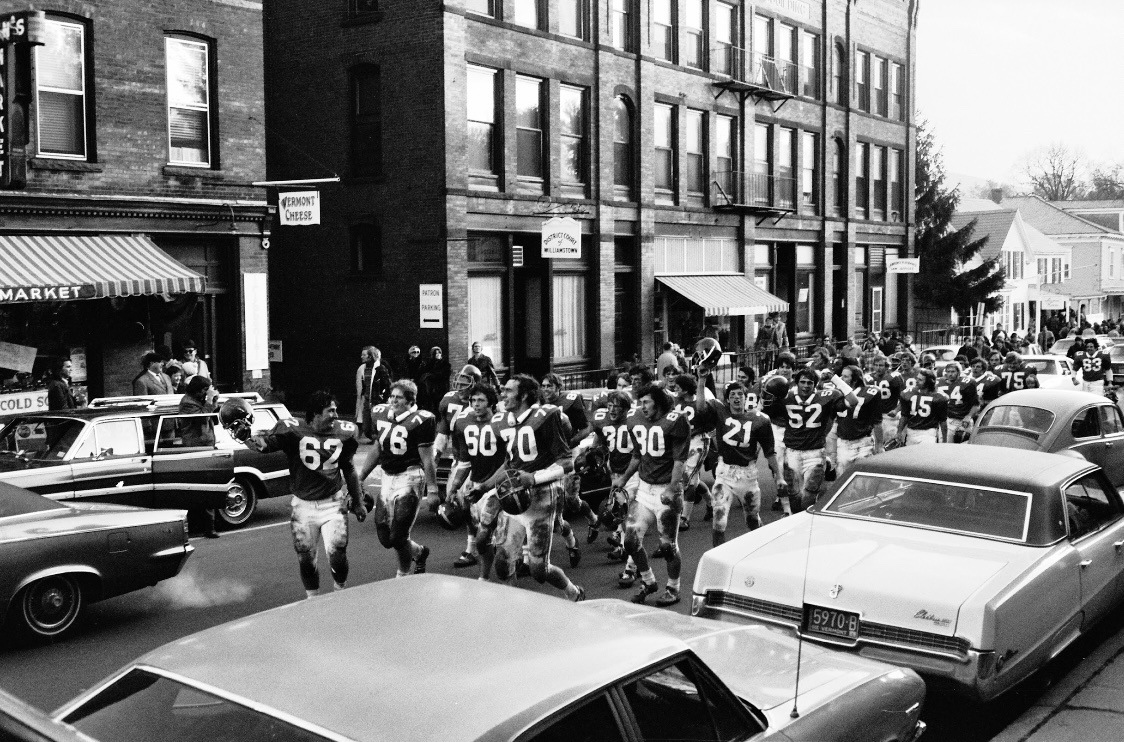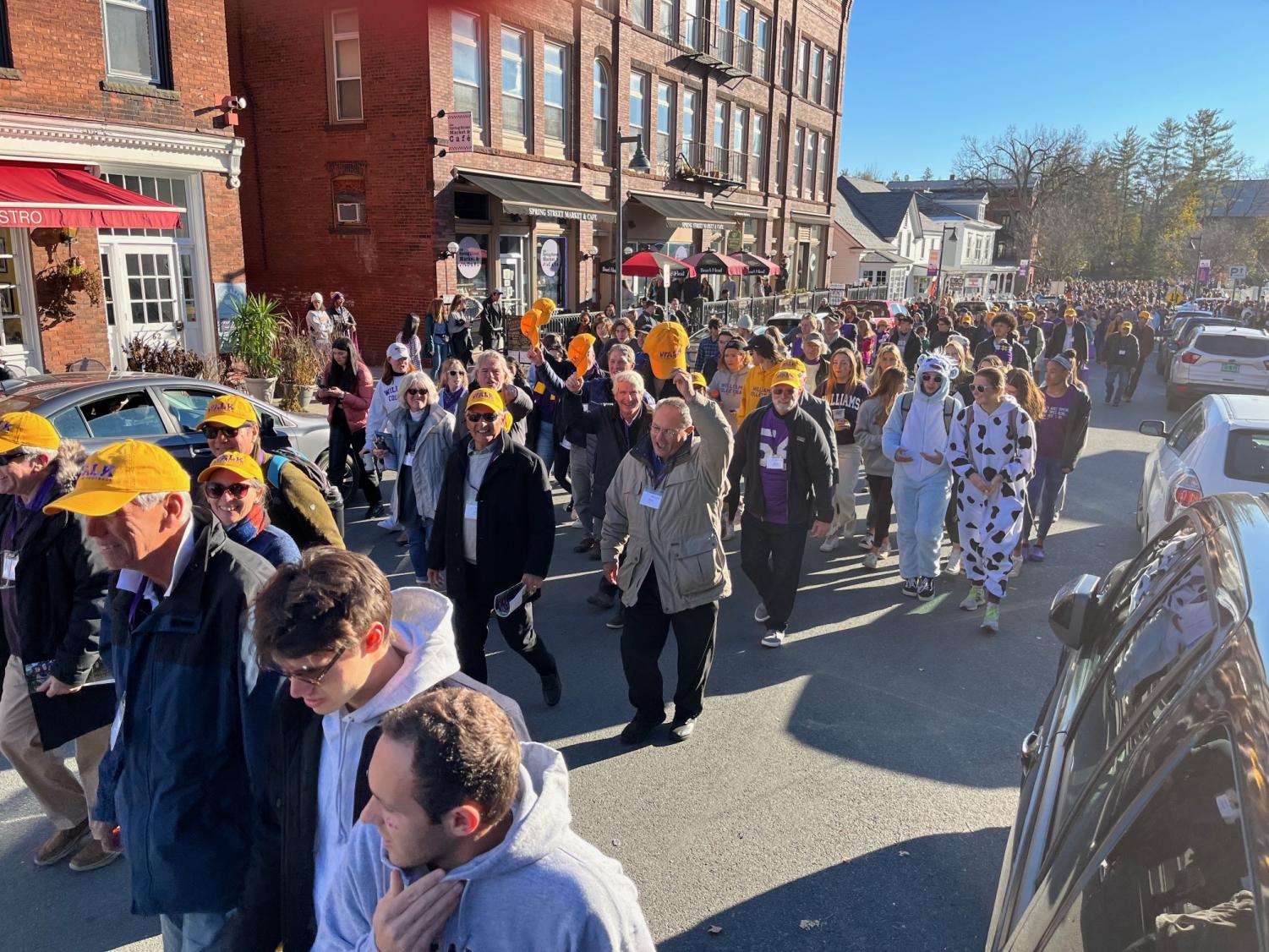 The College commemorated the 50th anniversary of the Walk after the Ephs' win at the Nov. 6 Homecoming football game. Recognized as "the best post-game tradition in America" by Sports Illustrated in 1992, the Walk is a post- Homecoming victory celebration in which the football team leads a campus-wide parade up Spring Street. To celebrate the tradition's semicentennial, alums who originated the Walk in 1971 reunited on campus to watch the game played against Wesleyan and participate in the post-game Walk. The Record spoke to alums and community members about what it means to participate in the long-standing campus tradition.
Alex Dehmel '22.5, a defensive back who has played on the football team since he was a first-year, was especially excited about this year's win because it was against Wesleyan. "None of us had ever beaten Wesleyan, [which is a] team we've had challenges with in the past," he said. "So we knew it was going to be a good game. We knew they were going to come out with a lot of energy."
Dehmel is one of many players who took time off during the pandemic after last year's season was cancelled.
"[The fact that so many players] put their lives on hold by taking a semester off in order to come back and play another season… is really cool," Dehmel said.
Because the team won its Homecoming game this year, Dehmel was able to participate in his second Walk during his time on the team. In addition to the Homecoming win, the team went on to finish the season with a perfect 9–0 record and a NESCAC championship title. Dehmel said he was especially glad that the seniors who had taken time off could participate in this year's Walk. "This was their last season, so I was really happy for them to be able to beat Wesleyan finally, and to get to do the Walk," he said.
As a current player, Dehmel feels this year's Homecoming victory was particularly special because it coincided with a milestone anniversary of the Walk. "I saw [the 1971 football season alums] in the stands [in their] yellow hats, which was awesome," he said. "That was definitely a cool feeling looking up on the sideline… and seeing them all supporting us. I know it probably means a lot to them to be able to come back and watch us be successful." 
Members of the 1971 football team still remember the story of the first Walk with great clarity. 
Dick Nesbitt '74, who was a sophomore at the time and who would later serve as the College's dean of admissions, recalls that that year's Homecoming game against Amherst was a surprising victory for the College. "We were quite the underdogs," he said. "They had a quarterback who was … all-New England. They had Jean Fugett … who was six-foot-three, 231 pounds, who ended up … playing professional football for the Dallas Cowboys. They had another receiver named Freddie Scott, who ended up playing in the pros for the Colts."
"They were projected to beat us," echoed Ernie Smith '72, who was one of the three team captains during that season. "When it turned out that we won the game 31-14… we were elated… After three years of having been humiliated by Amherst on the football field, we finally beat them."
The team did the Walk for the first time because the bus broke down, Smith said. After each home game, it was customary for the team to ride back to Cole Fieldhouse on a school bus. But when they boarded the bus after that game, they quickly realized it would not start.
"So we pile off the bus and [begin] walking up Spring Street," Nesbitt said. "We're thinking, 'this really, really sucks.' And then… we realized that Spring Street is lined with people, [and] they're all cheering. And it was like a victory walk. It was amazing."
"I don't think any of us on that team ever thought that [the Walk] would become a tradition, much less a tradition that would last for 50 years," said Thomas Lee '73, one of the 1971 season's quarterbacks.
In the years since the Walk began, the tradition has evolved to include celebratory beers at St. Pierre's Barber Shop and football players' shaving their heads.
"In the mid-80s… David Montgomery, who grew up in town, and his twin brother Gordon used to get their haircuts at St. Pierre's. David went to Williams, and Gordon went to Amherst, and they both played football," Dick Quinn, Director of Sports Information, said. "Roger St. Pierre [the barbershop's owner] told David, 'you should stop by if you win'… And he and a handful of players did, and that… turned into 'come on in and have a cold drink.' And then it evolved into celebratory haircuts."
"There was no stopping at the barbershop or anything like that [in 1971]," Nesbitt said. "In fact… we stayed as far away from barber shops as we could in those days."
"Vietnam War era," he added with a chuckle. "We didn't get our hair cut."
This year, the College decided to cease official support for the haircuts. "Haircuts are not part of [the Walk] anymore because we certainly don't want to have any instances of hazing or have anybody feel pressured… to get their head shaved," Quinn said.
However, several players chose to shave their heads anyway. Students in football sweatshirts could be spotted throughout campus in the days after Homecoming sporting fuzzy, freshly shorn 'dos.
The football alums all expressed gratitude for the reunion on campus this past Homecoming weekend. "The best part of the weekend for me was that after the Walk, about 12 or 15 of us went to The Log [restaurant]," Lee said. "And because it was such a beautiful day, we were able to sit outside on the deck… have a few beers and trade stories from 50 years ago, and it was fantastic."
"I had not seen [some of my teammates] in the 50 years… since they graduated," Lee continued. "And it was great being back together. It was amazing how many details about the game and about the season people remember even after 50 years."
Smith said he is also always glad to reunite with his old teammates. "Anytime we get together, it's like we've never been apart," he said. "It takes.. a minute and a half [to] get over the part where we don't actually recognize who that old person is we're looking at. But once we recognize who that is, then it's… just warmth and friendship."
"I hope the time never comes when the team forgets to do the Walk when they win Homecoming," Smith added. "And I hope that everyone in the Williams community understands that the Walk is community property. And all are welcome to participate and share that joy."
"Frankly, I'm looking forward to coming back for the 100th anniversary of the Walk," he continued, with a laugh. "It's on my calendar."