Christopher Clarey '86 discusses writing definitive biography of Federer, the future of tennis post–Big Three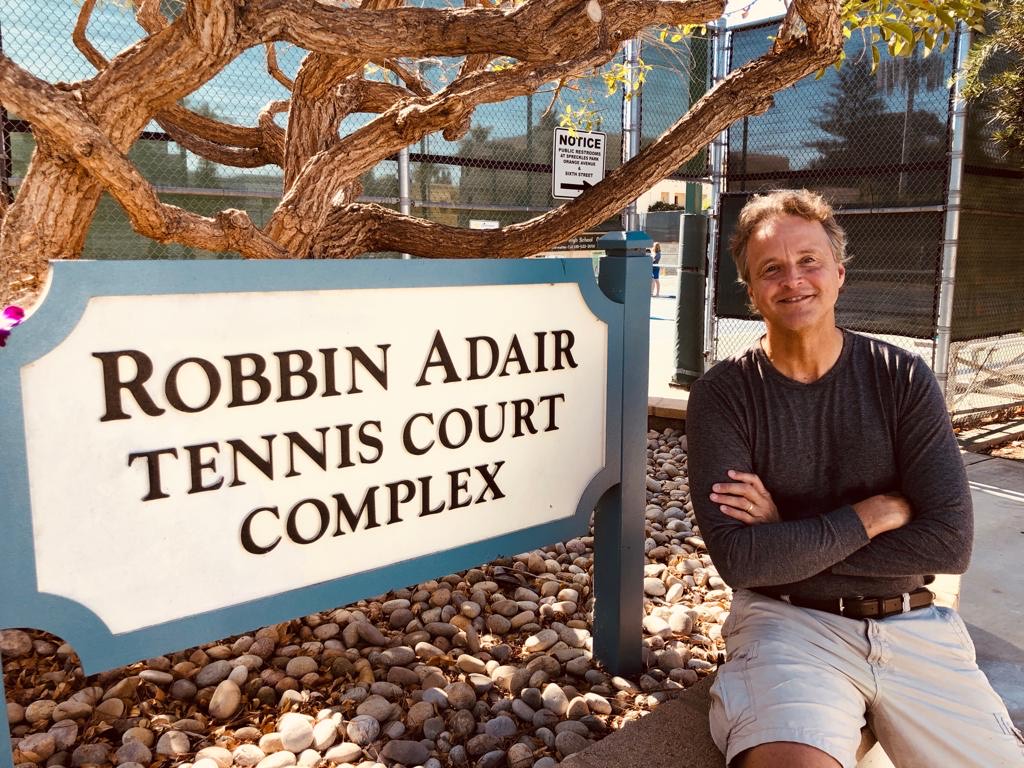 "You know, it's funny. I really didn't know I was going to write it," Christopher Clarey '86 said of his latest project, a 432-page biography about tennis icon and global phenomenon Roger Federer.
"I interviewed Roger in 2019," Clarey continued. "And he said, 'So, you writing a book?'… I said, 'Well, I don't think I am right now. I just have too much going on, and I want to wait till the end of your career because I feel like that's when the story will be written best.' And I think that may still be true."
The Master: The Long Run and Beautiful Game of Roger Federer was released on Aug. 24, 2021, just over a week after Federer announced that he would be withdrawing from this year's US Open due to his fourth knee surgery since 2016. In this comprehensive biograph, Clarey traces the life and career of one of tennis's greatest players of all time.
As a tennis correspondent for The New York Times, Clarey has had unrivaled access to Federer and the game of tennis for over 25 years. Having reported on sports and tennis since graduating, Clarey said that he has been able to see the career trajectories of many great players, including the Big Three of Federer, Rafael Nadal, and Novak Djokovic.
"Roger's career has been written about in great depth daily by people like me, and he's had some biographers in Europe," he said. "But I felt like what made this different was the level of access that I had to him, the amount of time he gave to The New York Times above all… So I felt like I wanted to find a way to take advantage of that material, which I thought was unique."
When the travel-based world of tennis was interrupted by COVID last year ,Clarey said that he was finally able to find the time to work on the biography. "The contract to write the book was signed and agreed to before the pandemic started," he said. "But the pandemic in a way certainly allowed me the time to try something new like that in a really focused way… I was in one place for the first time ever in my career."
However, not everything was smooth sailing. One of the challenges he faced while writing was the question of how to structure it, Clarey said. "For a print journalist [who] is used to writing 1,000-word chunks — suddenly, you're writing a 150,000-word book with 18, 19 chapters," he said. "How do you choose to structure that? How do you order that? That, to me, was the biggest challenge, frankly."
His solution was to split the story into the events and places that were key turning points in Federer's transformation from a "temperamental, bleach-blond teenager with dubious style sense to one of the greatest, most self-possessed and elegant of competitors," as the blurb of the biography puts it.
"I tried to find signpost matches — matches that were symbolic in terms of his own progress," Clarey explained. "You couldn't write a book about Roger without mentioning [the] Nadal–Federer Wimbledon Finals in '07, '08… There were certain ones that you had to do. But the ones that were fun were the ones that I was able to pick that were a little bit off the main track."
The book closes in early 2020 with Match for Africa 6, the latest installment in a series of exhibition matches organized by Federer to fundraise for his charity, which works towards equitable education in low-income countries. However, the tennis world extends beyond the bounds of these covers — and so does Federer's story and legacy.
"Right now, I think we're still a little bit in the last fumes of the Big Three era," Clarey said. Djokovic almost completed a Grand Slam this year but was just shy of winning all four major tournaments when he lost to Daniil Medvedev in the US Open Finals.
"You can't say that their era is over because [Djokovic is] obviously really the dominant player still on paper," he continued. "But you can sense with the younger generation of players, especially the Europeans, that some of that mystique is gone. Nadal and Federer have missed most of the second half of the season… Their time is ending. That's clear."
The departure of the Big Three may not be the only change for a game that has long emphasized tradition. Naomi Osaka made headlines when she withdrew from the French Open earlier this year due to her struggles with mental health, particularly in relation to pressure from the traditional press conference format. As a sports journalist who specializes in tennis coverage, Clarey expressed sympathy for Osaka and other athletes with similar struggles, as well as uncertainty about how the industry will move forward in a world where social media and public relations has changed the role of the press.
"People are changing in terms of their views on this issue, and there's more sensitivity and openness to discussion of it," he said. "That seems a good thing, but then at the same time, how do you create a set of rules in our business?… Ultimately, the media serves the public, and ultimately, the media tries to serve the truth, however you interpret that. We may not get there, but we're trying to get there."
In the face of such complex questions, Clarey said that an important tool for him in a constantly changing industry has been his time at the College. "I still think that our education at a place like Williams is an advantage because I think journalists do better work when they're able to ride the learning curve quickly," he said. "You're thankful to have that omnivorous background that a Williams education allows you to have."