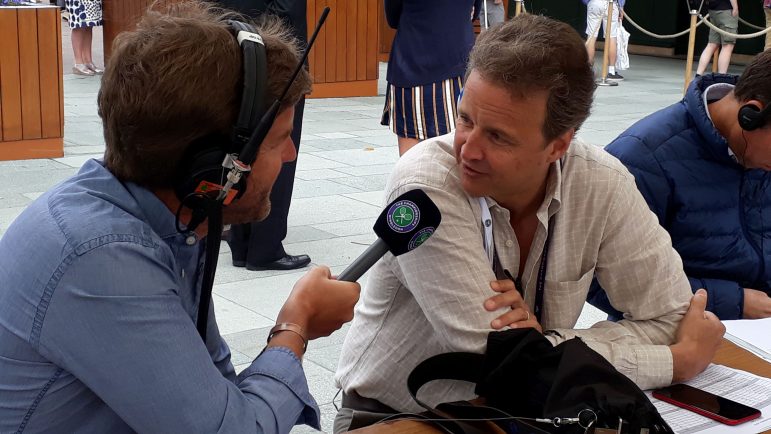 Only a few months ago, Christopher Clarey '86 was gearing up for tennis' busy season. Clarey, who covers tennis and global sports for The New York Times, typically spends the warmer months bouncing back and forth across hemispheres to cover some of tennis' biggest matches. Each summer brings three of the year's four Grand Slam tournaments and, with the 2020 Tokyo Olympics, this one was set to be especially busy.
This spring, however, looks very different for him. Like almost every other industry, the world of tennis ground to a halt in early March, as COVID-19 took hold around the globe. Nearly all professional play, including the sport's biggest tournaments, has been cancelled, and this summer's Olympics were postponed until 2021. For players and journalists alike, the usual schedule of tour stops and travel faces a major interruption. "Every aspect of a global sport like tennis is being all changed around," Clarey said.
From his home in Newburyport, Mass., however, Clarey has a front row seat to how the global sport of tennis is bending, or breaking, under the pressure of travel restrictions, social distancing and health concerns. Instead of his usual match coverage, Clarey has spent his time off of the tour circuit crafting in-depth looks at how the COVID-19 crisis is reconfiguring the sport in real-time.
"This is such a global issue," he said. "It's touching every nook and cranny of every human endeavor, and sports is no different. We've discovered at the Times that the appetite of people for stories relating to this that are well-conceived is pretty much endless."
In recent weeks, his articles have included deep dives into the impact of COVID-19 on the tennis economy and a proposal to join together the men's and women's professional tours. Another piece explores a backyard tennis championship streamed by ESPN. While the articles vary in scope and tone, there is a common takeaway: Tennis will not escape the pandemic without a critical assessment of every aspect of the game, from its decentralized organizational structure to its economic liabilities.
"In any situation when it comes to a grinding halt, it exposes the weaknesses in the system," Clarey said. "The structural weaknesses, the fault lines and just a lot of things that would not be broached or talked about."
Challenges posed by COVID-19 on professional sports could have disproportionate effects on tennis specifically, Clarey said, due to certain inherent structural elements. Unlike in most other professional sports, tennis players are independent contractors who do not belong to a union or team. Instead, their income remains largely reliant on prize money and sponsored appearances. The vast majority of professional players, Clarey said, do not necessarily have as large a financial safety net as one might think, especially given their coaching and travel expenses.
"A lot of players in tennis don't make much money at all and are dependent on their week-to-week, month-to-month checks," he said, adding, "Tennis players, by the nature of being independent, are a lot more vulnerable than other athletes in top-level pro sports."
The global nature of tennis also complicates any plans to resume normal competition schedules, due to public health concerns and travel restrictions. Because it is tournament-based, players often have to travel to several different countries within only a few weeks. Two-week-long self-isolation protocols are simply impractical in such a travel-dependent sport. For this reason, Clarey said, "it may be one of the last sports to open up again."
While other professional athletic leagues are considering resuming their seasons without the presence of fans, Clarey does not see this as a viable option for tennis. "Tennis, unlike some other sports at high levels, is very dependent on ticket revenue and sponsorship compared to media rights and TV revenues," he said. "Really, the business model is not great for them if you don't have spectators in the stands."
Even when travel restrictions are lifted and stadiums can be opened, he expects to see a lag in ticket sales as spectators weigh potential health concerns. Coupled with the mass cancellations of this spring, this could have significant long-term effects on the sport, Clarey said.
Currently, several bodies organize different aspects of professional tennis. The Australian Open, French Open, Wimbledon and the U.S. Open all have their own leadership, as do the men's and women's professional tours. This decentralization of power may prove difficult to maintain given current financial losses, according to Clarey. "It will be interesting to see if they will streamline some of that because of economic pressures, if they realize this is the time to make some of those changes and give the sport a more centralized structure," he said.
While this is by no means a new conversation, Clarey noted that the pandemic has brought it into focus in a new way. "The economic concerns are what really sharpened the debate," he said.
Recently, prominent players, including Roger Federer, have also raised the idea of combining the men's and women's tours, which would provide greater advertising and funding opportunities.
While the courts of Wimbledon will remain empty this June, Clarey expects these conversations about the future of tennis will continue to gain momentum off the court. He will continue to cover them, even after the professional tournaments resume. "There's always a story," he said. "This whole thing confirms that for me. In a time when there's no sports formally, except for people in backyards in Connecticut, there are still a million stories."