College embarks on fully in-person semester, but not without hiccups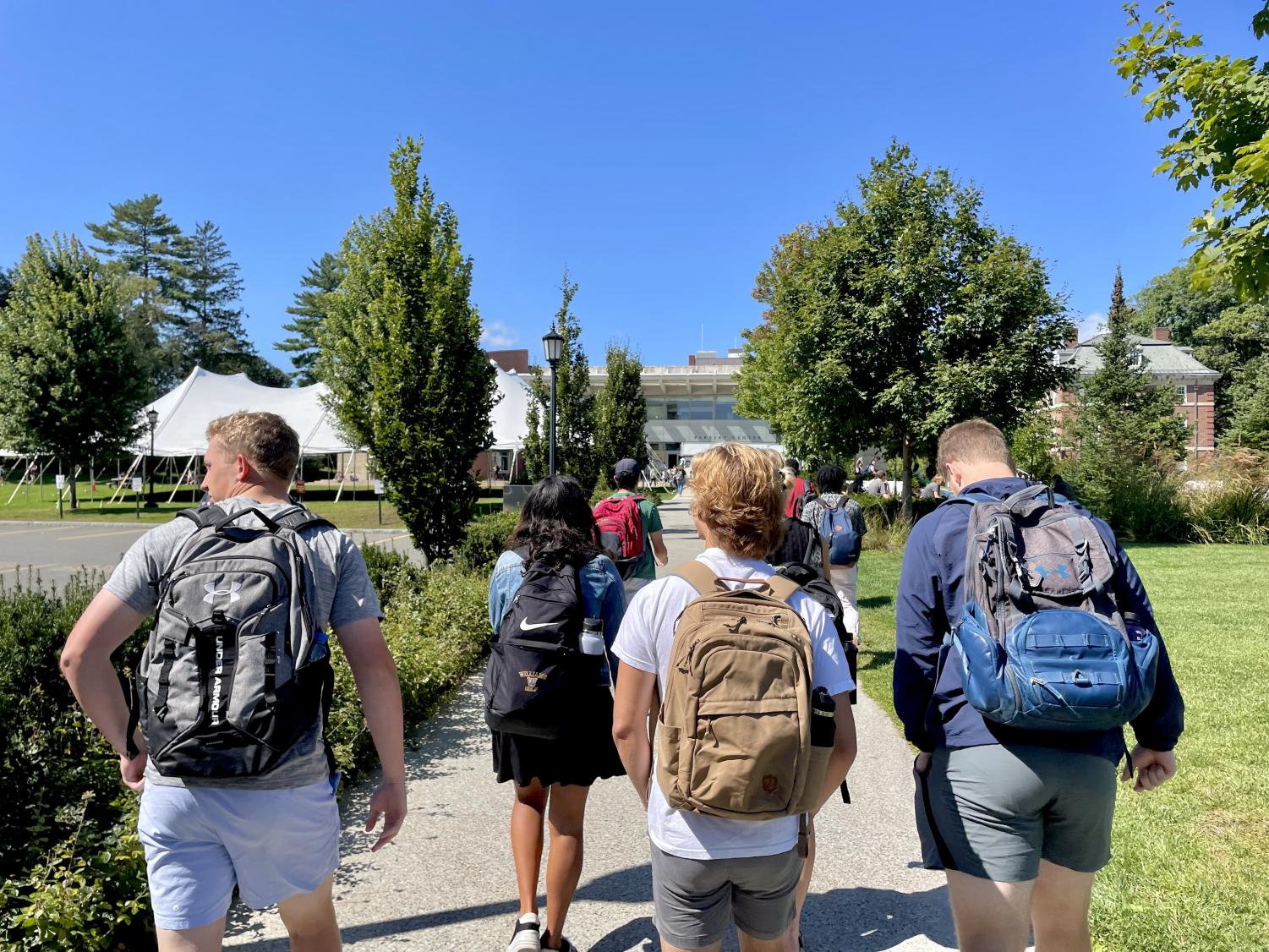 The College welcomed students back this month for the first fully in-person semester since before the pandemic, entering a moment that President Maud S. Mandel called "precious and also precarious" in her Sept. 9 letter to the community. Though COVID-19 rates have remained low, the first few weeks have not been without complications, especially in the realms of dining and housing.
COVID-19
Given ongoing concerns about the COVID pandemic and the highly contagious Delta variant, the administration implemented an indoor mask mandate and a weekly testing requirement for all faculty, staff, and students, regardless of vaccination status, in the weeks preceding the arrival of most students in late August. The College has also set-up eight outdoor "classroom tents" around campus available for faculty to reserve through mid-October. 
Since Aug. 25, the College has reported six positive tests among students. With the help of Associate Director of Institutional Research James Cart '05, the College has rolled out a new COVID-19 dashboard, which includes a more in-depth public COVID screening program and displays data in context of the College, Berkshire County, and Massachusetts.
Dining 
Several barriers have stood in the way of Dining Services' making a full return to the pre-COVID standard. Director of Dining Services Temesgen Araya announced in August, amid a national labor shortage, that Dining Services would be forced to operate at 20 percent below its optimal staffing level. As a result, late-night dining has been restructured such that a buffet at Whitmans' Dining Hall is the only late-night option. 
Many students arriving on campus between Sept. 4 and 7 were surprised to find that the fall semester meal plan did not appear to cover their first few days on campus. Araya said that the issue stemmed from the traditional policy of starting board plans the day before classes start, beginning with dinner. As such, dinner on Sept. 8 was the first meal officially covered by the meal plan, although many students who sought to eat at the dining halls in the preceding few days were allowed to swipe through. 
Last year, Whitmans' implemented turnstiles to limit the number of students getting food simultaneously. Students this fall have complained that the turnstiles prevent them from going back for seconds at Whitmans' in the way they could before the pandemic. 
Whitmans' provides trays so that students can carry several plates of food at a time. But some students have raised concerns about this approach, arguing that it may lead students to take more food than they would otherwise, potentially increasing the overall amount of food waste the dining hall produces. 
"Since I've realized that there are no seconds in Paresky, I have started taking way more food than I normally would, and I often end up with leftovers that I throw away," Timmy Kelly '24 said. "If I had the ability to get seconds on my own terms, I would probably throw away a lot less food."
Araya said the decision was made to continue limiting students to one trip "because of capacity limits and our need to keep the flow moving."
Zilkha Center Zero Waste Intern Lauren Lynch '23 pointed to substantial research supporting the relationship between eliminating trays and reducing food waste. The potential environmental impact does not end there, however. In 2009, The New York Times reported that the Zilkha Center had saved 14,000 gallons of water per year after eliminating trays at Driscoll, where 147,000 trays had been washed annually. 
Housing 
The housing assignment process this year proved especially difficult for many students. First-years did not receive their housing assignments until the week before they were scheduled to arrive on campus, and many students in all other classes faced complications with the housing lottery, which was also pushed back multiple times since last spring. 
With many off-cycle seniors living on campus this semester, along with students who might be studying abroad if not for the pandemic, there was an abnormally high number of upperclass students needing to be housed on campus. As such, the Office of Campus Life (OCL) was forced to add Thompson Hall as a housing option late into the lottery process. 
Kelly, who said he was among the last 10 students in the housing lottery, ultimately ended up in a double with his friend. But at first, before Thompson opened up, it seemed he would have to pick into a room with someone he didn't know.
"The housing lottery took a lot more out of me than I was expecting," he said.