Poker Flats Gallery on Water Street until Oct. 24, 2021
As of the summer of 2021, Poker Flats no longer exclusively refers to the co-op housing behind Mission Park. During the summer, Izzy Lee '12 and Jared Quinton '10 co-founded a pop-up art gallery entitled Poker Flats, which will be open until Oct. 24. The co-founders said they would like the temporary gallery to be an intimate space to engage with the artists and present thought-provoking work to the art lovers of Williamstown.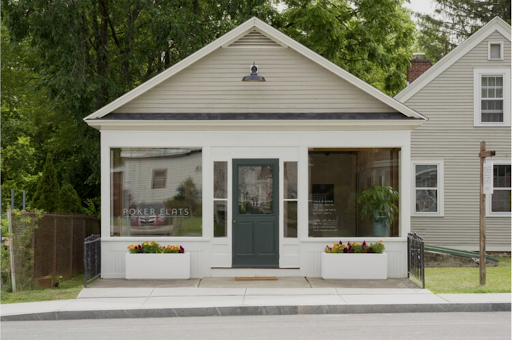 The gallery — just like the co-op housing it shares its name with — finds itself in a renovated white house, and (unlike the co-ops) is located on Water Street. The gallery opened with a public reception on June 26, with its first exhibition Angle of Repose. 
The exhibition's namesake, a novel by Wallace Stegner, outlines the thoughts of an individual torn between her previous privileged lifestyle and her new life in the frontier-era American West, grasping for meaning in the beauty of landscape. Quinton and Lee describe how they were inspired by the story to create a space to feature works of art deeply connected to nature and landscape. The Poker Flats exhibition continues the novel's legacy of navigating the tempestuous relationship between humankind and nature, the gallery's founders said on the gallery website. 
"Angle of Repose brings together a group of artists who rely on intimate, extended engagement with the landscape to render both its immediacy and ultimate, sometimes overwhelming unknowability," Quinton and Lee describe in the exhibition description on their website. Featuring works by 15 artists such as Erich Aho, Colin Brant, John McAllister, and more, Angle of Repose invites viewers to ponder their own relationship with landscapes inside a gallery surrounded by the iconic Purple Valley.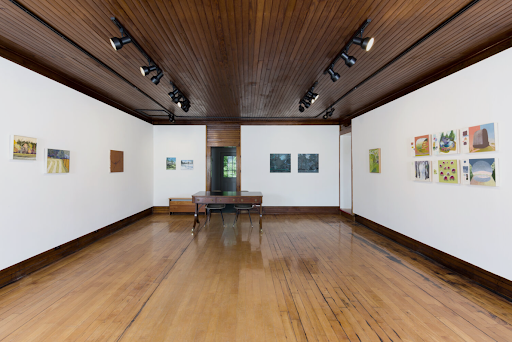 Angle of Repose was the first of three exhibitions to be shown in the gallery. It was followed by the second exhibition, Feelings Are Facts, which was displayed from July 31 to Sept. 6. The gallery's second exhibition shares its title with a memoir by artist and filmmaker Yvonne Rainer. "Works in this exhibition exist as both indexes of deliberate, intensive labor by the artists and as open-ended catalysts for vulnerable self-examination," the website said.
The co-founders of the gallery emphasized that the featured works by 14 different artists in Feelings Are Facts are "united more by an approach or sensibility than any theme or technique," and are all designed to tell a story about the human experience and offer visitors a chance for self-examination and reflection. For instance, Roger White's Chicken — two slabs of chicken on a white cutting board — and Ann Pibal's CGBTZ — a composition of diverse shapes and colors across the canvas — have drastically different techniques and styles, but both try to approach and meddle with our feelings and ideas. As the Poker Flats Gallery website puts it, "The show brings together a group of artists whose methodical approaches to abstraction are suffused with references to and expressions of the strangeness of living in a human body, having desires and obsessions, seeking humor, intimacy, or release, and absorbing extrasensory and subconscious perceptions."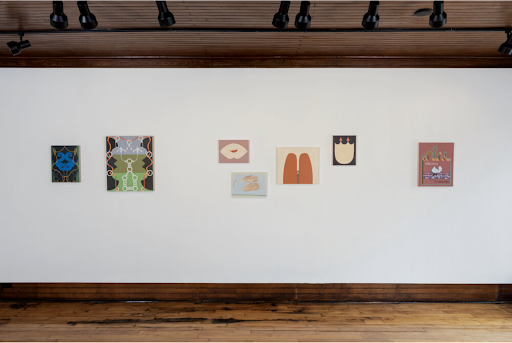 Quinton and Lee are now in the process of organizing the third and final exhibition at Poker Flats Gallery, I am afraid to own a Body. The co-founders continue the gallery's pattern of borrowing the names of literary works, this time quoting an undated poem by Emily Dickinson:
I am afraid to own a Body—
I am afraid to own a Soul—
Profound—precarious Property—
Possession, not optional—
Double Estate—entailed at pleasure
Upon an unsuspecting Heir—
Duke in a moment of Deathlessness
And God, for a Frontier.
The co-founders of Poker Flats said they expect I am afraid to own a Body to further expand the questions that the gallery has asked over the summer — about the complex and strenuous journey of humans to better comprehend their own identity, whether it be amid landscape, through reflection, or navigating the body and soul. The exhibition will also introduce works by College faculty, such as Assistant Professors of Art Murad Khan Mumtaz and Pallavi Sen. I am afraid to own a Body will open Sept. 24 with an opening reception from 5 p.m. to 7 p.m.
Poker Flats brought a refreshing new breeze to the Williamstown art scene with its inspirational contemporary art exhibitions that navigate the challenges of the human experience. As the pandemic changes the way we understand the world, Lee and Quinton ask us the questions we should have asked ourselves: How do our surroundings impact us? How much of the pre-pandemic metropolitan lifestyle is still necessary? Who are we, and why do we do what we do? What is the relationship between our minds and our bodies? An opportunity to ask ourselves these questions and get them answered lies not so far away on Water Street, at the Poker Flats Gallery.