Bux Vintage hosts youth art show, donates proceeds to Elizabeth Freeman Center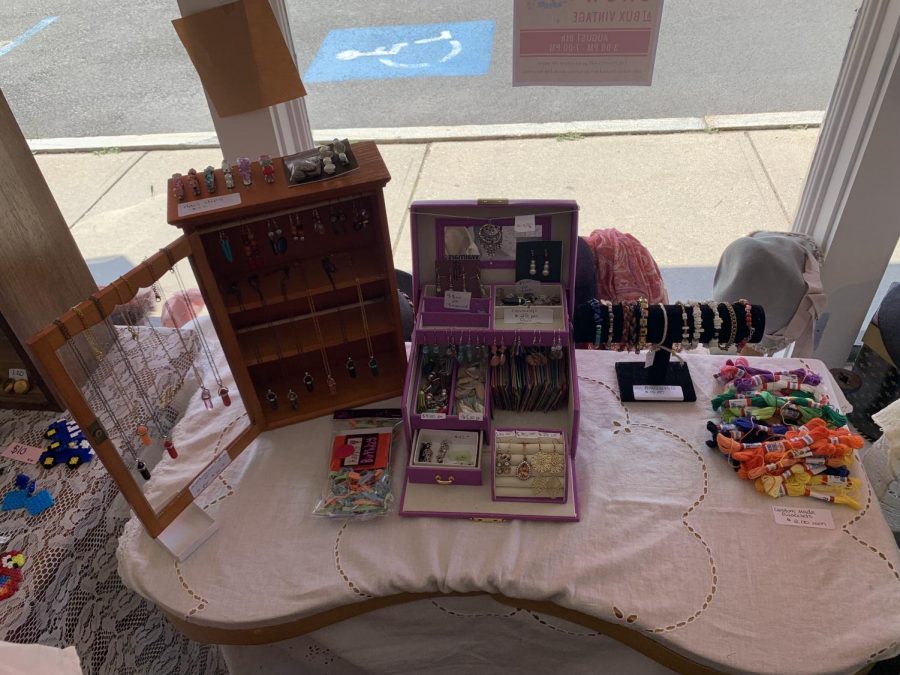 When 20-year-old artist Karen Magnusdottir McComish walked into Bux Vintage, a recently opened pop-up thrift store on Spring Street, wearing a blouse they had crocheted themselves, owner Paula Buxbaum got an idea. Inspired by Magnusdottir McComish's creativity, Buxbaum decided she would merge her passion for youth with her passion for art by hosting an art show where local youth could sell their work to the public. 
Buxbaum's small store was filled to the brim with people on Sunday, Aug. 8, when the art show first opened. Customers milled around the shelves and racks, which displayed everything from paintings to sculptures and custom-made clothes. The show featured 12 artists aged 13 to 22. They had a wide range of skills under their belts — some specialized in jewelry making or sculpting, while others were painters who worked on canvases or even clothes.  
Some of the artists took to modeling. They stood throughout the store wearing custom clothes or jewelry that they, and oftentimes other artists, had made. The artists-turned-models were eager to display and discuss their work and the work of their peers, and spent much of their time engaging with customers.
One of those models was Magnusdottir McComish, who began knitting as a child and learned to crochet clothing as a way to deal with stress and stay busy after the onset of the COVID-19 pandemic in spring 2020. "During COVID, when I was stuck in my house doing college remotely, I found that I was really anxious," they said. "I needed something to do with my hands … and I was like, 'Wait, I should get back into this.'" 
They put their newfound skills to use by taking advantage of Buxbaum's tradition of giving something away with every purchase. "When you purchase something in the store, you get a free doily or a free scarf," Magnusdottir McComish said. "I got a free doily, and I turned it into a shirt, and [Buxbaum] was like, 'We should sell that.'"
Magnusdottir McComish was not the only young person whose artistic endeavors Buxbaum found inspiring. She also pointed out another artist — 13-year-old Cam Dus — who makes jewelry. 
"I sent [Dus] home with just a huge bag of beads and broken things, and he came back a couple weeks later and gave me these beautiful things he'd made," Buxbaum said. "There's so much creativity happening here. It seems like youth have been really busy during the pandemic, learning how to crochet and write or make clothing … and this is such a big opportunity to do something."
Both Magnusdottir McComish and Dus had items for sale at the show, which had customers spilling onto the sidewalk of Spring Street. Abstract paintings and custom jewelry — everything from earrings to necklaces and bracelets — were the main features of the indoor portion of the show, while a rack for custom clothing like Magnusdottir McComish's drew a crowd outside. Any items not sold at the opening will remain on sale at the store for the next month. 
The show was an opportunity for artists not only to profit from their work but also to support a cause that was important to many of them. Buxbaum, who previously worked in nonprofits serving low-income youth, drew on her professional experiences to come up with the idea of splitting the proceeds between the artists, who received 75 percent, and a nonprofit, which received 25 percent. After voting, the artists decided on donating to the Elizabeth Freeman Center, which works to support survivors of domestic violence in the Berkshires. 
Buxbaum said that the center often acts as a haven for LGBTQ+ youth in the area. Despite similar rates of domestic abuse as their heterosexual and cisgender peers, LGBTQ+ people often face increased barriers in accessing support that is specific to their identities. The center attempts to combat this by having a variety of resources and counselors available. Some of the artists, like Dus, are members of the LGBTQ+ community themselves and were personally invested in supporting the center.
"I am proud to be a part of the LGBTQ+ community and I hope to raise at least eighty dollars for the Elizabeth Freeman Center," Dus said in a written statement that was included on the event's pamphlet. Magnusdottir McComish also noted that the center is "an amazing place." 
Buxbaum said she hopes to continue to host art shows on a regular basis. "If it goes well, I'd love to do this every couple months, and have a different nonprofit [each time]." She estimated that the show raised about $2400, with about $600 going to the center. 
Fundamentally, this project was driven by Buxbaum's love for children. "I have a teenager myself," she said. "I've always just really loved kids, and I feel like even though I'm much older than them, I can relate to them. It brings me so much joy that they're all coming in the store and having fun, and being creative, and being able to express themselves however they want."