Out with the new, in with the old: New vintage store comes to Spring St.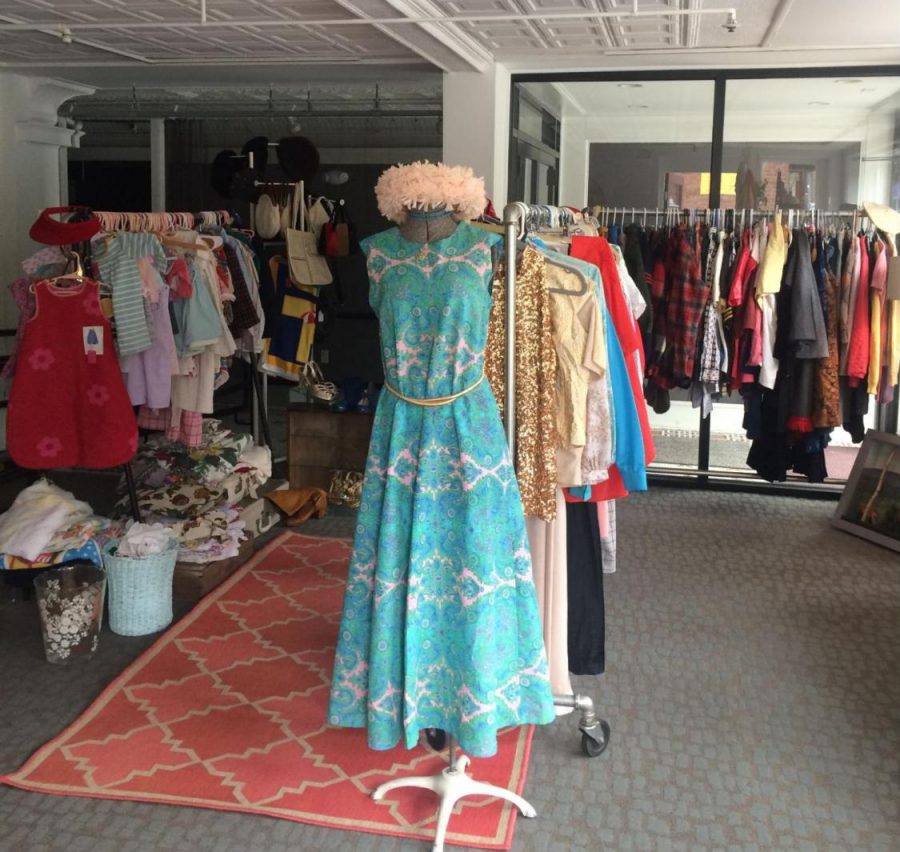 For Paula Buxbaum, the owner of the new pop-up shop Bux Vintage on Spring St., vintage is nothing new. At around 12 years old, Buxbaum purchased her first vintage item. "I think I bought a sailor shirt — like an actual shirt that had belonged to a sailor —  and I think that started it," Buxbaum said. "I've just always liked things that were a little bit unique and different and old-timey, from all different eras. Not just clothing but music, housewares, and all kinds of things."
One of her motivations for starting her store, which opened in early April, is the opportunity it gives her to share her love for vintage clothing with other people. "In terms of actually collecting things, I think it's just an interest I've had for most of my life," she said. "[My shop] has sort of allowed me to finally move things along and see other people enjoy them instead of gathering dust in my home." 
Buxbaum's store features some of her favorite items, such as a handmade skirt with a pattern of golf players on it. In particular, Buxbaum likes clothing from the 1940s and '60s.
The shop at 50 Spring Street has become home to Buxbaum's collection, offering everything from a Gremlins t-shirt to gowns and camisoles from the 1940s. For Buxbaum, opening a store has "always been a dream." Before opening Bux Vintage, Buxbaum had already been selling her finds on eBay as a hobby for over 17 years and had also participated in other short-term projects. 
"I was always a little hesitant [about opening a store] because I didn't have the business background, and I was nervous about taking a leap," Buxbaum said. "But doing a pop-up gives me the opportunity to test it out."
Buxbaum said that one of the best parts of running her own business has been getting to share her passion. "I love the interaction with customers," she said. "I'm meeting people from all over the place. The students are really fun and really enthusiastic…. I'm so passionate about vintage — it's just really fun sharing that love with people in person as opposed to just doing it online." 
She added that she loves seeing people wear her clothing. "My favorite part is seeing students or other people who have been in there walking down the street wearing something from the store," she said. "It's really gratifying for me." 
Many businesses have faced difficulties due to the COVID-19 pandemic, but Buxbaum believes that she lucked out. "I opened the store right when people started coming out of their shells — people are getting vaccinated, it's spring, and people are outside more, so I think the timing worked out really well," she said.
Buxbaum said she also believes that vintage is very much in style now. "I guess I didn't quite realize how hot vintage was right now, but students are just really jazzed about it," she said. "I've had a lot of returning customers." 
Looking to the future, Buxbaum said she hopes to keep the shop running through the summer and fall, and to complete other miscellaneous side projects. "I'd like to do monthly art openings with local artists, friends, crafters, makers, and people like that," she said. "And I'd also like to do DIY classes. One of the components of the store, it's sort of a separate thing, but I make lampshades out of photographic slides — I have a few of them in the store. I really enjoy making things out of recycling, so I'd like to have a component of that down the road."