Class of 2020 will finally get its commencement — in 2022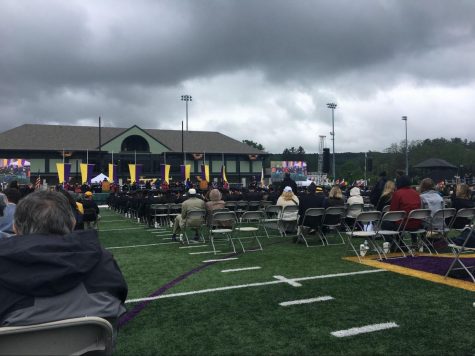 The Class of 2020 commencement will take place in person on the weekend of July 22–24, 2022, President Maud S. Mandel announced in an email to the class last month. Though the program is still being planned, with more details forthcoming, Mandel said commencement would include a Mount Hope celebration and a formal graduation ceremony with families and guests invited to attend.
This email came more than a year after the College's last update to the Class of 2020 on plans for commencement — the April 2020 email announcing that the event would be postponed.
"I think that there was some frustration that was bubbling from the class towards the end of the spring because at that point it had been nearly a year since we had heard back from the administration," Kevin Coakley '20 said.
The breaking point for the class was an email sent out in error in spring 2021, meant for the Class of 2021, about its commencement, according to Coakley. "People saw that and thought, 'Well, this is only the second thing we've heard from the College, and it was unrelated to anything we're going to be doing,'" he said. In response, the class officers began soliciting opinions from the class, making plans to meet with administrators, and pushing the College for more concrete plans.
"I feel really badly because I'm sure the people who are working on commencement are actually trying their best, and this is not a criticism of them, more of just the institution as a whole," Megan Siedman '20 said. "But I don't know that we would have gotten a date were it not for our class officers saying, 'Enough is enough' and meeting with the higher-up people."
Siedman also emphasized the importance of financial accommodations for families in light of the costs that attending the commencement will entail.
Traditionally, the College offers families on financial aid the opportunity to stay in a dorm for a low price to limit the financial burden of coming to commencement — something Siedman was unaware of until it was too late. "We didn't find out that there's financial aid housing for parents of low-income students until the literal day in March when we were sent home," she said. "Which is ridiculous because everyone books their hotel rooms in the summer before."
She said she hoped that the commencement in 2022 would be different. "I'm hoping that they would be able to have financial aid accommodations for family members this year, but I don't know if they're able to do that," Siedman said. "The financial aid office is usually super great, and I'm hoping they're going to be creative and try to find some way to support people who might need support."
Mandel's email said the College was "still in the early phase of the planning process" about the costs of returning to campus and that more details would be communicated in a future email.
Both Siedman and Coakley acknowledged how different commencement would be two years after they graduated.
"I don't expect as many people to be there as you normally would when everyone's already on campus, but I do expect that it's going to be a self-selecting group in a way," Coakley said. "So on the one hand, you may lose a good half of the class, but on the other hand, the people who come back are really going to want to come back … Hopefully that will up the engagement."
Siedman said the ceremony would not feel "even remotely" the same as a traditional commencement. "Senior year itself was so fractured in a really terrible way," she said. "And then to have so much time go by, because it's not just going to be two years since you were supposed to graduate — it's going to be two and a half years since you were last fully a student at Williams."
Still, she expressed hope that her class could make do with what was given to it and find some closure. "Expectations have been lowered, but it'll be nice to have something," she said.