Johnson and Hasty win Select Board elections in victory for progressive slate
Lawrence, Dew win seats on Planning Board, Housing Authority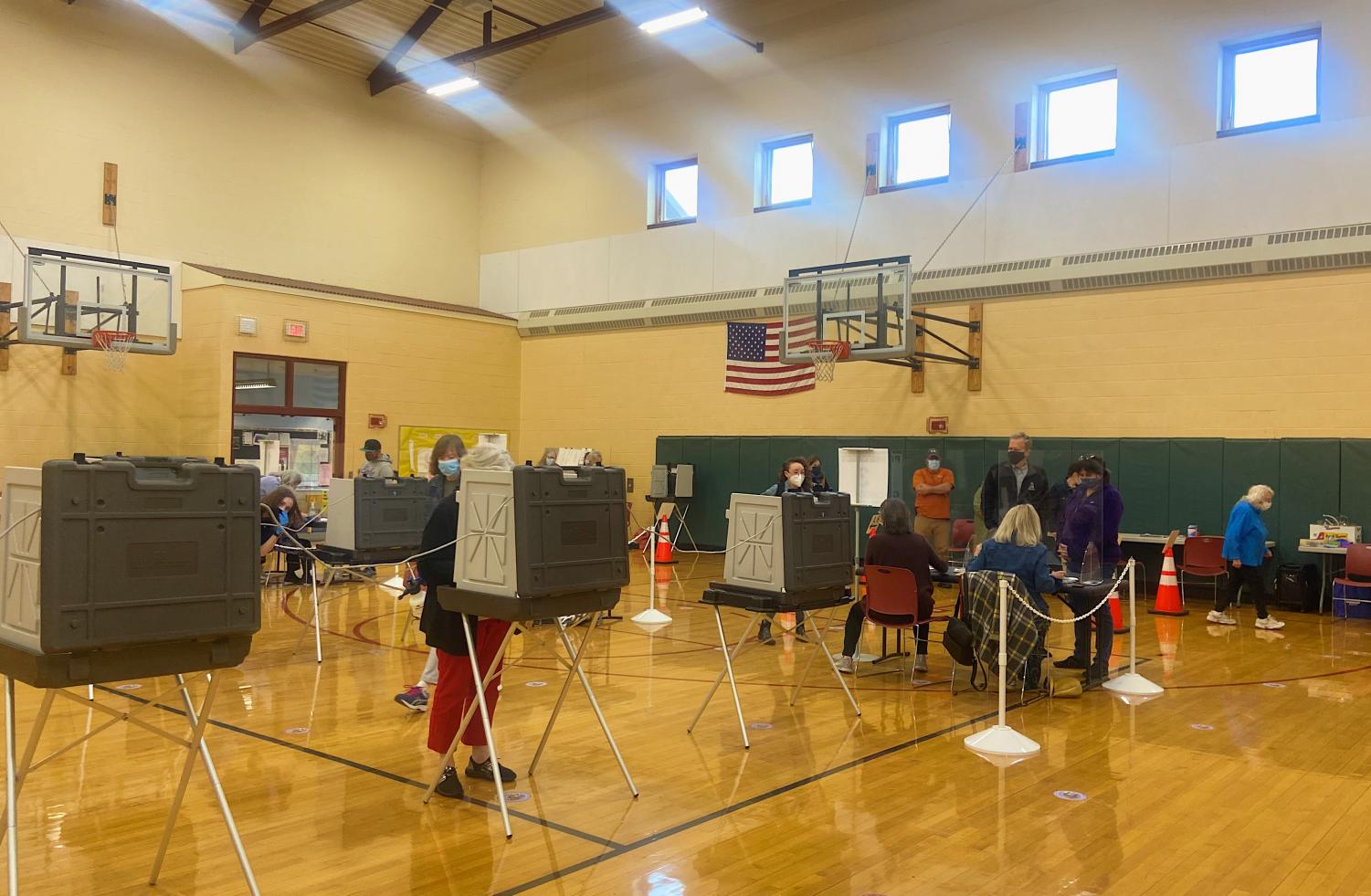 Jeff Johnson and Wade Hasty emerged victorious in yesterday's double-header election for the Williamstown Select Board, defeating Tony Boskovich '74 and Albert Cummings IV after a hotly contested campaign.
Johnson and Hasty were informally aligned in a progressive-leaning slate that emphasized the need for racial justice in the Town and accountability at the Williamstown Police Department after a year of turmoil. Boskovich and Cummings, meanwhile, espoused more conservative viewpoints and argued that incivility and divisiveness represented a great threat to the Town.
According to unofficial results released by the town clerk, Johnson received 1140 votes to Boskovich's 641 (a margin of 64 percent to 36 percent). Johnson, a member of the Town's Diversity, Inclusion, and Racial Equity (DIRE) advisory committee and an employee of the Massachusetts Department of Developmental Services, had led Boskovich in both fundraising and endorsements throughout the campaign. When his term begins, Johnson, who is multiracial, will be the board's only member of color. 
"Our democracy is beautiful, and I think there's always been questions about the loudest voices — I think the many voices spoke," Johnson told the Record after the results were announced. "I could not be happier… The people have spoken, and I think that's the biggest thing."
Boskovich, in a written statement provided to the Record, congratulated Johnson and Hasty on their victories. "The Town has spoken, and spoken forcefully," he wrote. "I come away from this election with my integrity intact, and I have no regrets about how I waged this campaign." 
He added, however, that he still has fears about division. "As a nation, and as a town, we must embrace the concept of the gracious victor, and must be kind to those who did not prevail," Boskovich said. "If we cannot do that, I fear that the schism in our town will grow even wider, and this wonderful town will rip itself apart."
The race between Hasty and Cummings was closer: Hasty garnered 989 votes while Cummings received 770 (a margin of 56 percent to 44 percent). An 11-year army veteran who recently moved to Williamstown, Hasty said his victory was something of a shock to him. 
"This definitely came as a surprise," Hasty told the Record. "I thought that I had a shot, sure, but Albert [Cummings] has name recognition within the Town. So to have more votes than that, I was surprised."
Cummings told the Record that he congratulated Johnson and Hasty on election night. "I called Wade and Jeff last night and wished them the best," he said. "I will continue to be committed to making Williamstown the best it can be for everyone."
Cummings had been regarded as the most conservative candidate out of the four running, particularly on issues relating to the DIRE committee and racism in Williamstown. In the days before the election, he faced criticism on social media over his comments at a recent forum hosted by EphVotes and the Record, in which he said of outspoken local activists that he wants to "run them out of this Town."
The Town also held contested elections for the Planning Board, where incumbent Susan Puddester ran for re-election in a three-way race, and for an open seat on the Housing Authority.
In the Planning Board election, Roger Lawrence narrowly unseated Puddester, receiving 640 votes to Puddester's 621 (a margin of 37 percent to 36 percent); Professor of Economics at the College Ken Kuttner came in third with 449 votes and 26 percent. 
For the Housing Authority, Steve Dew won with 956 votes, besting Joan Diver's 542 votes (a margin of 64 percent to 36 percent). Charles Bonenti and Laila Boucher were also elected uncontested to be a library trustee and a Northern Berkshire Vocational Regional School District representative, respectively.
In total, 1820 voters of Williamstown's 4855 registered voters showed up at the polls, for a turnout rate of 38 percent.
Johnson and Hasty will begin their service on the Select Board at the board's next meeting on May 24. Johnson will succeed Anne O'Connor '86, who did not seek re-election. Hasty will fill the remaining year of the unexpired term of Select Board member Jeffrey Thomas, who chose to resign from his seat a year early.
Johnson told the Record that, as a Select Board member, he hopes to unite the Town's citizens towards common goals. "There are people that are going to be very upset with the outcome of the election, and those are the people I want to reach out to the most," he said. "Let's bring them forward so we can run this Town together."
Grady Short and Ella Marx contributed reporting.