Double-header Select Board elections heat up over racial justice, Town civility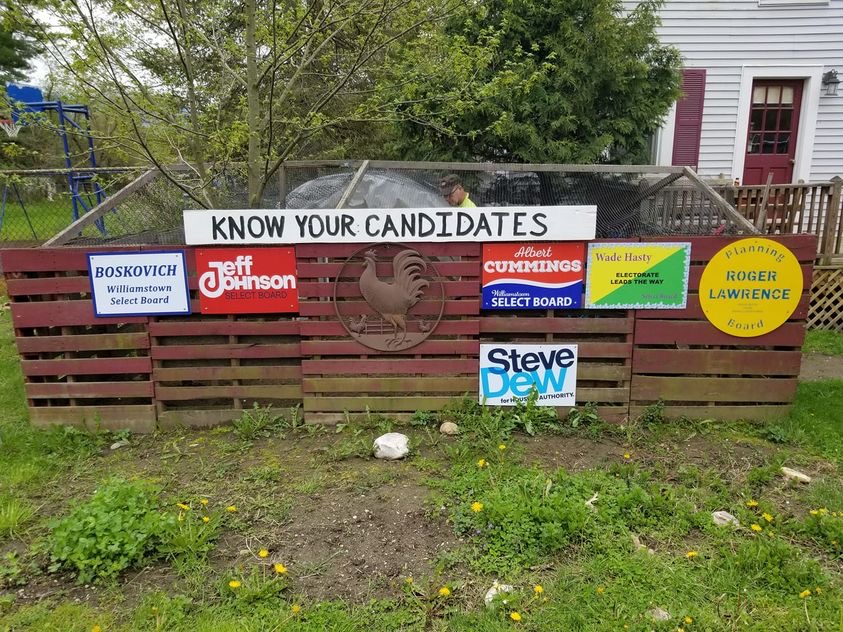 Next Tuesday, when Williamstown's voters go to the polls for the first contested Select Board elections since 2016, the candidates they will see on their ballots won't be labelled by party or political affiliation. The names of the four contenders for two seats — Tony Boskovich '74 and Jeff Johnson for a three-year term, and Albert Cummings IV and Wade Hasty for a one-year term — will appear context-free.
But despite this lack of clear ideological markers, the outcome of the two races will have high stakes for a town that has been rocked over the past year by reports of police misconduct and the resignation of several Town officials.
According to conversations with local advocates and activists, as well as three of the candidates themselves, Johnson and Hasty promote a vision of Town governance that highlights racial justice and police accountability, while Boskovich and Cummings argue that the allegations against the Williamstown Police Department (WPD) have been overblown and view incivility as a greater threat to the Town.
In other words, for some, the election is a chance to advance racial justice and avoid regressing to an untenable status quo; for others, it's an opportunity to return to normalcy after nearly a year of rancor and disharmony. 
Although the four candidates are each running distinct races  — and, indeed, both Johnson and Boskovich declined to directly endorse a candidate in the other race — observers have noted that Johnson and Hasty have coalesced into a "progressive" slate, versus Boskovich and Cummings' more "conservative" slate. A victory by either would upend the politics of the five-member Select Board for years to come. 
"It's a referendum on the status quo versus the 21st century," said Arlene Kirsch, a local activist and a supporter of both Johnson and Hasty. "The status quo being 1956 when the charter was enacted, and never has been changed. The people who are comfortable with the way things have been, which is since 1956 — they should not vote for… Jeff Johnson and Wade Hasty."
"Williamstown is at a crossroads on several issues, and the past year has demonstrated that, without strong productive leadership, Select Board meetings can be hijacked by the loudest voices in the community," said Dave Armet, a supporter of Boskovich and Cummings. "Albert [Cummings] and Tony [Boskovich] will bring a sense of order and decorum back to our town governance."
As Election Day fast approaches, the Record spoke with Boskovich, Johnson, Cummings, and several Town residents to better understand the dynamics of two races that will define the Town government for years to come.
Reckoning with issues of racial justice and police reform
As the Town's primary executive body, the Select Board has any number of topics to focus on at any given time. But for the past year, the twin issues of racial justice and police accountability have occupied the board's attention like no other.
Last summer, WPD sergeant Scott McGowan accused WPD Chief Kyle Johnson and other WPD officers of sexual assault, racial harassment, and antisemitism, triggering a cascade of reactions that eventually led the Select Board, on a 3–2 informal vote, to recommend to then-Town Manager Jason Hoch '95 that he retain Johnson. (Kyle Johnson resigned anyway in December, soon followed by Hoch.) Amid the public uproar, some of the allegations were confirmed, and in March, Acting Chief Michael Ziemba reported that WPD officers had performed illegal database searches on several vocal WPD critics; McGowan was also himself accused of misconduct by fellow officers in April.
Also over the summer, as Black Lives Matter protests took hold across the country, the board created the Diversity, Inclusion, and Racial Equity (DIRE) Committee to advise on issues of racial justice. A police accountability group unaffiliated with the Town government, called Williamstown Racial Justice Police Reform (RJPR), was founded in June.
Now, with two Select Board seats on the line, the upcoming election has, in many ways, turned into a referendum on the WPD's controversies and the existence of DIRE.
Boskovich, one of the two candidates associated with the more moderate slate, said that his experience as a civil rights lawyer informed how he approached the WPD's controversies.
"When the McGowan complaint came up, I looked at it — I drafted these complaints for decades, I've drafted hundreds," he said. "And I looked at this and I said, 'This isn't passing the smell test. There are some problems here.' So I took my expertise. And I tried to go to people and say, 'Hey, don't light your hair on fire. There is more to this story. I'm just telling you, there's more to it.' And I got shouted down."
Boskovich added that, if elected to the Select Board, he would use his self-limited one term to promote the viewpoints he says have been ignored. "Everybody knows I have this expertise. I'm out there. I'm available. I've offered it," he said. "If I become a Select Board member, I can do something. Because they have to listen to me then."
Supporters of the more progressive slate, however, emphasized the fact that some BIPOC Town residents have long felt ignored or unsafe. "My friends of color in this town don't feel safe," said Kirsch, a leading member of RJPR. "I, as a Jewish person, and the daughter of a Holocaust survivor, don't feel safe. And other Jewish people have said that to me who live here… They're there, but they're afraid to even say that out loud."
"I think that this Select Board race has become almost a referendum about the Town's willingness to choose a direction on racial justice," agreed Mohammed Memfis '21, a student at the College and a member of DIRE who supports Johnson and Hasty. (Johnson is also a member of DIRE.)
"Tony [Boskovich] seems to place a lot of importance on stepping back, or maybe regressing to exist in a state of how things were prior to the lawsuit," Memfis added. "I think the good part about that, on Tony's behalf, is that there were a lot of people in Town that may have felt comfortable doing that part during that time. The difference, however, is just recognition that not everyone in the town was comfortable."
Hasty did not make himself available to comment for this article, but many believe the race between him and Cummings has similar dynamics as that between Johnson and Boskovich. 
Cummings said he believes the Town is grappling with more urgent issues than racial justice. "The unrelenting focus on racial issues is dividing this town and hurting the citizens, the businesses, tourism, the schools and the entire economy in general far more pressing issues include the town manager search, the Town budget, the police chief search and many more local issues," Cummings wrote in an email to the Record. "How do we expect to find anyone who would apply for these jobs when the town is in such turmoil?"
Niko White '04, who was a candidate for the one-year term before dropping out and endorsing Hasty and Johnson, said that Hasty's views aligned with his own progressive stances on racial justice and the WPD.
"In our race we had three candidates (myself, Dr. [Barbara] Rosenthal [another former candidate], and Hasty), who clearly shared a commitment to thinking hard about these issues, if not identical in the details," White wrote in an email to the Record. "Meanwhile it took a bit longer to get a handle on Albert Cummings, but it's become clear by now that both he and Tony Boskovich will not represent my views on these issues. Both have downplayed the presence of racism within the town police and/or in general, for example, and this to me is not a productive way to proceed."
Cummings told the Record that he will support Boskovich in the other race. "We agree on the primary issues and share a vision for the future and betterment of the town," Cummings wrote. "Our opponents are running for their own agendas."
Boskovich, though he stopped short of endorsing Cummings, similarly said that he saw his own viewpoints reflected in Cummings' campaign. "Albert and I see more eye to eye than Wade and I do," he said. "Albert is a little bit more in the center than I am."
Johnson's identity as a multiracial man of Black, white, and Indigenous heritage adds another layer to his election against Boskovich. If elected, he would be the board's only BIPOC member.
"I don't go into it as Black, white, or Native American — I go in as every one of those," Johnson said. "So whenever I hear these conversations, I'm able to sort of blend in and keep those hats on to really sit back and think about how it impacts every one of those groups."
He added, however, that he himself has not been a victim of racism in the Town or at the hands of the WPD. "In my experience, I haven't experienced racism anything like what I've heard," he said. "I also am privileged."
Johnson's supporters emphasized that his background means he is uniquely prepared to lead the Town in addressing racial inequity. "It's not something where it's like, 'Oh, we need to figure out this is actually a problem,'" Memfis said. "No, that's not Jeff. Jeff is like, 'Of course it is.' … Jeff's position right now is, 'Well, hey, I'm looking at my watch, when are we going to start acting on this stuff. And here are the things that we can do now to start the healing process for this Town.'"
Boskovich said that his wife (who is Black) has also not had negative interactions with the WPD. "My wife got pulled over, forgot to register her car, and in the Commonwealth, that's an automatic take your plates and tow," he said. "And the officer says, 'No, don't worry, don't worry,' gets her into the cruiser, and proceeds to register her vehicle for her… When I'm hearing about this racial discrimination and all this, this would have been the perfect opportunity to jack somebody up, and it didn't happen."
"Jeff has his experiences as a multiracial man, but Jeff has also said that he's never experienced racism, that he's never seen or felt that discriminatory policing, personally," Boskovich continued. "Jeff's a good guy, and he's got some ideas, but for this election, and just this election, I don't think he has the qualifications to do what we need to have done."
But Johnson said that he understands racism's impact in the Town, even if he hasn't experienced it personally. "Have I witnessed it? Do I know what's here? Absolutely," he said. "You know, I have a sister who has experienced things."
'Uncharted territory': Civility in Town politics
Over the past year, issues of police accountability and racial equity have entangled residents in complex, often fraught discussions. But while some say that they've experienced friction in these discussions and believe this to be a symbol of deeper divisions within the community, others argue that such divides are overblown and that civility still exists among residents.
Boskovich noted that he has experienced combativeness in Town dialogue, and other Town residents expressed that they felt such hostility as well. For Boskovich, the aggression he felt motivated him to run for the Select Board seat. 
"I've been called a racist, a fascist. It's like, what is wrong with this picture? I swear I've never done LSD in my life, but it felt like I was in an alternative universe," Boskovich said. "The shouting down was just getting to me. And my wife was encouraging me. And my phone started to blow up people saying, 'I feel shouted down… I feel intimidated.' And I said, 'I've got to run [for the board].'"
The Select Board was not immune from the chaos that resulted from McGowan's lawsuit, according to Andi Bryant, a resident who created an email address for Town residents to write complaints they were afraid to voice elsewhere.
"When the social upheaval began with the exposure of problems within the police department and the Town went off the rails, the Select Board couldn't seem to separate themselves from it," Bryant said. "They became as embroiled in it as everyone else. We all found ourselves in uncharted territory."
Kirsch, however, said she observes that incivility can be found in discussions on social media platforms such as Facebook, but Town residents are civil and respectful of one another in real life. "The other night, some of my colleagues on RJPR held a community circle conversation, and we had 35 people show up," she said. "We had a wonderful conversation about the Town… [and] everyone felt that it was productive and terrific, and wants to come back and do it again. These people on Facebook, they are all fire and brimstone." 
Although Johnson does not have personal social media accounts, he said he knew that McGowan's lawsuit caused stress in the Town, which led to rifts between residents. He said he sees transparency in Town government as one remedy for such unrest. 
"Obviously, with the federal lawsuit… we're more inclined to do damage control and financial control," Johnson said. "But I think it's time for the lawyers to stop running the Town, and for the hearts to. And I think all the citizens ever wanted to know was the truth." 
'Deep roots': The importance of being a local
With an electorate likely in the high hundreds or low thousands, personal connections and histories in the Town are also important for all four candidates.
Johnson's supporters highlight his efforts to involve himself in Town politics and affairs as an indication of how he would serve as a Select Board member. "He is immediately pulling people in, wanting them to collaborate not only with each other but with Town boards and committees and wanting Town boards and committees to reach out to citizens in town," Kirsch said. "Jeff really truly, in his soul, understands this, and it fits so well with his collaborative nature."
Johnson was also endorsed by former Select Board member David Rempell, who knows Johnson from his work at the Youth Center. "[Johnson] is bright, listens carefully, works well as part of a group and is a pleasure to be with," Rempell told the Record.
"I've worked blue-collar, white-collar [jobs]," Johnson said of his own candidacy. "I've lived in different neighborhoods in Williamstown since 1975. So I think I really have my hand on the heartbeat of the city."
Boskovich, meanwhile, emphasized that he has experience on the issue of policing. "I have the expertise in policing," he said. "I've got to be [on the board]. We're going to get the wrong chief if we don't have somebody who knows what they're doing."
He noted, however, that his status as an alum of the College, and as someone who did not spend most of his adult life in Williamstown, has sometimes cast a pall over his candidacy. "It's there all the time. All the time. It's never direct. But it's always an undercurrent," Boskovich said. "Living out here in town, there's a lot of animosity towards the College… I have heard it, you know, in the backdrop. It's, 'We don't need another Williams alum. We've got enough Williams alums.'"
According to Johnson, the race between Cummings, whose family has lived in Williamstown for generations, and Hasty, who moved to the Town over a year ago after serving overseas in the army, features something of a parallel divide. "I am at a luxury similar to Albert, where we're local," Johnson said. "And we're more well-known because our families have been here longer."
Bryant said that, regardless of who wins, she would like to see a Town government that emphasizes local roots over influences from the College. "Working toward decreasing the gentrification in town by lessening the College's stronghold on the Town's government structure would be a good start," she said. "Williamstown is fundamentally a proud, honest, friendly community. Those of us with deep roots would very much like to preserve that."
The state of the race
With only six days left until Election Day, the candidates have limited time to make their messages heard. And lacking any polling, both races are anyone's to win.
According to campaign finance reports filed by the candidates on Monday, Johnson is healthily winning the money race. Johnson reported $4,154 in in-kind contributions from roughly 20 different donors, which he split between lawn signs and campaign mailers.
Boskovich reported significantly less spending, totaling $1,803 spent on lawn signs and postage. Around $300 came from Boskovich himself, while the remaining $1,500 came entirely from Dave and Helene Armet. 
Cummings approximately matched Boskovich, spending $2,155 on lawn signs and a meet-and-greet hosted at the Williams Inn. Despite the expenditures, Cummings did not report any contributions whatsoever.
Hasty reported raising $2,240 from a combination of direct and in-kind contributions, and spent approximately $2,500 on campaign mailers and yard signs. Like Johnson, he received money from around 20 unique donors.
With an explicit endorsement from Rempell and high praise (although not quite an endorsement) from Select Board Chair Jane Patton, Johnson also has the most visible institutional support of anyone in either race. But money and endorsements cannot tell the whole story, and in two races featuring complex debates over racial equity and respectful Town discourse, lawn signs will not be enough to win.
Cummings argued that voters should think locally during the election. "Anyone who tries to shift the focus of this election from local issues has misplaced objectives," he said. "I watch my game from the 50-yard line. I like to see the field clearly and understand what both sides are doing and how they conduct themselves."
Johnson said that, ultimately, each candidate will be trying to convince voters that his own vision is the right one for the Town. "I do me — what I mean by that is, I'm creating a picture of what I can do for the Town based on my history," he said. "I think the citizens should basically … choose the candidates that they feel are going to best represent their idea of what they want."
Kevin Yang contributed reporting.
This story was updated on May 8, 2021 to include Wade Hasty's campaign finance report.
The Record and Ephvotes will host a virtual forum with the four candidates running for the Williamstown Select Board on May 7 at 5:30 p.m.. The focus of the forum is on Town–gown relations: how the College affects the Town, and vice versa. Register for the forum here and submit questions here. 
About the Contributors
Joey Fox, Senior Writer
Joey Fox '21 is a history and English major from New York, NY. He was a managing editor, and previously served as a section editor and executive editor...
Ella Marx, Managing Editor
Ella Marx '24 is a history and religion major, and a Jewish studies concentrator, from New York, N.Y. She is a managing editor, and she previously served...