Goodrich reopens for mobile ordering, faces influx of student demand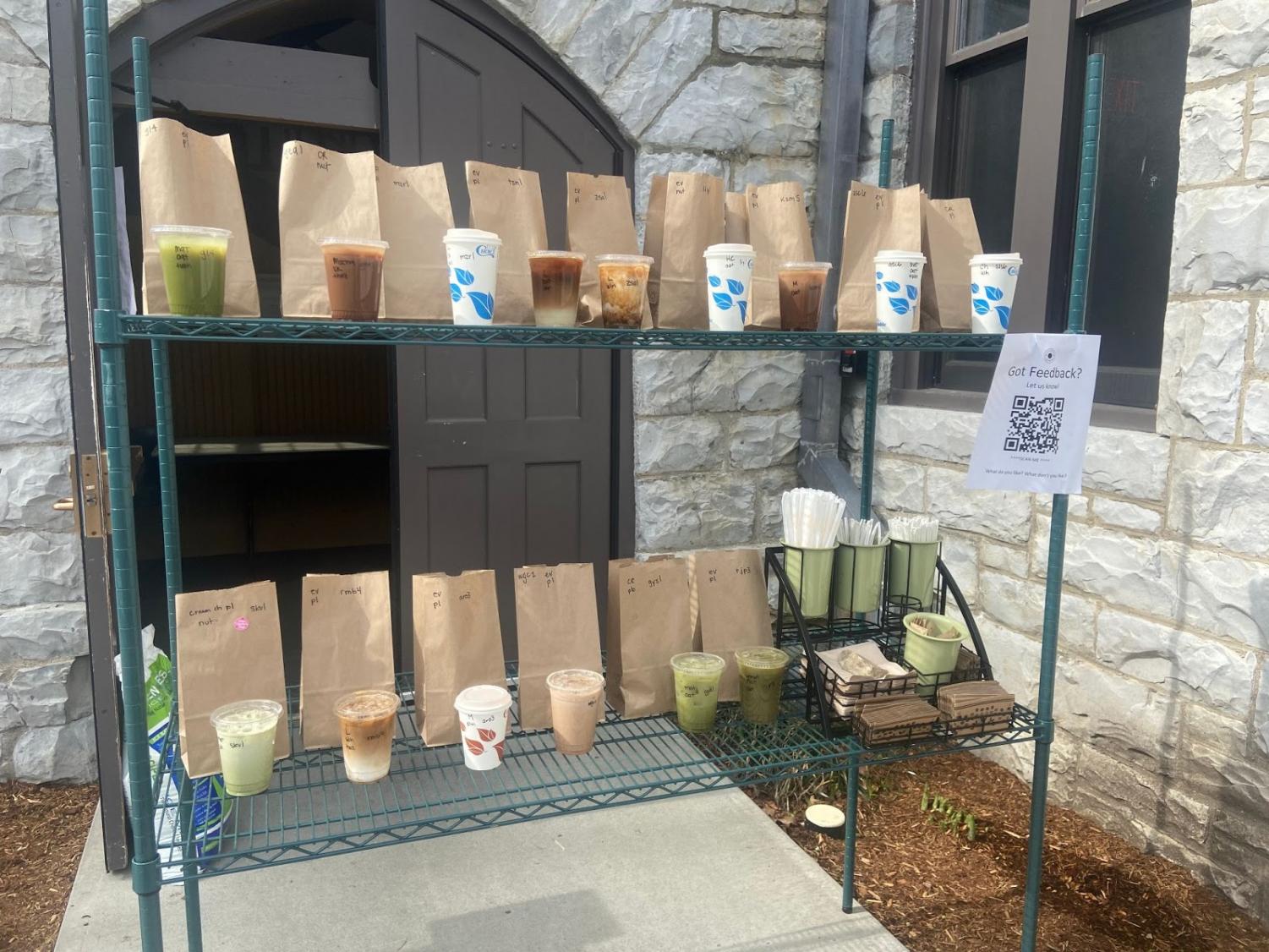 Goodrich, the popular student-run coffee bar, has reopened for takeout orders during the first three weekends of May after being closed since the pandemic began. Demand for the Goodrich offerings was so high that on the coffee bar's second day back in business — Sunday, May 2 — the online ordering software crashed.
Students can sign up starting at midnight the day of the order for slots from 8:30 a.m. to 11:30 a.m. They can pay via dining hall swipes, cash, or credit for the Goodrich combo — a bagel, a spread, and a drink — which comes at a $5 fixed price.
Student baristas, who were trained last year, start filling orders inside Goodrich Hall before the first 8:30 a.m. slot. Students arrive during their appointed slot outside Goodrich Hall to pick up their orders.
Operations Manager Clare Rogowski '21.5 said that she was very excited to bring Goodrich back to the College community, although reopening the café has been "a little hectic." "The Ops team approved our plan last week, so it has been a really rapid turnaround," she said.
Aidan Lloyd-Tucker '22, who developed the app on the Williams Student Online (WSO) website for mobile ordering, said that Goodrich could only be open for three weeks because of College guidelines regarding COVID-19 safety.
"[Goodrich] came to us in the summer about an idea, but the College was basically like, 'No Goodrich,'" Lloyd-Tucker said. "So, it didn't really go anywhere. But then when they got approval last week, I went into development."
Goodrich officially opened on May 1 to significant demand from students. According to Lloyd-Tucker, 250 people tried to order at midnight for the limited 144 time slots that Saturday morning. The spots were filled within four minutes. Lloyd-Tucker said he believes ordering Goodrich will likely remain competitive for the rest of the month. 
"I felt more stressed than when I was registering for courses," Jaeeun Lee '24 said of the ordering experience on Saturday, "But it was worth waking up at 9 a.m. and walking in the cold."
Lina Wang '24, who also managed to successfully order through the app, expressed satisfaction with the food. "The matcha latte from Goodrich was basically a whole health day for me," she said.
In the first few minutes of Sunday, the app crashed due to the volume of students trying to place orders. Five hundred thirty-six people were logged on, and once the website was restored, all the order slots were filled within six minutes. From midnight to 1 a.m. the WSO web page received 13,235 views, Lloyd-Tucker said.
"That's way above average for WSO, and even once we got our ordering system up and running, auxiliary services like our order confirmation emailer were so backlogged it took a full hour and a half to send out all the emails," Lloyd-Tucker said.
Other students expressed disappointment in the app crash in meme form: The "Williams memes for sun-dappled tweens" Facebook group saw a stream of posts relating to the event in the early hours of Sunday.
 Lloyd-Tucker said he hoped to address the problems students faced last weekend. "WSO is looking to improve the user ordering experience for next weekend," Lloyd-Tucker said. "We are considering many avenues of ways to do this and will keep all our users informed about any changes."