96% of on-campus students have received at least one dose of COVID-19 vaccine, Record survey estimates
Vast majority of students are not yet fully vaccinated
Ninety-six percent of students living on campus have received at least one dose of a COVID-19 vaccine, a Record survey sent to the entire student body on Saturday estimates. Only 9.6 percent of the 751 on-campus students who responded, however, are fully vaccinated, which the Centers for Disease Control and Prevention (CDC) defines as occurring two weeks after the final required dose.
Students expressed overwhelming approval for the College's decision to mandate COVID vaccinations for the upcoming fall semester and lukewarm approval for the College's handling of vaccine-related logistics. Many respondents criticized the College for not offering sufficient transportation options to local vaccination sites. Since April 19, when Massachusetts opened vaccine eligibility to all residents over the age of 16, the College has offered shuttles to two vaccination sites — one in North Adams and one in Pittsfield.
Additionally, the survey found that although a large portion of remote students are fully vaccinated, the group lags behind on-campus students in vaccination rates, and on-campus students from the Northeast are closer to being fully vaccinated than those from elsewhere. 
The survey, which had a response rate of approximately 49 percent for on-campus students, has a margin of error of 3 percentage points.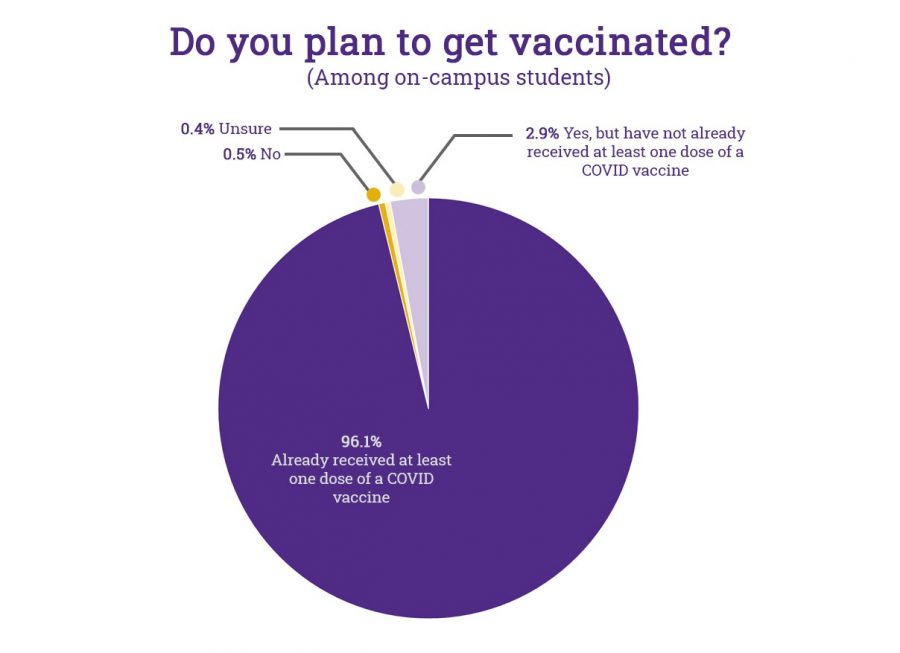 Among the 751 on-campus students who responded, 96.1 percent said they have received at least one dose of a vaccine, while 2.9 percent plan to get the vaccine but haven't yet, 0.5 percent do not plan to get it, and 0.4 percent are unsure. 
In other words, of the handful of on-campus respondents who have not yet been vaccinated, hesitancy appears low — over three-quarters said they plan to get the vaccine. The College will mandate that students get vaccinated for COVID-19 by Aug. 1 unless they receive a medical or religious exemption.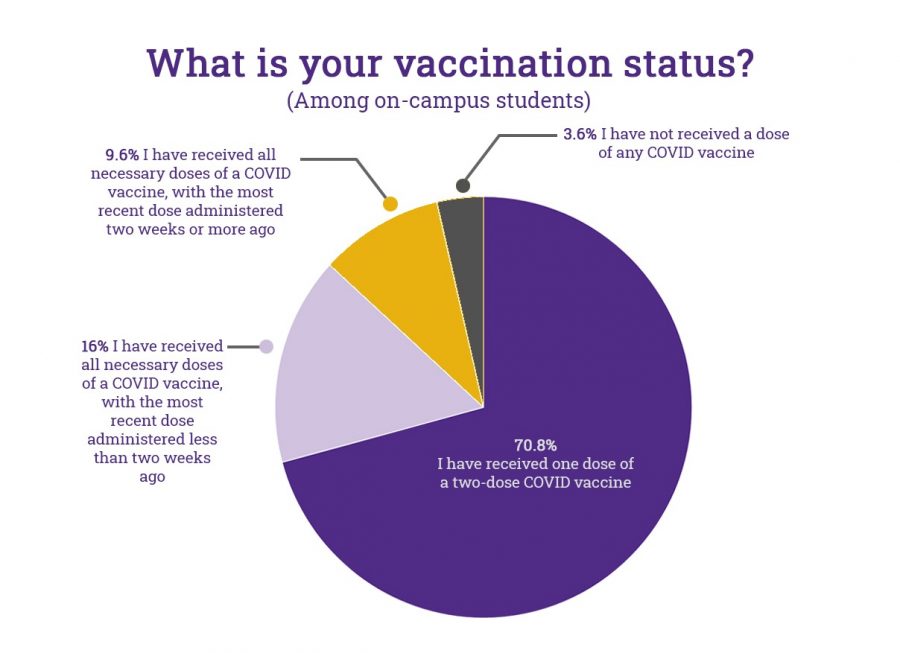 70.8 percent of on-campus respondents have received only one dose of a two-dose vaccine, while 16 percent have received all necessary doses but have not yet made it to the two-week mark to qualify as fully vaccinated. Only 9.6 percent are considered fully vaccinated. Of that group, almost half received the Johnson & Johnson vaccine, while 5 percent of on-campus respondents overall received Johnson & Johnson. A majority (52.6 percent) of students who have received at least one dose reported getting the Pfizer vaccine, while 42.4 percent said they received Moderna.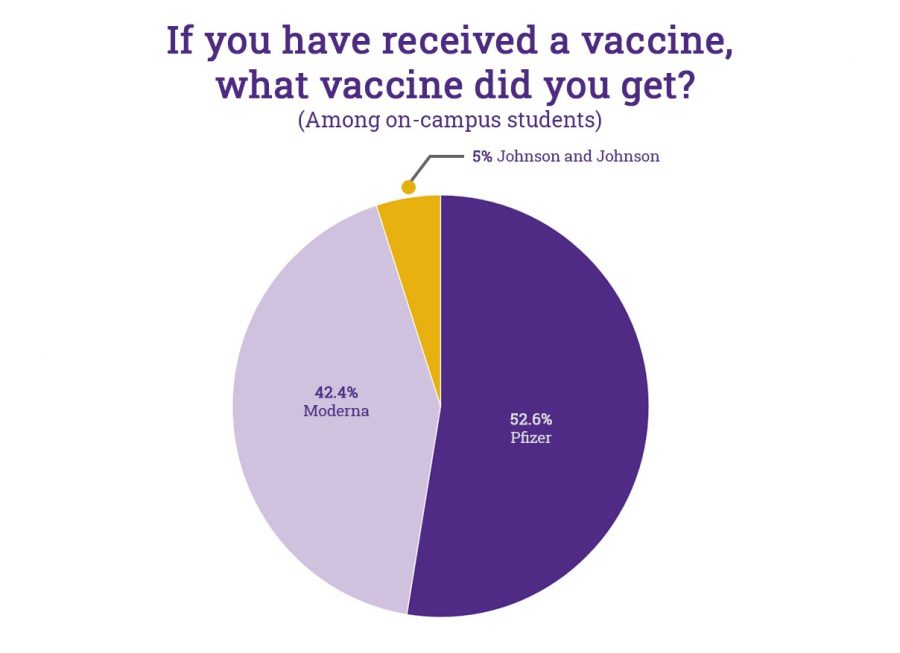 Implications of the campus vaccination rate
Citing the low proportion of fully vaccinated students, the College has announced that it will not change mask-wearing and social distancing protocols for now. In an interview with the Record about the survey results, however, Dean of the College Marlene Sandstrom raised the possibility of easing guidelines as vaccination rates increase.
Two weeks after the survey date, at least 25.6 percent of students on campus will be fully vaccinated, while an additional 70.8 percent, at minimum, will have the partial protection provided by one dose of a two-dose vaccine. A CDC study published in March found that one dose of Pfizer or Moderna is 80 percent effective in preventing COVID-19 two or more weeks after vaccination. This study evaluated vaccine effectiveness against any COVID-19 infection, including infections that did not result in symptoms.
For Pfizer and Moderna, the recommended number of doses is still two. The March CDC study found that the risk of COVID-19 infection is reduced by 90 percent two or more weeks after the second dose. Previous large-scale clinical trials conducted by Pfizer and Moderna also showed that their vaccines are 95 percent effective in preventing infection after two doses.
The CDC updated its guidelines for fully vaccinated people on April 27, indicating that fully vaccinated people can visit each other indoors without wearing masks or physical distancing and no longer need to wear masks outdoors except in certain crowded settings. The College, however, has not changed its public health guidelines for fully vaccinated students, pointing to the low number of fully vaccinated students. Sandstrom told the Record on Monday that, under the College's guidelines, fully vaccinated students should only be unmasked indoors with their podmates.
"Since the majority of students on campus are not yet fully vaccinated (and won't be until the end of the month), the CDC guidance about being indoors with other fully vaccinated people unmasked will not apply in any large numbers until then," Sandstrom said. "We will definitely be looking at easing requirements as the percentage of vaccinated students increases."
Sandstrom added that the survey results on vaccination rates will inform the College's guidelines for students who remain on campus during the summer.
As of April 27, 53 percent of people in Berkshire County had received at least one dose, while 37 percent were fully vaccinated, according to the Massachusetts Department of Public Health.
Disparities in vaccination rates
The Record's survey found that domestic on-campus students were further along in the vaccination process than those who are international. Among on-campus respondents, 10.3 percent of domestic students have been fully vaccinated, while only 3.7 percent of international students have. An additional 17.3 percent of domestic students are two weeks or less from being fully vaccinated, while 4.9 percent of international students are. (All comparisons discussed in this article are statistically significant.)

Remote students lag behind on-campus ones in getting their first doses: Just 3.6 percent of on-campus students have not yet received one, while 15.7 percent of remote students have not. However, the proportion of remote students who are fully vaccinated is three times that of on-campus students.

Differing sets of eligibility requirements across states mean that many New York, Connecticut, and New Hampshire residents have been able to get vaccinated in their home states before they became eligible in Massachusetts. Among on-campus students, the survey found that students who identified their home region as the Northeast and New England are closer to being fully vaccinated than other students. (The Record asked respondents to identify their home regions based on the General Services Administration's U.S. region classifications. U.S. Caribbean territories are included in the regions in question.)

Attitudes towards the College's handling of vaccination logistics
The on-campus student body held split opinions on the College's handling of vaccination logistics this spring, with 33 percent approving, 24 percent disapproving, and 43 percent neutral, for a net approval rating of 9 percent.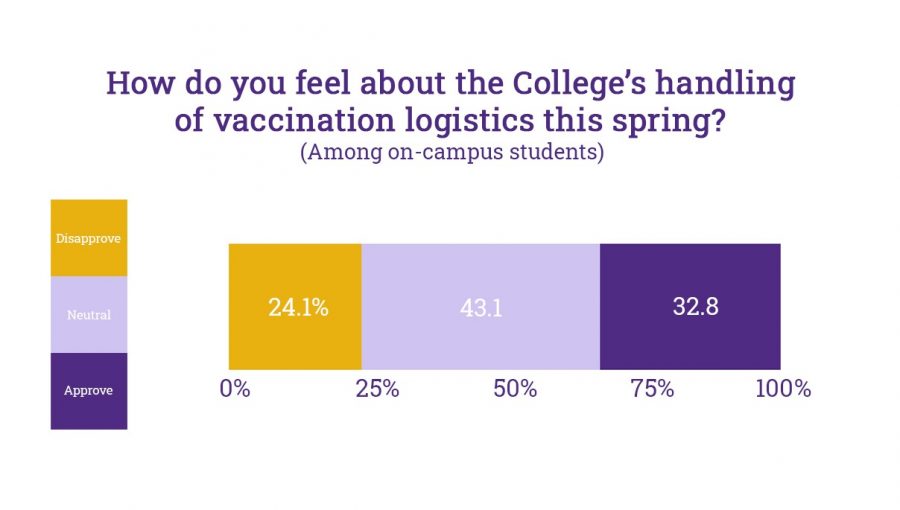 Several respondents left anonymous comments criticizing the accessibility of the College's limited transport options, noting that students without easy access to private transportation were at a disadvantage. The College's shuttle system operates only on days when the two vaccination sites it serves provide appointments. Many students also questioned the College's decision to allow parents and taxis to transport students to vaccination appointments, but not non-podmates.
Some also expressed frustration that the College was not able to set up a vaccination site on campus, referencing peer institutions in Massachusetts, including Amherst College and Smith College, that were able to do so. 
In April, Vice President for Finance and Administration Fred Puddester cited the need to "operate within state public health guidelines that authorize specific sites" as a reason for the College not becoming a vaccination site. Reische said an on-campus site would have siphoned vaccine doses away from the county program, which "didn't seem right."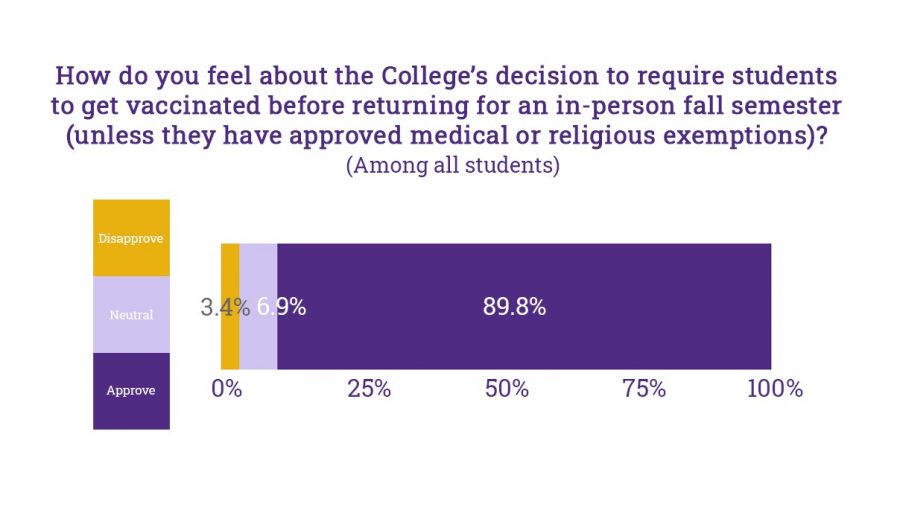 Among all 859 respondents (including students who are remote or unenrolled), 89.8 percent indicated their approval of the College's decisions to make vaccines mandatory for students returning in the fall, unless they have approved medical or religious exemptions. Only 3.4 percent disapproved, and 6.9 percent felt neutral, amounting to a net approval of 86.4.
Nigel Jaffe contributed reporting.