Circle of Women continues philanthropy work in spite of pandemic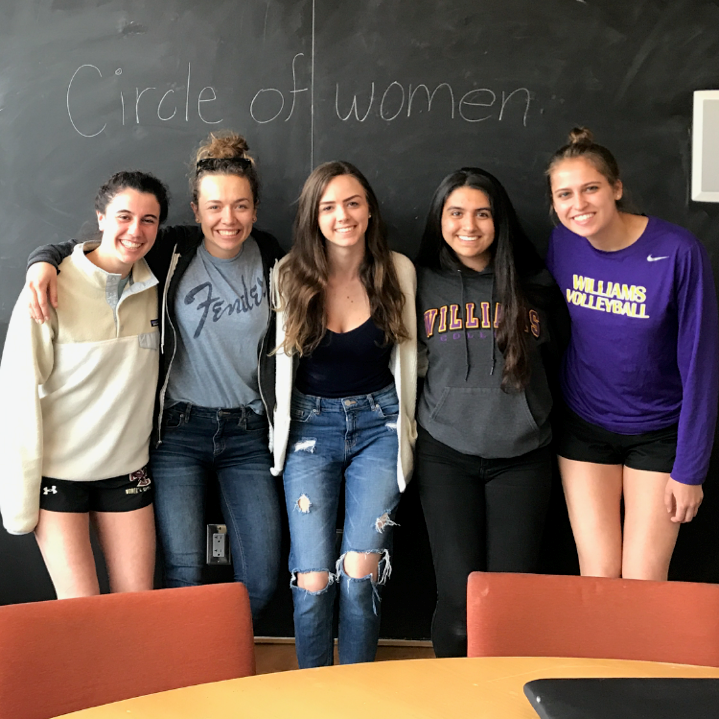 The pandemic has made it more difficult for students at the College to promote and fundraise for their RSOs, and for students trying to coordinate projects internationally, it has been even harder. The College's chapter of Circle of Women, a student-run organization working to expand girls' access to secondary education around the world, has nevertheless continued to work on existing projects and initiate new ones as well.
Since its founding in 2006 by three Harvard students, Circle has spread to multiple U.S. universities including Barnard, Northwestern, and Yale. These chapters reach out to non-governmental organizations (NGOs) around the world and combine their efforts through original projects, supported by the resources of their universities as well as their own fundraising efforts.
"Usually we split each semester into two events: one fundraising event, and one PR event," co-presidents Senjuti Gayen '23 and Taylor McClennen '22 wrote in an email to the Record. "The PR usually revolves around sharing the details of our current project, as well as getting the campus community involved in thinking about women's education and women in their own lives." Past examples of campus involvement have included swipe dinners, holiday candy grams, Chipotle delivery, and even a raffled dinner with President Maud S. Mandel.
With the onset of the COVID-19 pandemic, however, the College's Circle chapter has had to adapt to the limited availability of resources as well as the pandemic's magnified impact on those the club works with — both abroad and on campus.
"I think that because a lot of individual donors are not as available for fundraising, we've had to think more about grants and how larger sources of funding can be used rather than individual sources," former president Marya Rana '21 said.
"In terms of fundraising, we are currently working on our spring fundraiser," Gayen and McClennen said. "We are in contact with a few local businesses and our goal is to create a fundraiser that would of course raise money for Circle, but also help out local businesses that have had an especially difficult time with the pandemic."
Recent projects
One ongoing objective of the Williams chapter has been to help educate Syrian refugees in Lebanon. Rana looked into NGOs in the Middle East because, as an Arabic studies major, she was interested in how Syrian refugee girls and women access secondary education. Last year, she found the American Near East Refugee Aid (ANERA), a humanitarian organization that works with refugees around the West Bank, Gaza Strip, Jordan, and Lebanon.
"We're currently working on a proposal to have a remote coding option for Syrian refugee girls because there is, with the issue of COVID, a whole 'nother layer of challenges," Rana said. "Even prior to COVID, there's a lot of issues with violence against refugees in host countries and specifically women." The Williams chapter began the year working on a project proposal with ANERA, meeting several times to coordinate and research the potential impact and necessity of the work in the area. 
However, this proposal was turned down by the national Circle of Women organization. "Unfortunately the budget was not realistic, especially since fundraising is even more difficult right now with the need to direct efforts towards situations exacerbated by the pandemic," Gayen and McClennen said. "Currently, we are in the initial stages of working on writing up another proposal to move forward with."
In previous years, the chapter has pursued initiatives in other areas of the world. 
Ariana Romeo '19, a past chapter president, worked with her team to propose a project to construct classrooms in areas of Pakistan lacking higher secondary schools. This project has been ongoing since 2018 and is the most recent one proposed by the Williams chapter to have been successfully taken up by the national organization.
Some members get involved with Circle's international projects outside of the chapter's work. "We really like to have long-lasting connections with the partners that we have," Rana said. "For example, one of our previous presidents had studied abroad — I believe it was in Peru — and actually was interfacing with the Circle of Women school there."
"Something our chapter has contributed to a lot in the past is a life skills curriculum for girls that attend a school in Tanzania," Rana said. "That school is a partner that we've worked with in the past to do a construction project. It's very much like we do the initial project and we stay in touch."
"The Tanzania project was really exciting because it was originally proposed by the Williams chapter about six years ago," McClennen said. "This project is based in the Orkeeswa School, and the goal was to build more classroom space in order to expand the availability of higher level classes to girls at the school. We raised over $11,000, and construction ended a few years ago." McClennen has worked on the Tanzania project for the past two years.
"Since construction finished, we have been working with the John Hopkins chapter on the Life Skills Curriculum project," she added. "The goal of this project is to create a Google Drive with lesson plans and resources for teaching life skills, which includes teaching about healthy relationships, balancing school or work with home life, and developing healthy habits."
Hopes and motivations
At the College, students have joined Circle for various reasons, including the opportunity of international volunteer work, the potential for large-scale impact, and a sense of connection with those they support around the world.
"Between all the institutions that have Circle chapters, we are able to implement really ambitious and impactful projects," McClennen said. "The fact that it is all student-run makes it even more impressive."
Gayen emphasized the tangible, lasting impact of Circle's projects as a selling point of the club. "The chance to make a real world impact and work with other Williams students to accomplish was one of the main reasons I gravitated towards Circle," she said. "That aspect of Circle has been really gratifying."
"I even had the chance to work with non-Williams Circle members from other chapters over last summer … so the chance to grow my own 'circle' while volunteering with Circle and helping other circles of women has been amazing," Gayen added.
Rana found some of Circle's work to resonate with her as something more than simply volunteer work. "I know that, coming from my cultural background, access to education for women is limited," she said. "When I found out they were doing this project in Pakistan, I was really interested because I'm ethnically part Pakistani. Knowing that it had that tie and understanding all of the barriers in Pakistani culture to accessing education motivated me to join."
One of the chapter's current goals is to successfully pitch its own project and have it taken up by the national organization. 
"We are currently in the process of writing another proposal, and we plan to submit it to the Circle Leadership Team by the end of the academic year," Gayen and McClennen said. "If anyone has any ideas of involvement, please let us know; since Circle is student-run, it is the students' voices that allow for movement forwards towards impactful change."
Though Rana will soon be graduating, she also hopes Circle will pursue future projects around the Middle East. "Circle has already done two projects in Pakistan, which is really exciting," she added. "But I think there are a lot of other areas of need in that general region."