'First Cow': The story of a cow just as important as Ephelia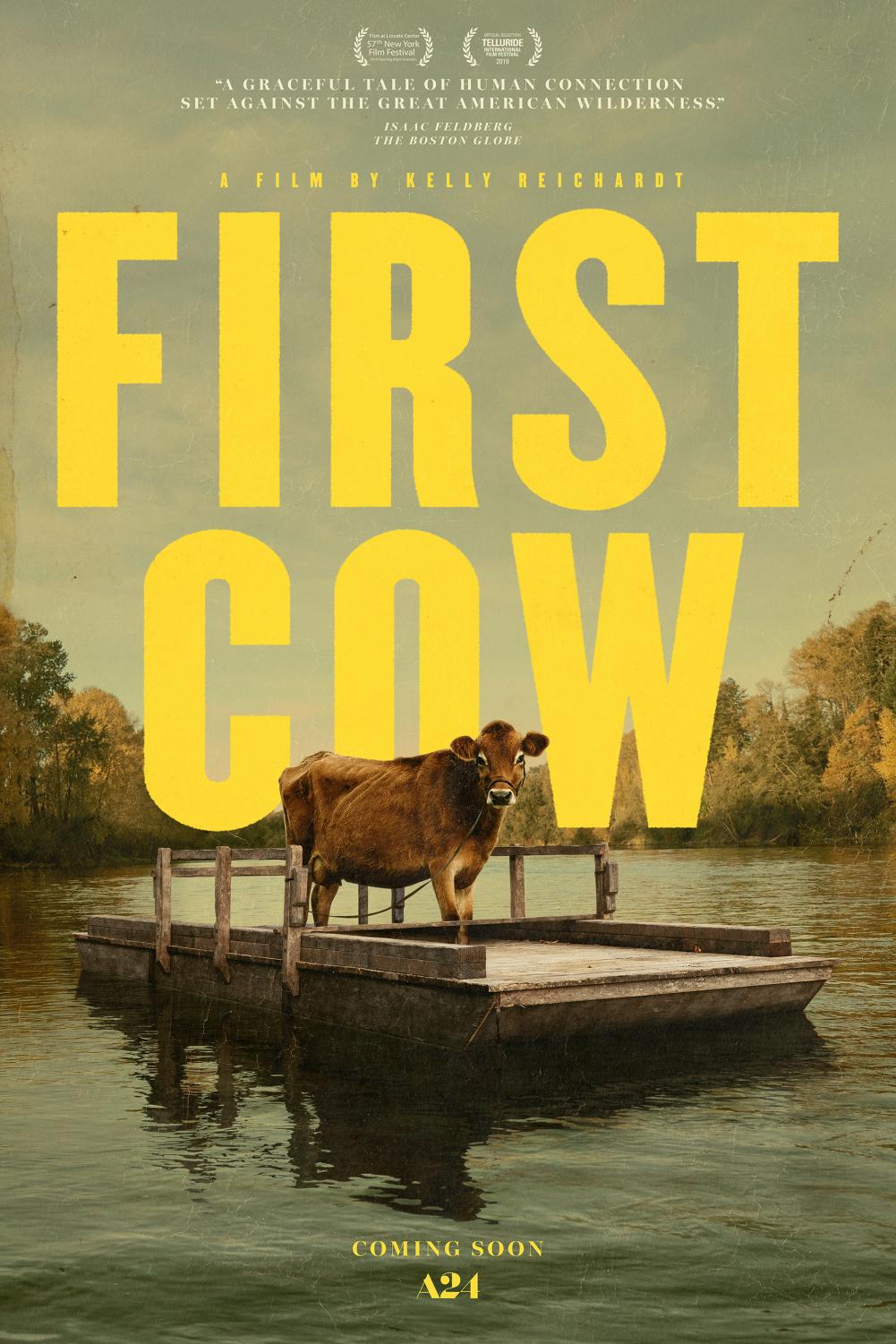 Although at Williams, Ephelia is hailed as being the only cow that really matters, Kelly Reichardt's tenth film, First Cow, showcases a cow worth competing with. 
First Cow, an unorthodox drama released in March 2020, tiptoes the line between a Western and a comedy by using the fictional first cow in Oregon as a catalyst for commentary on nature, capitalism, and friendship. While filled with plot, the film is not necessarily entertaining at all times and is definitely a commitment to watch, given how much of the film's two-hour run-time is dedicated to largely silent shots lingering on the forests of the Pacific Northwest and the monotonous labor of those inhabiting them. Ultimately, however, the viewing experience is worth it. 
The film begins with an unnamed woman (Alia Shawkat) and her dog discovering two hugging skeletons in the present day before turning back the clock to presumably the 1800s, when fur traders were traversing the land for business. Cookie (John Magaro) is one of those fur traders, living at the bottom of his group's social totem pole. He encounters Lu (Orion Lee), a Chinese runaway wanted for murder, with whom he eventually becomes friends. They become close and reveal their hopes to each other, including Cookie's dream of opening a bakery one day. 
From here, the film's pace picks up with the introduction of the titular cow belonging to the Chief Factor (Toby Jones), a wealthy, proud, and somewhat dim man. Cookie and Lu, motivated by Cookie's longing to bake something, sneak onto the Chief's property at night to milk the cow in secret and bake "oily cakes". Lu is impressed with the result and considers sneaking milk again. Then, opportunism strikes when they turn baking into a business venture, selling the wildly popular cakes to fur traders and the Chief himself. The duo steadily raises the price as demand for the cakes increases, attributing their taste to an ancient Chinese secret rather than the stolen milk. As their profits and popularity grow, their thievery becomes more and more treacherous, culminating in the film's tense second half. 
While it is essentially a heist movie, Reichhart's direction and Chris Blauvelt's cinematography create a sense of eerie tranquility, most easily comparable to Sofia Coppola's The Beguiled. It's peppered with moments of exciting triumph, but most of the film is filled with unease and a feeling that something must be off-kilter, hinting that Cookie and Lu's exploits might have an expiration date. 
Even so, the oily cake bakers are an endearing duo who make ideal business partners and eventually come to truly care for each other in an otherwise cutthroat environment. Cookie and Lu's partnership, beyond being just a heartwarming friendship, is a representation of solidarity among the poor and working class and the risks they take to secure their livelihoods. Cookie and Lu's opportunism is a result of desperation, but also of the innovative thinking that capitalism supposedly champions. But of course, when they use the free market to their advantage, it is under the constraint of a wealthier man's resources and his mercy. Cookie earnestly converses with the cow when milking her, treating her as an equal in their business venture, while the Chief keeps her as a prized possession whose only worth comes from the cream he puts in his tea. 
At the same time, Reichhardt avoids overt comparisons to the economic troubles of modern America and goes beyond the notions of rich versus poor that are already somewhat obvious and trite. Instead, she delves into ideas of inherent greed, arbitrary success, and the scarcity and hoarding of resources in a ruthlessly capitalistic society through what should be relatively low-stakes business ventures. Ironically, by exploring these themes through the oily cake business — essentially their version of a lemonade stand — the stakes are actually raised; what seems to be a small-time con is what determines whether Cookie and Lu survive. 
In a setting that could otherwise lead to Cookie and Lu turning on each other to protect themselves, Reichhardt takes a more earnest route. Regardless of how the story ends up unfolding, their unlikely friendship transcends their precarious circumstances, highlighting the rarity of and need for good movies set around friendships. 
The importance of the First Cow, though she remains nameless throughout the film, is also never forgotten — she even has a (short) backstory chronicling how she lost her mate. As the titular role, she makes a good case for more movies set around farm animals that ultimately expose the evils of capitalism. Perhaps Ephelia should consider following in her footsteps.