'I finally feel like a real student': Formerly remote first-years come to campus
Lea Obermüller '24 has been a Williams student for nearly six months. But until a few weeks ago, she was at home in Munich, Germany, over 3,000 miles away.
"What is difficult about not being on campus is that you can't really connect to the community," Obermüller said. "So I actually just now feel that I [have arrived] at the College, although I have studied here for half a year already."
As spring semester classes begin in earnest, formerly remote first-years like Obermüller find themselves balancing new classes, new environments, and new people. The Record spoke with six of them, who, despite coming from locations around the world, shared similar hopes and expectations for a spring semester that ends with a fuller sense of their connection to the College community as a whole.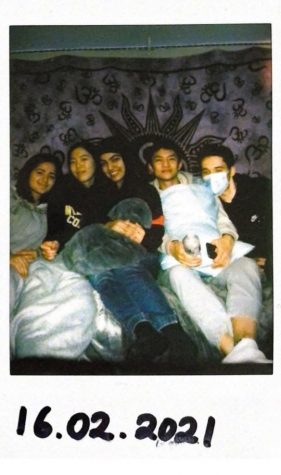 'I was so bored at home'
William Ding '24 said that his primary motivation for coming to campus this spring was being able to leave his house. "I was so bored at home," he said. "I saw my parents too much, I didn't see my friends, so I'm like, 'All right, I'm coming this semester.'"
Coming onto campus, Ding formed a pod with four other students he had become friends with within the remote entry. Since then, he said he has enjoyed the relative freedom of spending time with his friends in person as they explore campus and the entry together. 
"It's been pretty great," he said. "I think [AP4] is a really good entry in terms of how welcoming it is … And our pod gets on really well. We have movie night[s]; sometimes, we do face masks together. Thursday night is designated and reserved for pod time."
Other first-years shared Ding's sentiments. For Amalia Culpepper-Wehr '24, her choice to step on campus for the first time this spring was motivated by the lack of people in her home life. "What I've really missed — and this sounds kind of odd — is that feeling of just having multiple bodies in a room, hearing what people are doing from across the space, and just existing in the same areas as other people," she said.
As the only new first-year in Lehman Hall, Culpepper-Wehr has discovered an unexpectedly warm welcome to her presence on campus. "Everyone has been so incredibly welcoming, which I think is partially because of Lehman and the environment that's here," she said. "I basically got here, and everyone was like, 'Oh, Amalia!' And I was like, 'I don't know you!'"
Peter Miles '24 was one among many new first-years who delayed their on-campus enrollment due to uncertainty about the College's fall COVID-19 guidelines. "I wanted to come to campus in the fall, but it wasn't my choice," he said. "My parents were really concerned about how the campus was going to work and if all the policies were actually going to work, or if everyone was just going to get sent home."
However, the relatively low case count of the fall semester convinced his parents to allow him to enroll on-campus for spring, along with several other factors. "First of all, [my parents] saw how sad I was," Miles said. "And then they saw the first month, and they were like, 'Oh, this is totally fine.' And also, I'm doing a lot of STEM classes. I have a chemistry lab, and I did that remote in the fall, and it just sucks so bad."
'Being here gives me a feeling of being more present'
The struggle of taking remote classes over Zoom in a home environment encouraged many new first-years to enroll on-campus for the spring. "I'm better focused in person, specifically in chemistry, because it's a long class," Miles said. "If I'm there in the class, and there's writing on the boards and stuff, I'm paying attention. But if I'm just at my computer, it's so easy to be like, 'Oh, someone texted me something.'"
Though many students agreed that remote classes and professors were adequately accessible last semester, Obermüller encountered unique difficulties with discussion-based classes during her time in remote study. "I felt more of a barrier for in-class discussion because of my insecurities," she said. "I was speaking German at home all the time, and the only times that I was confronted with English were during class times."
Part of Obermüller's fear of speaking up in class stemmed from her previous lack of exposure to American culture and language. "I always struggle with my self-confidence when coming to a community — or I did struggle with this community that I hoped would just accept me for not being a proficient English speaker," she said. "Something that I was worried about most is the language barrier that I sometimes feel I have … But I don't get that feeling now [on campus]."
Despite now having the opportunity to take in-person classes, many newly arrived first-years prioritized choosing classes they were interested in over classes with in-person elements. Ding said that he didn't actively try to register for in-person classes. "I'm like, 'I don't care, I'll just take my classes, I'll get my course credits, and I'm dipping,'" he said. "So that was not my priority — I have all remote classes."
Obermüller said the difference between off- and on-campus study is already tangible. "It definitely feels closer to the College, to the community, studying here, even online, than from home because here, I could technically just go out and meet with one of my professors," she said. "So that provides me with a different feeling, so I would definitely say that just being here gives me a feeling of being more present, being more able to engage in college."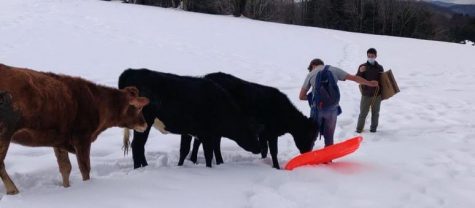 'They're just a really welcoming team'
For student-athletes like Colin Schofield '24, one main reason to come to campus for the spring was to become more involved in their team sport. "We did have meetings on Zoom with our coaches, which is cool because we didn't have a season," Schofield said of his experience being remote and part of the football team. "We're still doing that but now we have a schedule: lift every day except Thursday."
Even after a remote semester, Miles found that he had no trouble integrating into the men's crew team once he joined them on campus. "They're just a really welcoming team," he said. "I'd say it's about the biggest difference of [being on campus] because we have in-person practice, and we have lift. And if we don't have practice, we'll meet up and go for a run or something, and we also went sledding."
On top of this, Schofield found that his team provided a lot of support and community for students who had been remote. "I think we all get along and the upperclassmen are great," he said. "They're all here to be there for us and just kind of answer our questions."
'It's more motivating to be around people that are doing the same thing as you'
As they began to make preparation for the transition to on-campus living, students who were previously remote found themselves in a variety of pod arrangements upon joining previously established entries. "I'm in an all [previously] remote pod with two other kids, so it's just the three of us," Schofield said. "It's kind of a weird situation because I think two people bailed last second. They're all good guys though, and our entry [MD4] has been great as well."
Like Schofield, many students joined their entries as part of pods that had all been remote in the fall, adding a sense of camaraderie. "I am in the same pod with people who were also remote and international, and it has been easy to relate [to them]," Ruby Teklemariam '24 said. During the fall, Teklemariam had been studying from home in Ethiopia.
Ding also found reassurance in his pod, which consisted of friends he made last semester. "When it's more of a whole pod coming up and meeting the entry, it's comfortable having those people you know beside you who are also going through that same experience of meeting a new entry," he said.
For Schofield, living in the same space as others with similar goals and schedules gave him a greater sense of comfort than when he was alone at home. "There were way more distractions back at home because I have other remote friends at different colleges, so it was hard to be on a routine there," he said. "[Here,] you can be on a routine, and it's more motivating to be around people that are doing the same thing as you."
Many new first-years said they hope to expand beyond their pod and entry as student clubs and organizations begin to hold meetings again. Culpepper-Wehr filled her abundance of free time back home by participating in extracurriculars ranging from acting in the Theatre Department's Radio Dramas to singing with the a cappella group Ephoria to attending the Williams College Jewish Association's Shabbat services. 
"My logic was kind of like, 'I'm remote,'" she said. "I don't really have a lot of the typical constraints that you would on campus … So it's kind of like, why not get involved with as much as I can?"
Now that she is on campus, Culpepper-Wehr hopes to still engage with the College community while balancing her various commitments. "I hope to engage in a lot of activities differently," she said. "It's not that I want to get rid of my involvements but just kind of switch them up, make it more sustainable to being on campus."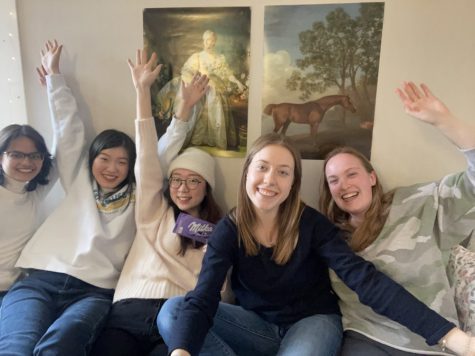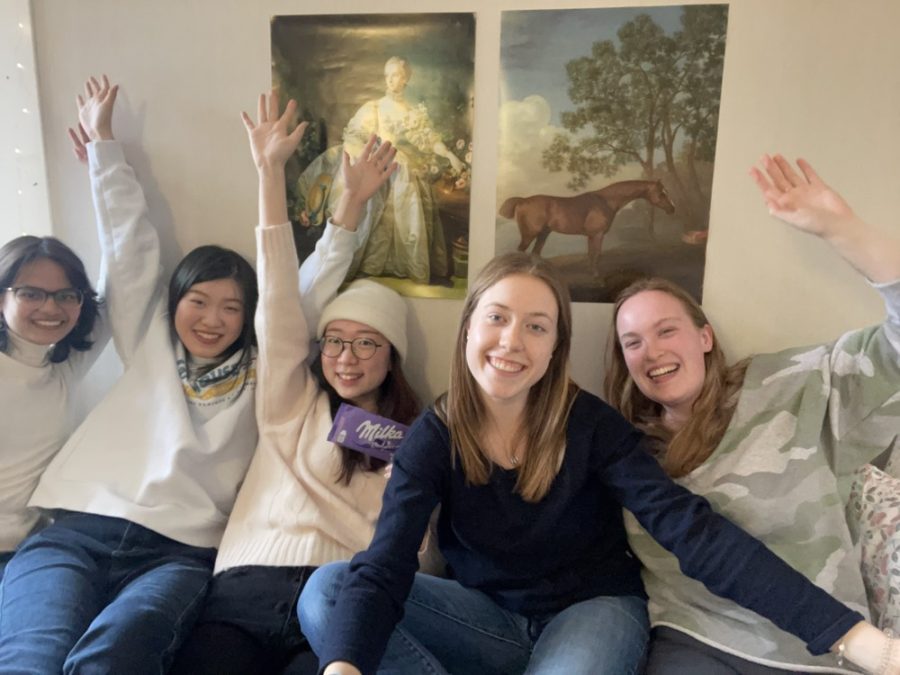 'This semester, I look forward to spring'
With a week of classes behind them, students like Teklemariam anticipate the possibilities that this semester holds. "I expect to take part in the Williams College experience even more now that I am here," she said.
Some students, like Ding, look forward to meeting people in more organic ways on campus. "Maybe you're getting food, and you might talk to someone in line, or there might be a spike ball game going and you just join in," he said. "Those kinds of simple interactions — that's impossible [when you're remote]. So that's the biggest change from remote to in-person."
Similarly, Obermüller said she feels that she is connecting with the Williams community more and hopes that this continues as the semester goes on. "I finally feel like a real student, which I didn't before," she said. "I hope to be more of a Williams student and finally arrive, which is quite an emotional thing."
"Last semester, I looked forward to the end of the semester," Ding said. "This semester, I look forward to spring."
This is the first of two articles that will cover the experience of first-years arriving on campus for the first time. The second article will serve as an update on how these six students have been settling into campus after one month.