Remote entry brings together 73 first-years from around the world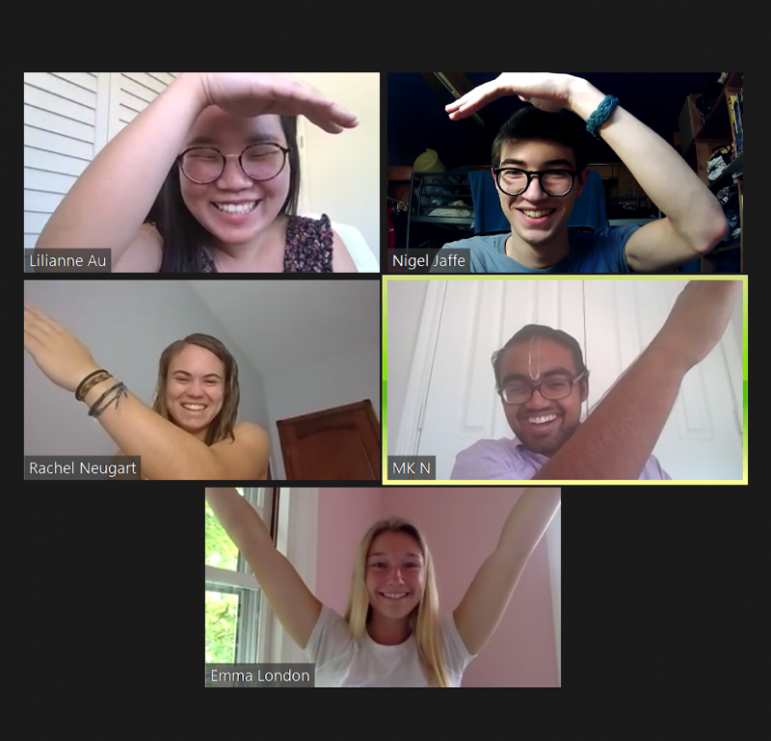 I made many predictions for my freshman year, but making my first college friends over Zoom was not one of them. On Aug. 31, I met my remote entrymates for the first time on a call with over 30 first-years and a few of our five Junior Advisors (JAs). The prior week had been hard, seeing my peers from the College's Summer Humanities and Social Sciences program meet each other on campus for the first time. However, commiserating and laughing with my remote peers reminded me that I was not alone.    
This year, the entry experience has moved online for remote students. For both the 73 first-years and the five JAs, the remote entry is new territory, though the College, the Junior Advisor Advisory Board (JAAB) and JAs are working to provide much of the same support we would receive on campus.
Remote entry JA Mukund Nair '22 told me that he initially planned to be a JA for an on-campus group, though after he decided to go remote, he was grateful when the College informed him that there would be enough Co-JA's and students for him to guide a remote entry. As JAs decided to take classes remotely, the group now consists of Rachel Neugart, Emma London, Nigel Jaffe and Lilianne Au — all members of the Class of 2022.
Despite technological barriers, remote JAs work to provide community to their first-years.  An example is a Zoom check-in with Jaffe that I just attended this past week. (Jaffe, a member of the Record board, was not involved in the writing or editing of this article.) Will Huang '24 also mentioned that he attends coffee hours and icebreaker events, though he said he is hoping for more fun activities to connect with his peers and learn more about them as individuals.  
Gabriela Gonzalez '24 said that she has attended virtual lunches with Neugart, and is updated on important events and homework by her JAs and entrymates. 
"It's definitely been kind of a safe haven," Gonzalez said. "I would say it's nice just to know that there are people that are like me and that I wasn't alone. And when I go to campus, at some point in the future, that I also have people who are experiencing the same things with me." 
Although Gonzalez said she was "not the happiest" when she decided to go remote, she said that she still feels supported by the College. 
"One of the biggest things I have taken away is that Williams definitely tries its best to make people feel included, even though the circumstances don't allow them … and there is also upperclassmen that are there for you and they understand you and they might be in the same position as you, and all you have to do is just reach out and ask questions," Gonzalez said.
Another one of my peers, Aleksander Horvat '24 agreed, but admitted to some internet exhaustion. "Being remote, and with all my work, I guess when I'm done with all of it, the last thing I want to do is open up my computer and go and Zoom again because it does get a little bit intense at times," he said. An international student from the United Kingdom, he added that he has missed some activities due to his time zone. However, he still regularly meets with his family and friends when it is safe to do so and plans to meet with a few Williams students in London. He even ran into another Eph while traveling in France.
Horvat said he appreciates the close-knit community at the College, but both Gonzalez and Horvat agreed that online, their college experience has been primarily academic. Gonzalez mentioned that she primarily met her entrymates through classes. "Since we were all taking remote classes for the most part, that's how I met them and that's how I started talking through mutual problems with our homework or just study groups that we needed to form," she said. 
Horvat added that he does not know his entrymates properly unless they are in a class together.    
Nair said he is concerned that remote students are too focused on their work. "Really what happens as a frosh is that you have so many assignments, though you have dinner to run to or an event to attend," he said. "I am not sure if our remote frosh have that safety valve or kind of release, that time to enjoy and kind of kick back." Nair noted, however, that his JAs are working to address these concerns.
For us remote students, fostering interpersonal relationships often requires mutual initiative.  Huang said that he texts his entrymates through the remote entry's Slack channel and tries his best to establish strong relationships with students both on-campus and remote. "I sometimes will just DM [direct message] people through either Slack or GroupMe and say 'What's up' and see where it goes from there," he said.
While I wholeheartedly enjoy meeting my peers, sometimes I feel burnout after long days spent doing homework and I find myself too tired to respond to my messages.
According to Nair, the JAs are now thinking more about interactions between first-year students. "We want you to meet the rest of your class and the rest of your entrymates," Nair said, adding that the JAs have split entrymates into groups, so that first-years have one JA that they know very well and can feel comfortable reaching out to.
Nair mentioned to me that one distinction between his entry experience and that of remote first-years is that students in the remote entry meet each other as individuals and not in groups. In his experience, he said that students often join virtual entry calls individually and randomly. Nair also added, however, that he hopes that first-years will find friends and have connections with others. "We don't want you to go back on campus and be like, 'Oh, I feel like I am a sophomore, but I am really a freshman,'" he said to me. 
Gonzalez said she is looking forward to her arrival on campus –– hopefully this spring. She said she is looking forward to meeting her peers who were remote and bonding over their common experiences. Still, she said she thinks that being an on-campus student, like being a remote one, will require her to take initiative and put herself out there among students who have already spent their first semester together. "I feel like sometimes they might think that we aren't on campus because we are not excited to be there or they might think that we are just not like them . . .  but people who aren't remote and on campus should know that we are as excited about Williams as they are and that we also just want to have fun and enjoy our freshman year," she said.
Horvat and Huang agreed, though Huang said, "From the Williams students I have talked with, they are pretty open to meeting new people." Horvat also said that it is not his first time attending a new school in another country, and having spoken with upperclass students, he feels socially and mentally prepared. However, Horvat and Huang noted that they are still waiting to decide whether or not they will enroll on campus for the spring semester, and Horvat later informed me that he would love to go on campus though is waiting to see how the pandemic progresses.
Nair said that next semester will provide new challenges for the remote entry, as some remote students decide to go on campus and some on-campus students decide to go remote. For now, Nair said, it seems that remote students who decide to go on campus in the spring will continue to have a remote entry. 
Until then, Nair said he and his co-JAs are working to provide a support system for remote first-years. "Our biggest concern is that they need some form of community," he said. "We do not want them to feel isolated. We do not want them to feel alone."