Cures for Strange Times: WCMA hosts virtual workshops to offer peace
To help members of the College community overcome the fatigue of perpetual social distancing, the Williams College Museum of Art (WCMA) partnered with local wellness professionals to hold creative and mindful spaces over Zoom. Beginning with the "Yoga with Live Music" session on Jan. 7, WCMA hosted a month-long series of weekly virtual workshops called "Cures for Strange Times." The series aimed to bring "wellness and creativity together in hands-on creative exchanges," WCMA Curator of Programs and Interpretation Nina Pelaez explained. The workshops provided practical tips and suggestions to invigorate socially distanced lives, and were also an opportunity for people to engage with art and creativity in a world that seems to slowly move us away from it.
The virtual meetings allowed local wellness practitioners in the Northern Berkshires to meet with artists to create "interactive experiences [that] center reflection, play, making, and embodiment as forms of learning and being," Pelaez said. The eccentric yet synergetic harmony of a yoga instructor and a jazz musician; an art therapist and a comic book illustrator; a florist and a botanist; and a farmer and a chef inspired many to find new ways to make trudging through the pandemic more bearable. 
Yoga with Live Music
For the first session of the series, art historian and yoga instructor Emily Kamen joined multi-instrumentalist and composer Zachary Hann to organize a live yoga session accompanied with experimental music.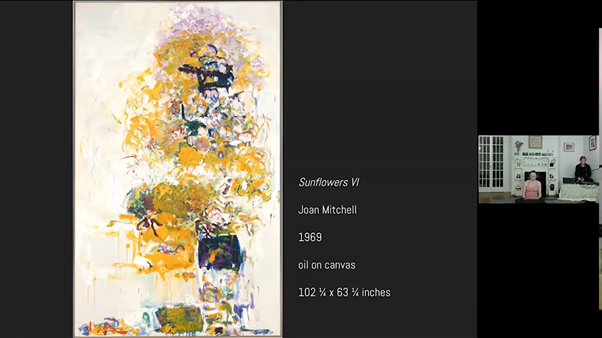 Kamen and Hann said that the workshop — both the yoga and the music — were inspired by Joan Mitchell's 1969 painting Sunflower VI. Just as Mitchell considered her artwork to be "remembered landscapes that [she] carries with [her] — and remembered feelings of them," the two artists and their practices aimed to incorporate the feelings that the paintings left on them. "This understanding of the relationships between nature and artistic mediums is what Zach and my practice is all about," Kamen said. 
Kamen went on to explain how the yoga movement pattern is based on not only the visuals of the paintings but also the impressions that they left with her. "This piece immediately struck me because of its energy and its brightness, and it was just so yellow and warm and fun and big," she said. 
Kamen discussed how she aimed to incorporate the energy of the painting into her yoga set. "The movement pattern that I created moves from bottom to top," she said. "From the base of the painting up through the verticality of the painting, thinking about some little details like surprising orange bursts at the bottom, moving to the energetic, dense center, and then to this more ethereal top with its beautiful lilac color." 
Hann mentioned how composing the music for the workshop has been a time of healing for him throughout the pandemic. As live music dwindled, he found the opportunity to focus on composing, learning to utilize synthesizers to realize musical ideas that he had been brewing for a while. Inspired by the way Sunflower VI's flowers "blur together with these bright yellows and splashes of darker colors," Hann uses different layers of material that drift in and out of each other to recreate the sensation of the blurring effect.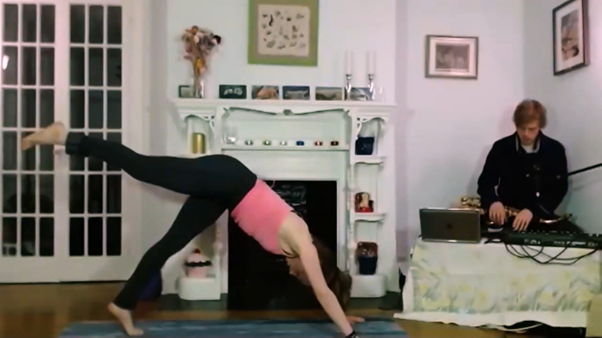 The two presenters invited participants to engage with the painting and performance just like they did."Take an inventory of what you see on the screen, the colors, compositions, shapes, the brightness, … you can also notice if this makes you think of any particular sounds, music, smells, tastes, sensations," Kamen said. "Try and picture not just what's on the screen but how it might feel to be next to something so big, wider than I am tall, taller than the tallest person who's ever lived."
Auto Bio Comic Workshop
The Auto Bio (short for autobiographical) Comic Workshop fused art therapy with comic design as artist Anna Moriarty Lev and art therapist Kaye Shaddock explored using comics to bring peace and calmness. The two presenters invited participants to follow short exercises that prompted people to create comics from their own lives. 
Shaddock began the workshop by explaining how she decided to pursue art therapy. She realized that art was an influential device for her to understand and deal with her own trauma, leading her to share this experience with more people. "These are indeed definitely the strangest times that I've ever been alive in," she said. "Experiencing life in a pandemic — this is from a therapeutic standpoint — we are all participating in collective trauma right now. I really think it is important to get a jump-start on processing what is happening to us right now in order to be as mentally well as we can possibly be."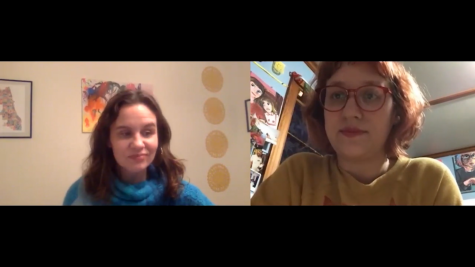 Moriarty Lev, a cartoonist and painter, explained how she thinks autobiographical comics can help with dealing with hardships. "I really came into making autobiographical comics when my mom was sick with cancer," she said. She discussed how making comics with her mother (who was an artist herself) about what was happening was helpful for her to process how she was feeling. "Later when I looked back on it, I found it to be very helpful to have that in-the-moment processing to look back on and started sharing them and have connected with a lot of other people who either have experienced cancer or some kind of loss." 
The two artists recounted how they started working with each other a year and a half ago on monthly classes. "We really connected right away with the way we think about using art and healing," Moriarty Lev said. Both the presenters emphasized how comics can be a way to become an active participant in changing the situation, rather than framing oneself as a helpless victim.
The workshop featured four short exercises, in which participants were invited to draw their own comics and share them through the Zoom call.. The first exercise was a self-portrait drawn out in four panels. "Whether that's four drawings of your face, whether it's drawings of different parts of you, whether it's more abstract, what I want you to think about is: How are you? How are you right now, in this moment?" Moriarty Lev said.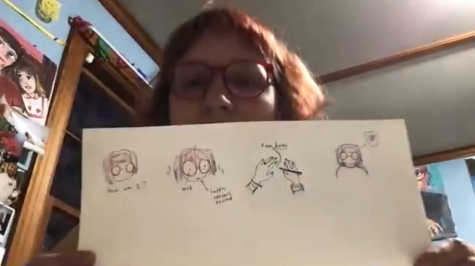 The exercise was followed by three longer exercises, called "Before & After," "Now & Then," and "Together & Apart." After each exercise, Shaddock and Moriarty Lev shared their comics and the stories behind their artwork, and invited others to do the same. Each drawing session focused on describing transformative moments in life from diverse vantage points, nudging participants to think about how influential events changed them and how the emotions they felt during them were recast over time. 
Shaddock emphasized that this process was key in approaching narrative therapy, a form of psychotherapy that aims to help people understand and embrace events happening throughout their lives and separate themselves from their problems. "I feel like so often we have these maladaptive stories that we tell ourselves," she said. "Narrative therapy works to externalize the problems. Instead of saying 'it's me; I'm terrible; I should have done it differently,' we try to figure out the context in which the problem is happening." 
Foraging and Flowers
The third week of the series called attention to the beautiful nature of winter as Professor of Biology Joan Edwards and floral designer Wendy Hybl Fannin worked with local botanicals, some grown and many foraged. The session focused on getting participants to learn how to recognize and understand the plants that could be found locally during this time of year, and demonstrating how to use some of these plants to create a winter-inspired bouquet.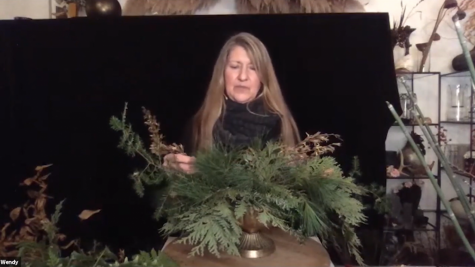 Edwards, a botanist, began the workshop by emphasizing the plethora of mesmerizing plants that can be found in the winter. Her discussions were designed to enhance participants' readings of the winter landscape based on an evolutionary design perspective, trying to answer, in her words, the question: "Why are plants put together the way they are put together?"
Hybl Fannin approached the same goal from the viewpoint of artistic design. Based on the different flora that could be found in the winter, she guided viewers through the process of making their own bouquet, demonstrating different arrangements, color combinations, and designs. 
Farming and Feasting
Farmer Tu Le of 328North Farm in Williamstown and Aaron J. Oster of A-ok BBQ in North Adams brought mindfulness to the dining table for the final session of the workshop series. The two presenters demonstrated the techniques needed to cook the Vietnamese vegan curry dish Cà Ri Chay with detailed step-by-step instructions and tips on getting the best local ingredients.
Le's 328North Farm started out as a homestead that came to life when he had a hard time finding ingredients he needed to cook Vietnamese dishes. Because the closest Asian market was an hour away, Le started growing the ingredients he needed, and the homestead soon grew into a farm that introduced fresh and diverse vegetables to the Northern Berkshire community. "I think the whole point of us starting the homestead is we wanted to grow what we wanted to eat, which was lacking in the local stores," said Le.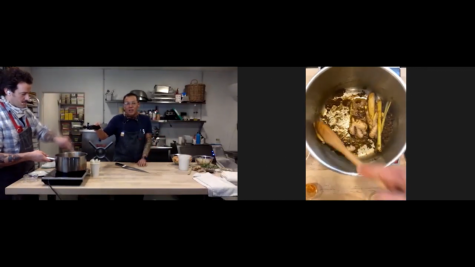 Le and Oster emphasized the importance of fresh ingredients while also exploring the power food has in telling stories, comforting people, and connecting different cultures. Oster, while preparing the ingredients for the curry, told Le what he appreciates of their cooperation: "The past week cooking with you has been incredible because we're both very sympatico in the way that we prepare food. What I'm learning about this whole Vietnamese world of preparing food that seems very simple and actually reminiscent of the Jewish home that I grew up in." "Which is very very interesting because my partner is Jewish so we marry Jewish tradition with Vietnamese flavors. For instance, it would be a lemongrass brisket for Hanukkah," Le mentioned.  
***
WCMA Curator of Programs and Interpretation Nina Pelaez, while introducing the "Cures for Strange Times series," explained how she hoped that the programs could "offer ways to take respite from the myriad of challenges of our present moment." 
Although the live virtual workshops are currently over, recordings of each of the virtual workshops are currently available online. You can find them at the Williams College Museum of Art's website.