Students returning to campus confront travel challenges, look forward to semester
Seven students test positive upon arrival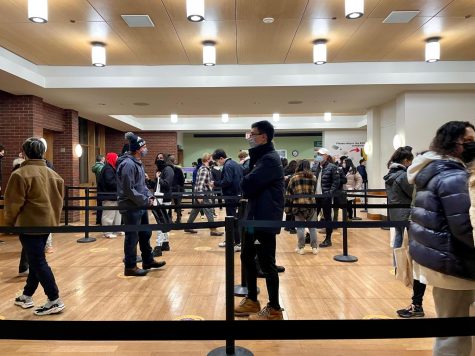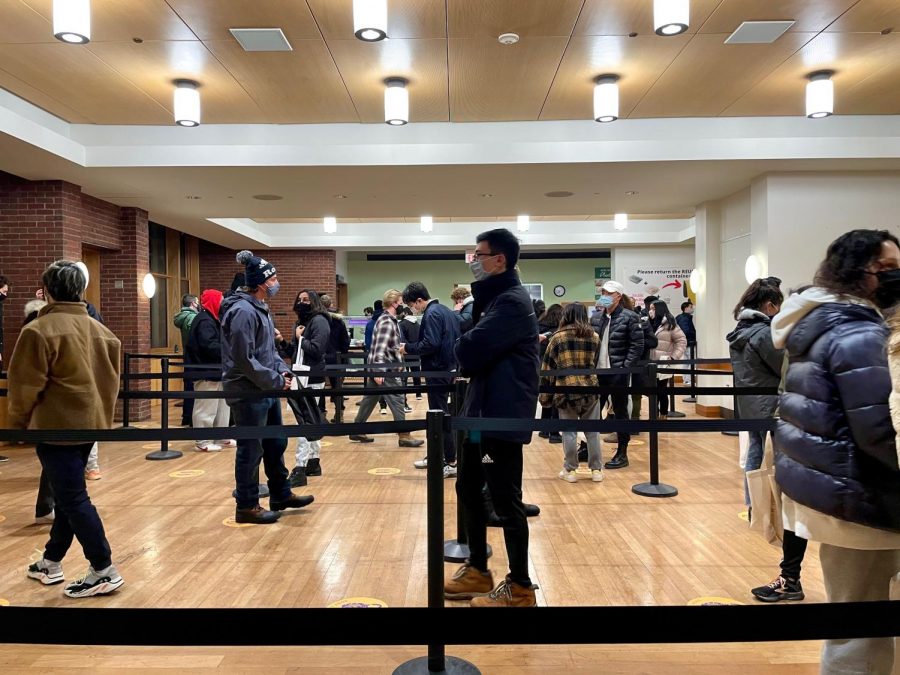 After a prolonged winter break, the College began welcoming students back to campus last Wednesday, Feb. 10. The greatest number of students arrived on campus that day, and progressively fewer students were slated to check in each successive day of the five-day arrival period. According to Dean of the College Marlene Sandstrom, approximately 440 students arrived on Wednesday, 355 on Thursday, 290 on Friday, 220 on Saturday, and 130 on Sunday. 
As of Feb. 16, 1,723 students are enrolled on campus for the spring semester, a small drop from the 1,824 who submitted their intent to enroll on campus by the original Dec. 1 deadline. The vast majority of these — approximately 1,435 — arrived during the main five-day arrival window, while the remainder were either already on campus or have made separate arrival plans.
According to the College, 243 students are enrolled remotely.
As of Feb. 17, nine on-campus students have tested positive for COVID since the return to campus began, all of whom are now in isolation housing. Two students who arrived on Feb. 10 tested positive, while three more students tested positive on Feb. 12 and two on Feb. 13, totaling seven students who were positive for COVID upon arrival. The remaining two positives were reported on Feb. 17.
Twenty additional students, whose initial COVID tests were negative, have moved to quarantine housing because they came into close contact with students who tested positive.
Dodd House continues to be used as quarantine housing, Senior Associate Dean of Campus Life Doug Schiazza said, but the other houses in Dodd Circle are in use as normal housing. Austen House, Marcus House, and McGinnis House (previously occupied by graduate art students) are being used for isolation housing, while the Center for Development Economics residence hall will be used for either quarantine or isolation if needed. 
New students arrive on campus
Though the College faces a higher rate of COVID positives compared to the move-in period last semester, some students still found the purple bubble to be safer than home — one reason for returning this spring. 
"My home was actually a hotspot area for the fall semester," said Mirna Rodriguez '21. Rodriguez studied remotely from her home in Mission, Texas, during the fall and came back to campus this January to work on her thesis.
"I think I was missing a sense of stability," Rodriguez said of her remote experience. "I also like having my own space."
"When you're remote, you're kind of just surrounded by family, and you're a different you with your family than you are at school," she said. "And so they didn't know student-me, who was like, 'I am doing so many different things, I cannot watch a movie right now.'" 
Many students felt that the benefit of studying on campus outweighed the hassle of getting to Williamstown. After over 20 hours of travel, Yuchan Kim '24 arrived on campus on Feb. 10 from Seoul, Korea, which is 14 hours ahead of Eastern Standard Time. "That means most courses are going to be 3 a.m. or 4 a.m., and the latest afternoon courses here are going to be at 5 a.m.," he said. 
"So it would either be me having to record all my courses and then watch them later throughout the day, which means I don't take courses that are discussion-based, or I give up my sanity," Kim said. "There's an experience that you cannot get [remotely]." 
After spending the fall in East Bay, R.I., Sameer Khanbhai '21 decided to return to campus for his senior spring. "I haven't been on campus since December of 2019, which is kind of crazy," said Khanbhai, who studied abroad in Paris last spring.
Khanbhai said he had heard that the fall semester had "exceeded people's expectations" in many ways. "People were able to see each other more, see friends, grab meals outside, and things became more accessible," he said. "I'm excited for that."
"I want to make the most of [my last semester] while I can," he continued. "I haven't really done many of the bucket list items. I really want to try going on more hikes, doing more Williamstown things."
Students face new pre-arrival testing requirement
Caroline Case '22 traveled to campus from Alford, Mass., about an hour away from Williamstown. For Case, the process of obtaining a pre-arrival test was "so smooth," she said. She was able to schedule a free test at a location five minutes away from where she was living through the state's Stop the Spread program. "I was really lucky that there was one available [testing location] near me for that time," Case added.
In addition to the College's pre-arrival testing requirement, the Biden administration now requires a negative test from travelers three days before they enter the United States, posing new problems for students traveling from international locations. Some students reported struggles with a lack of information from airlines and their national governments, paying for expensive testing, and timing issues.
"[The test] wasn't easy, especially considering that no one was super clear on what papers I was supposed to have," Kim said. "Some people were saying a free test in Korea would be fine, and then other people said, 'No, you need an official doctor's transcript with all of these scans, and you have to pay for it.'"
While testing before entering the country brought new challenges, students also said they appreciated the sense of safety it provided. "I think it's a big relief that everyone is required to get a negative test before flying because we know that people we're traveling with have tested negative within the past three days," said Ken Morotomi '23, who also said he had to spend $100 to $200 to get a COVID test in Thailand. 
For most students, arrival on campus might warrant a sigh of relief and signal a return to normalcy, although some faced obstacles before even hitting the road. Fourteen students have reported positive pre-arrival tests to the College, delaying their planned returns, according to Sandstrom. 
Unlike students who test positive on campus and submit daily symptom reports to the Health Center, "Students who [tested positive before they could leave for campus] are working with their local health care providers," Sandstrom said to the Record. They can return to campus ten days after the initial positive test, with clearance from their medical provider.
"We are working with students to arrange for a later check-in time, and students are contacting their faculty members to let them know that they will be participating in the first few classes remotely," Sandstrom said.
Travel logistics pose problems for international students
With set check-in times for arrival, students who had to plan many legs for their trip — such as taking multiple flights or arranging an Uber — found that the scarcity of options for travel made traveling long distances even more difficult.
The number of international flights has decreased by 47.5 percent since the pandemic began, a change that affected Kim when he planned his route to Williamstown. 
"[From] Korea, flights leave for New York every day and for Boston every day or two days because of COVID," Kim said. "I was really lucky to find a flight to Boston before the motorcoach time on the tenth."
Seha Karabacak '24 was also affected by the reduced number of international flights. "There were limited opportunities, limited windows, where you could travel from the airport to the school," he said. Karabacak said he had heard of several international students who had to stay overnight at an airport hotel to wait for transportation to campus.
Gina Al-Karablieh '22, who is from Palestine, noted that COVID-related travel restrictions were much harder on international students than on students traveling domestically. "For a lot of U.S.-based students, it's easier to take home for granted. It's much easier for them to go back home than for us," Al-Karablieh said. "That's why for [international students], it's very important to commit to the rules and guidelines because if Williams one day decides, 'OK, all of you guys will go home,' for us, it won't be as easy as for [domestic students]."
Due to these travel restrictions, Morotomi said that he chose to stay on campus through the summer and fall of 2020, only returning to Thailand over winter break to renounce his Thai citizenship and avoid being drafted into the Thai military.
Karabacak noted that many international students he knew who were remote last semester decided to return for the spring. "I think it was quite a concern for international students in the fall semester to come to the United States, especially with their travel and such," he said, "Now that people are more confident in the College, more international students came in."
Students look forward to on-campus life after initial quarantine
On Feb. 11, Sandstrom reiterated the campus arrival policy in an all-campus email: "All students arriving to campus from another location (including those students moving from a local off-campus residence to an on-campus dorm) must participate in the initial in-room quarantine unless they have a waiver from the Health Center," Sandstrom wrote. Students may only exit in-room quarantine upon receiving two negative COVID tests scheduled 72 hours apart.
However, some students are exempt from the in-room quarantine requirement. Those who have already been living on campus or locally off campus and regularly participating in College COVID testing, as well as students who have tested positive for COVID within the last 90 days, do not have to participate in the initial in-room quarantine, though all other COVID guidelines and restrictions still apply to them.
This semester, students will not be able to interact indoors with members of other housing pods during the initial "campus quarantine" period, a policy which Sandstrom said the College will revisit on March 1. 
Rodriguez went through the in-room quarantine process upon her arrival in January and had been out of quarantine for several weeks by the time most other students began coming to campus. She said she picked up a new hobby during her quarantine in January: knitting. "I knit my first scarf," she said, "It was so funny because I spent hours just knitting. I was like, 'Oh, this feels like old times.'" 
When she first arrived, there were very few students. "I really appreciated that because it felt a lot safer," Rodriguez said. "Right now, it just feels very overwhelming. I went to Paresky and there was a huge line, and this was the first time that I've seen this many people." 
Alternatively, Al-Karablieh saw lines in the dining halls as a chance to have time with friends. "The dining hall line is the only social activity that we have these days," she said. "Worst case, you can just order online."
Case said she appreciated that students could retrieve their own meals from the dining hall. "Walking to get meals is huge for the mental health program," she said. "That's like the best part of the day."
After experiencing two months of dry, 90-degree weather in Thailand, Morotomi said he looks forward to the cold weather in Williamstown. "And the snow, maybe going on some walks in the snow," he added. 
Many students expressed excitement about reuniting with friends, as well as about the first days of classes. "Ironically, I think I kind of can't wait for classes to start … and restart all of my life," Kim said. 
This article was updated at 12 p.m. on Feb. 17 to reflect updated numbers for students in isolation and quarantine.
This article was revised at 10 a.m. on Feb. 23 to correct the number of student positives since Feb. 17. A previous version stated the number of positive cases among students as 10. There were in fact only nine at that point.