Arts and performance groups host events to liven up quarantine
As students returned to campus and began their in-room quarantines during this past week, registered student organizations (RSOs) like Williams Photography Club, Good Question A Cappella (GQ), and Ritmo Latino filled the extra downtime with art. They led events as part of the College's Quarantine's Cozy Comforts series, which offered quarantine-friendly programming organized by co-presidents of the Student Athlete Advisory Committee (SAAC) Rachel Neugart '22 and Gabby Martin '21. The events sought to ease the transition from homelife into quarantine with social events accessible from the dorm room. 
 Worried about the transition to campus amid colder weather, Neugart reached out to her co-president and suggested organizing events for the initial quarantine period. 
"We wanted to provide different options of events for students to break up the quarantine period, fun outlets for people during an isolating time," said Neugart, who was remote last semester and said she wanted to provide a fun and inclusive space for the transition to campus. "Ultimately, we just hope that we made quarantine easier for one person." 
Good Question A Cappella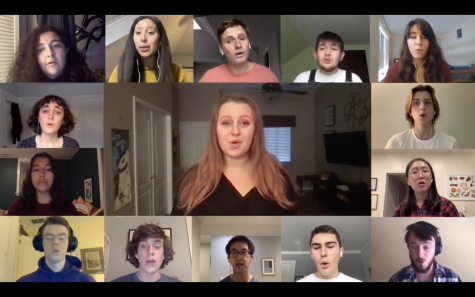 With classic hits like "Fireflies" by Owl City, GQ brought music into students' dorms with its second virtual concert of the year on Feb. 13. The show featured two full-group songs and several quintets. Taking advantage of YouTube's premiere feature, which blends characteristics from YouTube Live and normally uploaded videos by allowing every viewer to watch at the same time with a live chat, GQ was able to simulate a live performance. The video also remains online for students who weren't able to come.  
Peter Knowlton '21, co-business-manager of GQ, highlighted some of the difficulties that the group has faced in light of the ongoing pandemic and the College's restrictions on group gatherings. Student groups in general have had to radically alter their operations, with performance groups being among the hardest hit. Still, GQ remains committed to bringing music to the student body, whether it be from a stage or a computer screen.
"Given the circumstances, a cappella has not been able to function as it has in past semesters," Knowlton said. "We feel that [virtual concerts] are not only a way to create music and interact as a group safely, but also something for Williams students to look forward to as many extracurricular outlets have vanished this year," he said.
The concert has proved to be popular, as over 170 people have viewed the GQ concert as of the date of publication. Sara Sadri '23, a member of the Accidentals, another a cappella group, emphasized how impressed she was with GQ's performance given the difficulties of transitioning to a virtual format and how it helped her connect with the campus during quarantine. 
"Not only did they sound great, but I was especially impressed with how GQ committed to putting five songs together remotely and how entertaining the show still was," Sadri said. "And it helped me through quarantine by giving me something to connect with my friends over. [We] watched it live and texted about it while it was happening, and I think even for small things like that, it's nice to have moments of shared experience during an otherwise pretty lonely time." 
Ritmo Latino 
Ritmo Latino held virtual dance lessons to encourage students to get on their feet and move, despite the in-room quarantine. Like other performance groups, Ritmo has been heavily affected by the College's restrictions on group gatherings. These virtual lessons are one way that the group is trying to stay connected with the student body and ease the mental burden of quarantine for on-campus students. 
The Ritmo lessons, led by Alejandro Flores '21.5 and Alex Bernstein '23, started out with brief introductions before moving into the lessons. With rhythmic music playing in the background, Flores and Bernstein guided the attendees through a warm-up, a series of exercises that focused on improving footwork, and several salsa movements.  
This semester, Ritmo intends to center itself heavily on community and connection with the larger student body, Bernstein said. The group is running workshops and virtual events like the dance lessons to connect people across space, regardless of physical isolation. Bernstein, who is a member of Ritmo's board, remarked that dancing helps them connect with others.
"Whenever I dance, I feel grounded and very much at home," they said. "Extending the opportunity to learn something new, warm, and fun to the wider Williams community has been exciting." 
Williams Photography Club 
Williams Photography Club (WPC) kicked off the quarantine events with a series of daily photo prompts, which ran from Feb. 10 through Feb. 16. The prompts encouraged students to get creative with their phones and other cameras, and leaders of the club accompanied the prompts with introductions to photography principles like the rule of thirds and the use of shadows to dramatize a subject. The prompts were open to any student, regardless of enrollment status. Submissions were uploaded to WPC's website.
Inspired by projects such as the COVID photo museum, which compiles photos captured in quarantine by professionals and everyday people, WPC launched their daily prompts to help students interact with photography more deeply. 
The prompts focused on different aspects of photography. They were both technical and thematic, which allowed students to explore a wide breadth of subjects and photography principles. By focusing on objects commonly found in dorm rooms, they also encouraged students to innovatively capture their surroundings.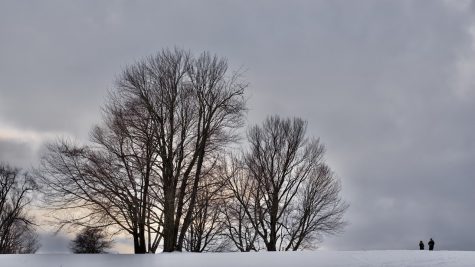 Like other arts groups, WPC has struggled to adapt to the pandemic. But they've also taken advantage of photography's ability to translate well into a digital format, allowing the group to expand the club's purpose and their interactions with the student body.
"I recognize that the nature of virtual events renders it difficult for WPC to offer its usual services," said Jaya Alagar '22, president of WPC. "Before COVID, WPC efforts were mainly focused on photographing on-campus events, so the 'Quarantine Camera Challenge' is also a valuable opportunity for WPC to expand operations." 
Ultimately, though, Alagar noted that the prompts were meant to give students a new way to express themselves from quarantine.
"The events were aimed as an outlet for photographers of all skills during on-campus quarantine," she said. "WPC wanted to provide a virtual space for those in quarantine to have their experiences archived and heard."