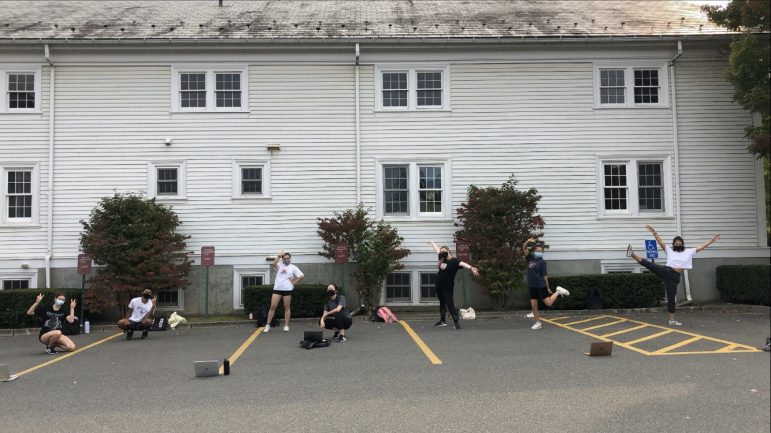 Although they won't be singing on Mountain Day, dancing during Homecoming halftime, or performing before a packed crowd in Currier ballroom, a cappella, dance, and improv groups at the College have navigated the remote setting to hold auditions for new members.
Without the opportunity to make an impression at First Days staples like the Jamboree and Purple Key Fair, groups had to find other ways to reach out to prospective members to audition.
"A lot of groups will go up to pretty much everyone they see go by and say, 'do you want to do college a cappella? You should audition!'" said The Octet interim music director Oliver Hall '23. "Some of our really valued members have come from that, which was missed this year."
This year, many groups took to social media to recruit incoming students. "Once we went remote last spring, my class year recognized immediately that we'd need to step it up this year to make sure auditions wouldn't flop," said Ephoria music director Betsy Button '21. In light of this, Ephoria rebuilt their website, recorded a virtual performance video, and had members host Instagram story takeovers. 
Groups also spread the word through personal connections. The Ritmo Latino executive board members reached out to friends who are Junior Advisors to spread the word to first-years in place of the fliers and posters they would typically put up in buildings across campus.
Whether due to the lack of in-person advertising or the smaller first-year class size, audition numbers this year were generally much smaller than groups were used to. For example, 30 people auditioned for Ephlats this year, down from around 70 in a typical fall, and 13 people auditioned for the Octet, down from their typical 30. Ritmo Latino had 12 auditions, down from their usual tally of around 50, and NBC had 8 people audition, down from their usual 40. Club leaders also had to adjust the audition processes to the virtual setting.
A cappella auditions typically start during the first week of class. Auditioners sing through vocal warmups, participate in harmonizing and pitch-matching exercises, and sing a prepared song. This year, some groups replicated the process over Zoom, while others had auditioners send a recording of each step. From there, a cappella groups normally have callbacks in processes that vary by group, either singing a new song or singing with a small group.
"A big thing that we look for especially in callbacks is the auditioner's ability to blend with the group and listen to others," said Ephlats president Afoma Maduegbuna '21. "It's very difficult to do that over Zoom, because you can't really assess how someone's ear is and how perceptive they are to other people's sound."
The callbacks also include a social "callback party" so the auditioner can get a sense of the group. "The callback has an aspect of, 'Do you want to be a part of this group? Do we want you to be a part of our group?'" Hall said. "Groups kind of feel the need to differentiate themselves from others, because then the auditioners rank the group they want to be in."
Different groups handled the social aspect differently this year. While some had small-group callback parties with different shifts for prospective members to meet the current members, others moved away from this approach entirely.
"We invited each person who received a callback to an 'Ephoria date' instead, where two members of Ephoria would hang out with the prospective member," Button said.
"Our group has six members on campus right now," said Hall. "We can sing outside with masks and social distancing with each member who is called back."
The timeline was much slower than in typical years because there was no rush to get the group together to start rehearsing for Mountain Day. Auditions and callbacks typically happen in less than one week, while this year, the process lasted for three.
"We delayed because it took a lot of time to figure out the logistics and we wanted to give the freshmen more time to settle in," said Maduegbuna. "It was actually very nice to take our time with each recording, which can maybe be a model for future years."
And unlike other years, the groups promoted each other. "In our reminder emails we encouraged everyone to look at other groups" said Hall. "It's a mutually beneficial thing; if you can find a group that you're happy with, that's the goal. It allows us to continue having a large portion of campus involved in a capella."
Dance groups also restructured their audition processes. Unlike a cappella, the auditions and callbacks vary drastically by group; the first round of Ritmo Latino auditions typically takes two hours of learning choreography while the first round of NBC auditions lasts two days. Like a cappella, the groups have callbacks that differ by group: for example, the NBC callback requires dancers to choreograph their own dance.
This year, "it all changed," said Ritmo chair of lessons Alejandro Flores '21. Both groups gave auditioners access to a pre-recorded instructional video and asked for a video of them performing it, which presented challenges that do not come with live auditions.
"We couldn't tell if some of the dancers were behind because of WiFi problems or the audio and video not being synchronized, or if the dancers really couldn't keep up with the music," said NBC president Iris Park '21. "This was the hardest part, because musicality is very important to us."
"We had problems with our YouTube channel having copyright issues when posting our audition video," said Ritmo artistic director Faith Rodriguez '21.
Unlike a cappella, some dance groups did not had auditions this year, including Sankofa. "We couldn't imagine holding auditions fairly," said Sankofa co-drill sergeant Raquel Livingston '21.
"Many people have never stepped before, and being able to correct people is a big part of our auditioning process. Our style of dance relies on a very important technique with straight hands and specific sounds that we did not think we could teach fairly over Zoom."
This semester, Sankofa is hosting workshops and practices open to all students as well as practices for current team members. They are also building the team's institutional memory and online presence.
"We wanted to do it without pressure, because we can't train people as we normally would," said Livingston.
Another performance group that did not hold auditions this semester is the improv group Combo Za. "There are only four of us on campus right now," said president Hallie Della-Volpe '21. "Improv is already difficult socially distanced, but that makes it even harder."
The other improv group on campus, Treestyle, did have auditions, socially distanced outside in small groups. "It was a challenge to divide up the existing Treestyle members so that we could see auditioners without exceeding the limits of people who can gather together," said Treestyle senior Samori Etienne '21. "As much as guidelines would allow, we wanted to give all members present the ability to see the auditioners."
Combo Za plans to have auditions in the spring. "I'm sure there are still so many funny people left for us to take that either auditioned and didn't get into Treestyle or didn't audition in the fall and might be ready in the spring," said Della-Volpe. "We certainly feel that there are funny people left on campus and we will seek them out."
Unlike a cappella and dance groups that held auditions to remote students, Treestyle auditions were only open to on-campus students. For other groups, accessibility was a big concern.
"We had to consider the spaces that on-campus students have access to that remote students might not," said Maduegbuna, such as recording audition videos masked in practice rooms. "It was difficult for certain auditioners to find enough space to record themselves full body," said Rodriguez.
For some, the remote format may have made the process easier. "We had some upperclassmen audition who mentioned that they felt more comfortable signing up for a virtual audition than an in person one, which is why they hadn't auditioned their freshman year," said Button.
Although this year will certainly be different from all before, and performances may not happen in the foreseeable future, performance groups across campus will continue to make art and welcome new members. "Things are difficult right now, wanting to do the thing you love doing in the way you love doing it," said Della-Volpe. "But you better believe we'll come back better than ever."