Sandstrom announces potentially delayed arrival, greater restrictions on socializing, other changes to spring semester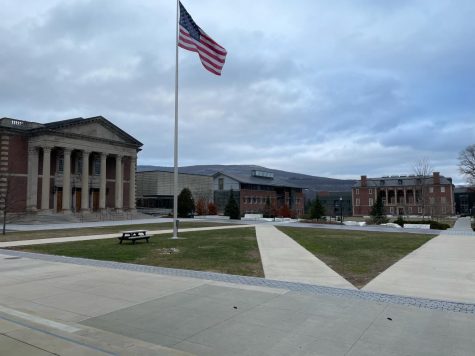 If COVID-19 cases in Massachusetts and across the country continue to rise, the College may consider delaying students' arrival to campus, Dean of the College Marlene Sandstrom announced today in an email to students, staff, faculty, and families. Sandstrom also noted in the email several changes to plans for the spring semester, including a prohibition on socializing indoors with non-podmates during the "campus quarantine." 
While the College still plans for students to arrive between Feb. 10 and 14, Sandstrom wrote that "if the situation continues to worsen, we may consider delaying your return to campus and beginning the semester remotely." 
"To be clear, we think it unlikely, based on current projections, that we would need to transition the whole semester to remote study — just the first several weeks," she added. She instructed students to expect a final decision from the College by the end of January.
COVID-19 has been on the rise in Massachusetts, which reported 5,545 new cases yesterday, and around the country. Berkshire County recorded 74 new cases yesterday.
In the same email, Sandstrom also announced a change to the "campus quarantine," the period of time after students complete their in-room quarantines but must remain on campus. Unlike in the fall, students will not be allowed to socialize indoors with people from outside of their pod during the campus quarantine.
Sandstrom told the Record that the administration has not yet decided whether this would mean closing libraries for the campus quarantine. "But we will make an effort to create study spaces with ample social distancing between people so that they use those spaces after [they] clear initial arrival quarantine," she wrote via email to the Record."
The email to the College community noted that students will not be allowed to use their cars during the campus quarantine, but Sandstrom told the Record that students living off campus may go to the grocery store once they complete their arrival quarantine.
The campus quarantine will last "some significant period of time yet to be determined," Sandstrom wrote in her email to the College community. In the fall, the College ended the campus quarantine on Oct. 5, about a month after most students arrived on campus, though significant restrictions on travel remained in place even afterwards.
In another departure from protocols in place for the fall semester, students returning in the spring must now take a COVID test five to seven days before coming to campus. Documentation of a negative test result will be required for students to return to campus. Sandstrom informed the Record that the College will accept the results of both PCR and rapid antigen tests. 
Sandstrom told students for whom a COVID-19 test would be "beyond [their] financial means" to contact Director of Student Administrative Affairs Aaron Gordon. 
"Many counties across the country are provided free testing at this point," she wrote to the Record. "We are encouraging students to look carefully for those opportunities. Students who cannot find a free testing site and are facing a fee that poses a financial burden can contact us with information about the fee, and we will be happy to help them work out a solution."
If a student tests positive with their pre-arrival test, "They will have to wait until they are cleared by their home physician and our health center, and then can come to campus as originally planned," Sandstrom told the Record. 
Upon arriving on campus, students will still need to clear two negative tests in a row, at least 72 hours apart, before they can end their in-room quarantines, which should take around five days.
Sandstrom emphasized that the spring semester may prove more challenging than the previous fall, due to less flexible room assignments, more students on campus, and colder weather. Moreover, with 300 to 350 more students indicating their intent to return to campus than in the fall, on-campus students are likely to find themselves in more remote classes, Sandstrom wrote. She reminded students that they have the ability to switch to remote study at any time if they so choose. 
"This message is intentionally sobering," she concluded. "Because fall term went well, we have the sense that many students are now thinking spring will be similar or even easier." 
As Sandstrom's email strongly suggests, that may not be that case.
This is a developing story. The Record will continue to report on changes in the College's plan for the spring semester.