Sartorial Observer: Jihong Lee '22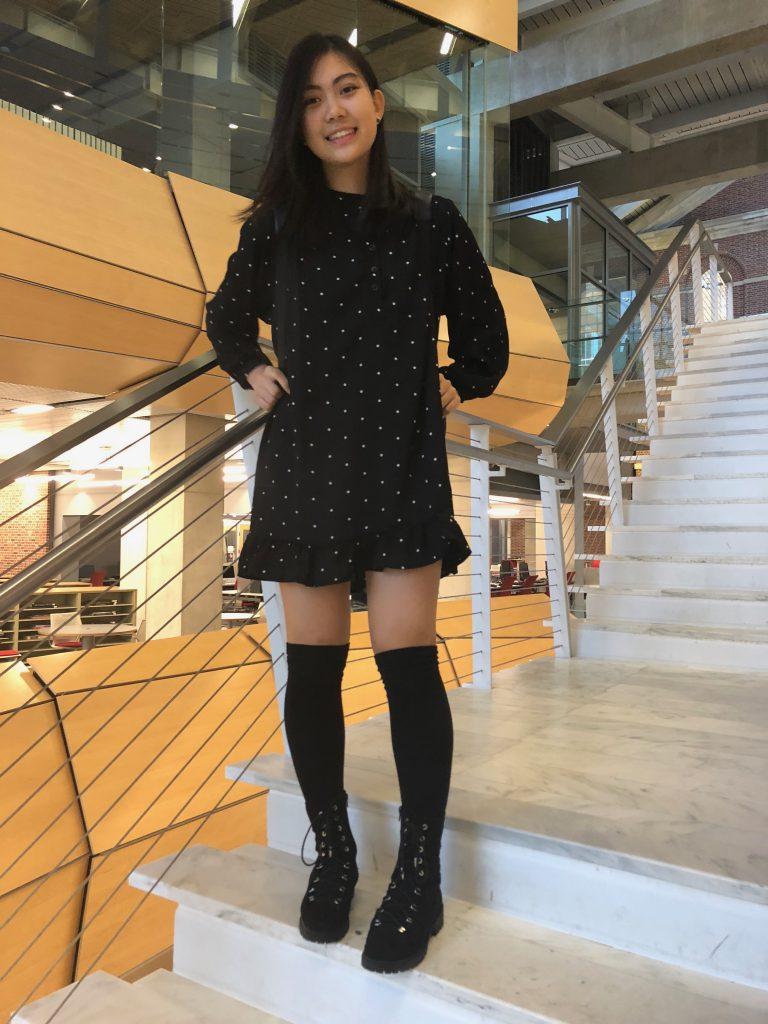 "Jihong, you're literally the only person I know who can pull off a beret!" Charlotte Hanson '22 said the moment Jihong Lee '22, wearing a glimmering black outfit topped with a black beret, entered the Mills-Dennett 2 (MD2) common room on Wednesday night. 
Within MD2, Lee is a style icon. "She manages to find the perfect balance between elegant and cute," Ruthie Laurence '22, a member of the entry, said. 
"She always dresses very well," Shreyas Rajesh '22, also in MD2, said. "Just on Friday, for example, she looked like she had come from the Career Fair, but that was just how she dresses every day… It's all very straight out of a magazine."
Despite her entrymates' admiration, Lee is modest about her style. When I asked if I could profile her for the "Sartorial Observer" column, she asked, sincerely, "Me? Really?"
Lee describes her style as "eclectic." "I just wear whatever I want whenever I want," she said. She often wears skirts and, of course, berets. For our interview, she looked as chic as ever in an oversized blazer, t-shirt, bird-printed skirt, socks and spotless white sneakers – all of which coordinated in a black-and-white color scheme.
Others have noted Lee's willingness to experiment with multiple styles. "She has a really good eye for putting different pieces together that you wouldn't think necessarily go together, but she makes it work," Laurence said.
"I'm sure that other people wear the kinds of things I wear," Lee said, "but I don't think I look at other people and try to wear what they wear."
For Lee, dressing well is in part a way to improve her mood. She finds that when she feels good about what she is wearing, she is "much more productive during the day."
"If I wear what I want, it's like the feeling someone feels when they eat something they like," Lee said. "It's stress-relieving, in a way. I feel like my wardrobe is one thing I always think about, and when I've got that the way I like it, then I don't have to worry over it, and I feel happy in that sense… I feel good the entire day."
Entering her room is like a stepping into a Pinterest board. Nothing is out of place. On her windowsill rest one plant and three succulents, one of which sits in a tiny zebra-shaped pot. Her shirts and pants are crisply folded and thoughtfully organized. She has arranged the clothes hanging up in her closet by color: pink, red, yellow, green, blue, navy, purple, black, gray, white and brown, from left to right.
Her favorite article of clothing, however – a sweater her grandmother knit for her with her name embroidered on the inside – is at home. She left it behind, concerned that it would get ruined in the laundry. Home for Lee is Busan, South Korea, although she lived in Karachi, Pakistan, from the ages of six to 12.
"I feel like people just wear what they want here," she said. "But in Korea, I feel like when you're stepping out of the house, you need to look somewhat presentable… Although, funnily enough, I stepped out of my house in pajamas when I was in Korea, and here I dress up."
Her interest in fashion began early. "I remember when I was in preschool, my mom used to dress me for school, and I'd be like, 'No! This is not what I want to wear,'" she said. She would change about five times before going to school. "My mom hid my clothes once because I kept trying to change."
The outfit changes didn't cease with the beginning of the school day. "When I got home, I would be like, 'I want to change into a dress!'" she said.
But although Lee has long cared about the way she dresses, she occasionally deviates from her typical polished style and throws on sweatpants and a t-shirt. "Sometimes, I'll just be like, 'I don't have the time for this,'" she said.