Survey examines approval ratings of campus groups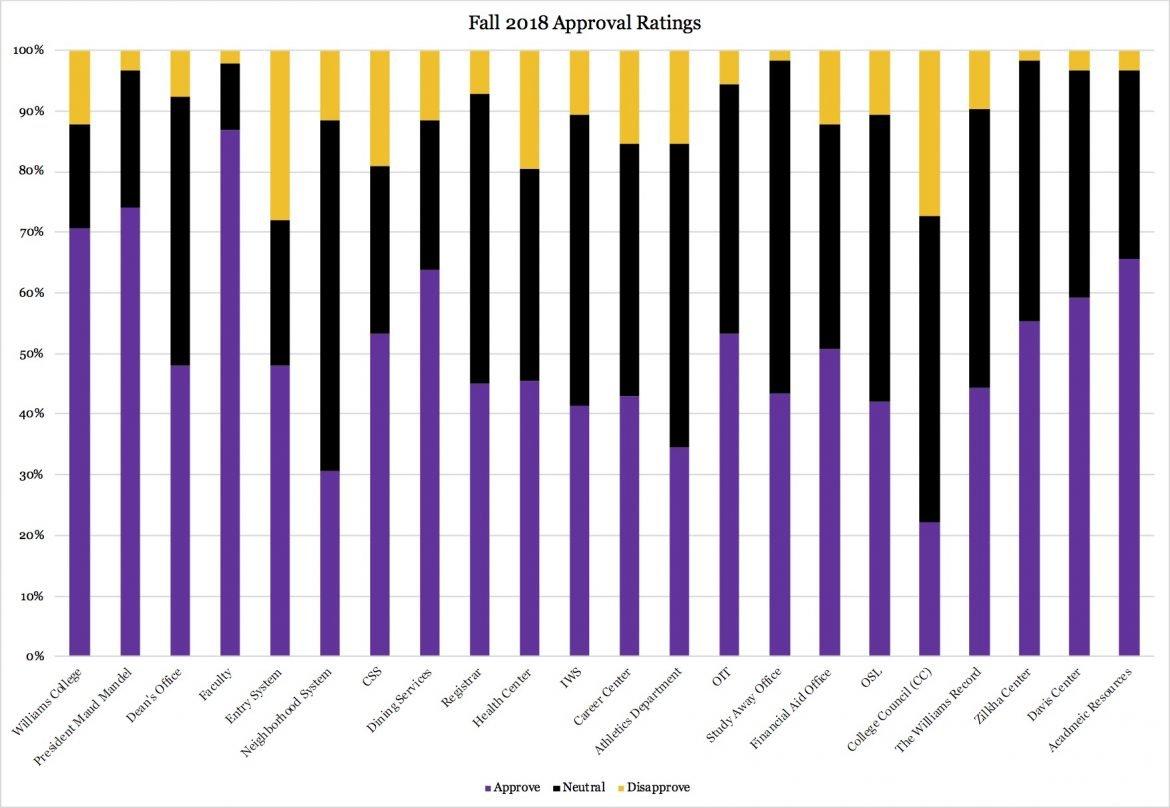 This week, the Record sent out its biannual approval ratings survey, which measures student views on a variety of campus institutions. Students could answer "approve," "disapprove" or "neutral" for each question. The survey was distributed randomly to 500 students, and had a response rate of 47 percent, resulting in 235 participants in the survey. The 95 percent convidence interval for each approval rating ranged from four to seven percent.
Like last semester, the faculty received the highest approval rating with 89 percent. College Council (CC) had the lowest approval rating with 22 percent, a drop from a 34 percent approval last semester.
The entry system had the highest disapproval rating with 28 percent, rising from 19 percent last semester. This corresponded with an approval rating drop from 62 to 48 percent. CC closely followed, with a disapproval rating of 27, rising slightly from 22 percent last semester.
The Office of International Education and Study Away and the Zilkha Center both had the lowest disapproval ratings with two percent each.
President Maud Mandel, whose approval was measured for the first time, received an approval rating of 74 percent and a disapproval rating of 3 percent. Mandel received a higher approval rating than both Interim President Protik Majumder and former President Adam Falk during his last semester as president. Majumder received an approval rating of 66 percent last semester, and Falk received an approval rating of 28 percent in the fall of 2017.
Other groups with significant changes in approval included the Dean's Office, Campus Safety and Security (CSS) and Integrative Wellbeing Services (IWS). The Dean's Office approval rating increased from 36 to 48 percent, and its disapproval rating decreased from 18 to eight percent. CSS increased in approval from 41 to 53 percent, but its disapproval rating remained similar, only changing from 21 to 19 percent, a statistically insignificant difference.
IWS, which received the lowest approval rating last semester, increased its approval from 30 to 41 percent. Disapproval, however, did not change significantly.