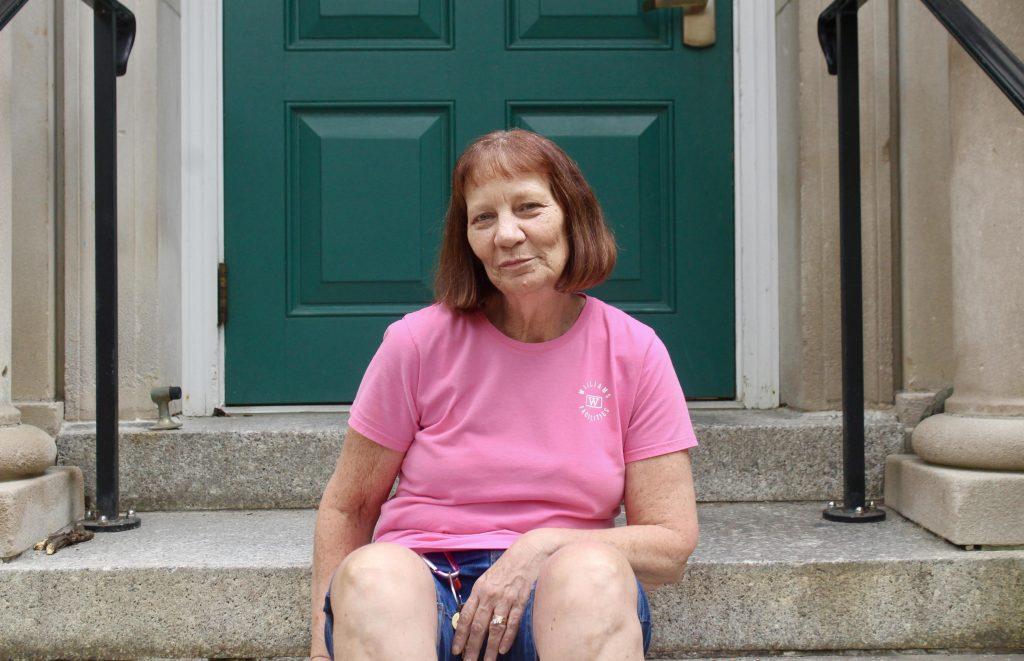 This November marks Valerie Turner's 28th and final year of working as a custodian at the College. Turner, or Val as her friends and students call her, plans on retiring with her husband this spring.
Turner's path to the College was not straightforward. She attended McCann Technical School in North Adams with the hopes of going into finance.
"I was supposed to be an accounting/payroll person," she said. "I worked in three different places that all closed before coming to Williams. I worked a little bit on Cole Avenue, where there was a mill called Photech, but the same thing happened there as well. All the mills around here closed."
Turner, who has lived in North Adams her entire life, then decided to take a similar route as her parents, who both worked at the College at the time.
"My mom started working here way back, like 35 years [ago]. There were some openings, so she wrote a letter to the person in charge of hiring. They ended up bringing me on part-time, and that's how it all began," Turner said.
She has been at the College ever since, and she has forged many great friendships with other facility members over the years.
"I have made a lot of good friends. My teammates …  are all really nice, and we have a good time," she said. "We call ourselves porcelain goddesses – everybody knows that!"
Turner has worked in many different places on campus, including the old Sawyer Library before its renovation, Tyler Annex, Mission Park and Hopkins Hall. Currently, she works in Williams Hall. She described her daily routine, which begins at 5:30 a.m. and ends at 2:00 p.m., as being different every day. Certain tasks, however, are repeated every year, and there is one in particular she is less than excited about.
"The winter is different because of – and it's actually what I hate most about my job –  snow shoveling," she said. "We have to do that whenever it snows, so they can call you in on the weekends. I only live seven miles away, but I'm scared to death of driving in the snow."
Overall, she described her experience at the College as being incredibly rewarding. Outside of friendships with her fellow custodians, Turner has made an effort to get close to students as well, especially those in Williams Hall.
"When they first come in they feel awkward, [and] I feel awkward because everyone is new, [and] they're not sure if they should talk to me. For the most part students are great, though," she said. "I have had a few students I've gotten very close too, and actually one was a guy that I had to hug because he was so homesick."
In terms of advice for first-year students, Turner offered some words of wisdom.
"Just give it time; I know you are homesick," she said. "It's one thing if you have a single, but if you have a double, take the time to get to know your roommate. Don't spend all your time studying – I probably shouldn't say that – go have fun, but don't get into too much trouble!"
For anyone who knows Turner, her humor and contagious laughter will be sorely missed on campus when she retires. When asked about what she is most looking forward to, she mentioned that she and her husband are, in her words, "NASCAR nuts." Though they only have been able to go to the races a couple of times a year because of her job, she cannot wait to do more traveling. She and her husband own an RV, and they are planning on driving to races all around the country.
"I'm looking forward to traveling in the RV because we don't really get to use it because of work," she said. "My husband has relatives in Kentucky, and I haven't been many places in my life. Also, we used to go to New Hampshire and the Cape when we were kids, [so] hopefully we can go again."
Turner is looking forward to spending more time with her two daughters in their  late 30s and early 40s, her four grandchildren and a new baby in the family. She says she will miss all her friends and students at the College but is eager to see what the future brings.
"I'm looking forward to relaxing and waking up on the weekend, looking outside and saying, 'Wow, isn't this snow beautiful.' That's what I can't wait for."