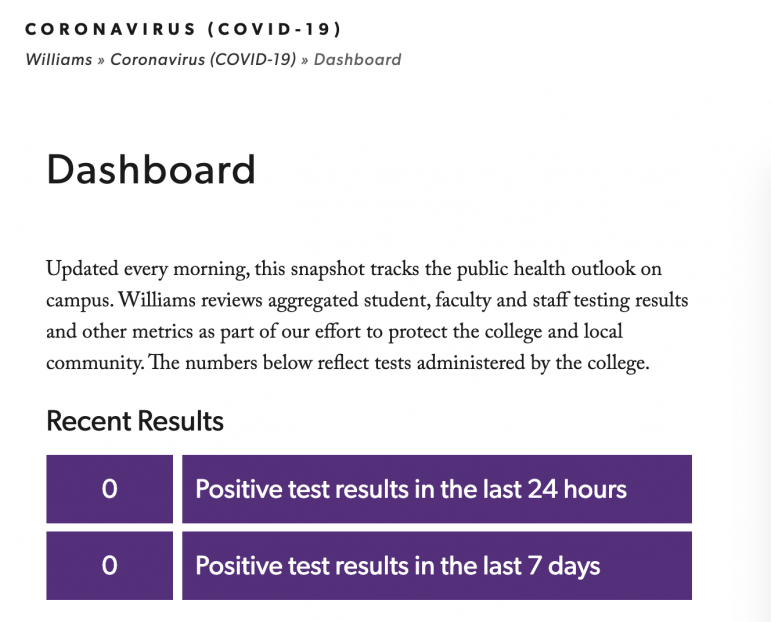 Updated every morning, the Williams College Coronavirus Dashboard reports the numbers of positive test results within the past day, the past week and since Aug. 17, as well as the number of completed tests. But despite the up-to-date information it provides, the College's dashboard displays fewer statistics than many peer institutions. The College's dashboard does not show that five students have been transitioned to remote status since the beginning of the semester and two students have faced a formal disciplinary process due to violations of the College's COVID guidelines.
Several NESCAC schools' COVID dashboards also provide information on the number of students in isolation, such as Amherst, and the number of students who have tested positive for COVID and recovered, such as Bowdoin and Colby.
The College does not publish such statistics because "readers won't have the information they would need to interpret the data," according to Dean of the College Marlene Sandstrom. "Increased quarantine rates aren't a proxy for virus spread: They often mean the opposite, that we're succeeding in slowing the rate of infection."
"[Recovery] is not a meaningful category of data: Anyone who hasn't recovered is by definition either in isolation or not allowed on campus," Sandstrom noted. "Again, if you know the number and rate of positive test results, and you know the public health protocols, you know most of what you'd need in order to protect yourself."
Whereas the College's COVID dashboard only tracks the amount of COVID tests performed and the results of these tests, the COVID-19 Reporting Dashboard for Middlebury College also provides information about "cumulative conduct policy violations." The Middlebury dashboard is updated every Monday by 12:00 p.m. and provides weekly statistics on the "number of substantiated COVID-19 policy violations, number of students disciplined, and number of students removed from campus." Middlebury is the only school in the NESCAC to provide information on instances of COVID policy violations and COVID-related disciplinary actions on their dashboard.
Sandstrom said that Williams does not provide this data on its COVID dashboard because "we are trying to balance the desire for transparency with our commitment to protect individual students' privacy."
"On a small campus, providing real-time reports about response to COVID violations would likely identify particular students in a public way," Sandstrom said, although the undergraduate populations at Middlebury and Williams are usually around 2,500 and 2,000 respectively.
Although several large gatherings have occurred on campus since the beginning of the semester, — violating the College's COVID policies — the College has not publicly released information on the number of students who have faced disciplinary measures or been transitioned to remote learning as a consequence of these violations.
Since the beginning of the semester, "Five students have been transitioned to remote status [and] two students have been involved in a disciplinary process involving violations of COVID guidelines" as of Oct. 27, according to Sandstrom.
Situations in which a student violated the College's COVID policy are reviewed by Senior Associate Dean of Students Rachel Bukanc and Senior Associate Dean of Campus Life Doug Schiazza. "They reach out to students to request any additional information that might provide context, and then they jointly make a decision about whether the student should transition to remote status," Sandstrom said.
The College provides information on public health guidelines and the processes for discipline and transitioning to remote learning in the Fall 2020 Student Guide, which states that transitioning to remote learning as a consequence of violating public health guidelines will be considered a non-disciplinary response and will not be noted on students' disciplinary records.
Sandstrom noted that a disciplinary process could occur if a student commits an especially egregious offense. "That process is handled by the Dean's Office, and appeals go to the Honor & Discipline Committee," Sandstrom said.
According to the Fall 2020 Student Guide, any violation of COVID policies involving more than three additional people or any subsequent violation to an initial violation will be treated as an egregious violation. "There are some situations where one egregious act can lead to immediate removal from campus (i.e., transition to remote learning mode) and a referral to the formal student discipline system, which can result in probation, suspension or expulsion," the guide says.
Although Campus Safety and Security (CSS) has confirmed egregious violations of the College's COVID guidelines, the College has not transitioned many students to remote learning or enacted discipline due to violations of COVID guidelines as a result. CSS officers recently reported an egregious violation of COVID guidelines on Oct. 11, as they found an on-campus gathering of more than 10 students, only a few of whom were wearing masks, but only five students have been transitioned to remote learning and two have faced formal discipline as of Oct. 27.