One in Two Thousand: Neena Patel '19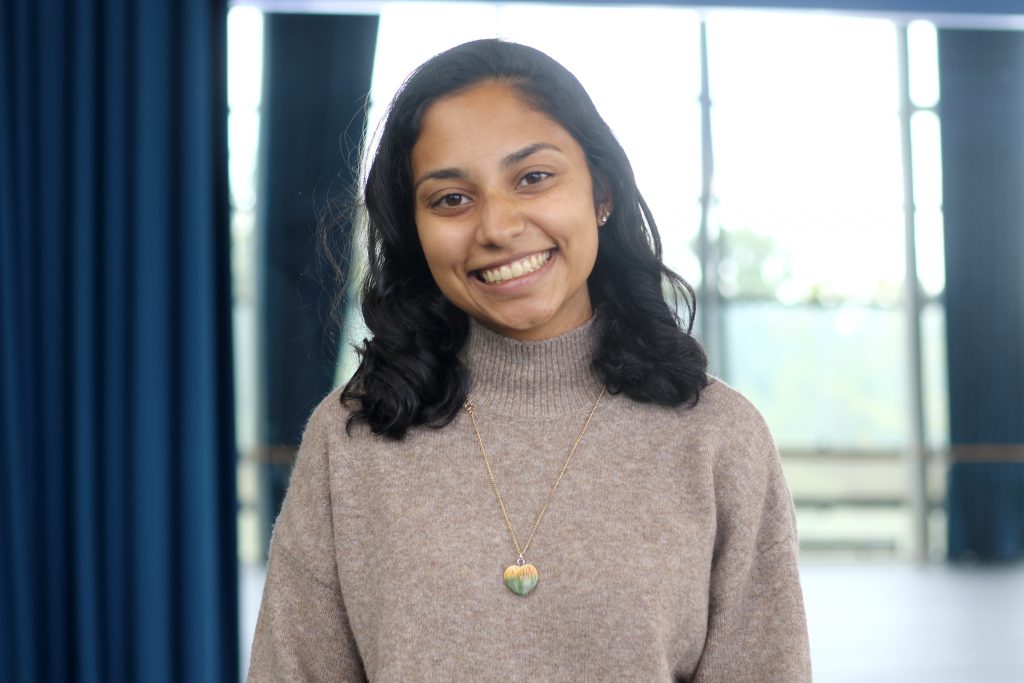 I met Neena during my first year when we realized that her mom and my uncle were good friends when they attended the College. Since then, we have bonded over masala chai, my inability to hike, her inability to eat raspberries and the word "covfefe." This Saturday, over a mediocre sandwich lunch, we talked about her summer in Germany, love of dance, favorite snack and much more!
So Neena, what were you up to this summer?
Well, I received a RISE (Research Internships in Science and Engineering) fellowship, which is given to interns around the world who are then matched with Ph.D. students in Germany to work in a research lab. They said it would be an English-speaking lab, but they did not mention that all the chemicals, instruments and software were written in German. I learned a really weird assortment of German words. I was in Dresden, but I got to travel around smaller and larger cities. Seeing the cultural differences in lab work was a super interesting experience. I had never been to Germany before, and it was cool to live and work abroad, since I was on campus as a JA [Junior Advisor] all of last year.
That's great! What exactly were you working on?
I was working in a radiopharmaceutical cancer institute, and we were looking at a better way to image tumors in cancer diagnosis, and so I got to work with radioactive copper. It was fun because they have to scan everyone who walks through those labs to check the baseline of radioactivity each person has coming in and how much they gain coming out. I had to sit in a giant metal box for 15 minutes, and they told me I could take a nap, so I did that twice and got naptime at work!
I love naptime! Okay, speaking of places, how was the transition from home to Williams? Is there anything you miss?
I grew up in Sarasota, Fla., so something big for me coming to Williams was that I had never lived in a place that was landlocked before. I didn't think about that or how weird that would feel to me because I grew up two miles from the ocean, and while I didn't always take advantage of that, it was where I could go and clear my head; the water and sound of the ocean always calms me down. So one of my favorite places on campus is the treehouse by the Hoosic River because I can listen to the sound of the river. I also like going on hikes because, even though you're landlocked, once you're on top of a mountain, at least you can see a little further. Another thing is that at Williams I have to wear close-toed shoes, while in Florida I would walk around barefoot or wear flip-flops. Sometimes when I'm in the library I take my shoes off, but my friends are like, "That's so weird, what is she doing?" I also miss thunderstorms from home. So when it thunderstorms here, I get really excited; I love listening to thunder and watching the lightning.
I see that you're a lover of the sea. What's your take on fish? Specifically, on goldfish?
Yes, just one kind though. I'm super snobby about Goldfish. Every since I was little, probably around the age of two, I was a huge Goldfish fan, but only the cheddar kind. But then they came out with the wholegrain version, and now that's exclusively what I eat [laughs]. Obviously not exclusively what I eat in my life. Everyday for most of middle school and high school, as a snack, I would bring Goldfish to school, and I've brought Goldfish to Williams – in the sense that I always have one of those giant tubs of Goldfish on me. I'm shocked that I haven't grown out of it, but it's my comfort food!
I also heard that you received an interesting 21st birthday present.
My friends, who are awesome, surprised me by putting 21 bags of Goldfish in my room, and on each bag of Goldfish was one or two photographs of me with them, or just embarrassing photographs of me. My birthday was Feb. 28, and when I left campus on May 24, I had only five bags of Goldfish left, which I had to reluctantly give up because of limited suitcase room.
So apart from Goldfish, I know you're pretty invested in dance.
I've been doing classical South Indian dancing, or Bharatnatyam, since I was 7-years-old. It's an old South Asian dance form, and all the dances tell stories of ancient Hindu epics; it's both religious in nature and technical (and super expressive because you're telling stories). I saw my friend's arangetram, which symbolizes the end of basic training, and after it was over, I told my mom, "I want to do that." So I started, and the framework can be paralleled with ballet, where you learn the footwork and then the arm movements, which you learn to put together and then into dances. Nine years later in 2014, I did my arangetram, and it was an hour and half of pure dance in a three-hour performance. It was exhausting but one of the most rewarding experiences of my life. It was also the first time I had danced alone on a stage, so it was very stress-inducing, and I was practicing four to five times a day leading up to it. Then I came to Williams where, because of the lack of a Bharatnatyam teacher, I had to stop dancing. However, I met a friend, and we realized that we did the same type of dance. Since last year was her senior year, we were like, "Wow, it would be really fun if we could do a performance together!" So we somehow pulled it off. I taught her a dance, she taught me a dance and we each performed a solo. It was nice to be back on stage, but a little scary since it had been four years since I had last done that!
I saw that performance, and it was amazing. You were so graceful! But I also know about (and have seen) your clumsiness. Any comments?
I'm really clumsy. All my friends know it, and I know it. It's been three weeks into this semester, and I've already tripped twice going up the stairs in Paresky. Throughout middle and high school, I became pretty well known in the nurse's office. There were these massive blue awnings held up by giant poles. In second grade, I, being a little bit of a nerd, would walk around while reading a book, and I would ram into the poles. So, I took a break from doing that, but then in senior year (bringing it back around full circle), I was not paying attention walking backwards, and as I turned around, I slammed head-first into the pole. That pretty much sums up my clumsiness.
Oh my! To wrap it up, what's on your bucket list for your last year at the College?
Despite the fact that I love to hike, I have yet to go on a sunrise hike, mostly because I'm bad at waking up early in the morning. I used to be a morning person, and then I came to Williams and that all changed. So I hope I can go one of these Fridays!