A. G. Cook's latest album 'Apple' unearths a singular digital sound, with its reverberations extending far past genre conventions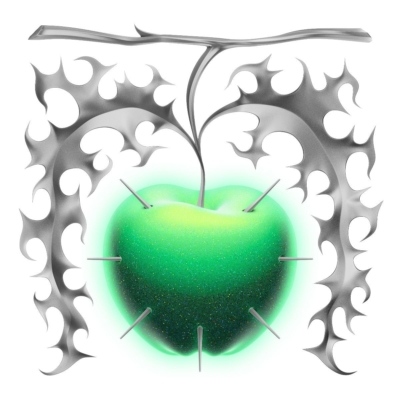 Perhaps best known for his collaborations with Charli XCX and for founding the electronic pop music label PC Music, A. G. Cook's musical oeuvre is hard to pin down. Apple, his followup to the gargantuan experimental survey that is 7G, is a testament to the L.A.-based producer and singer-songwriter's simultaneously fringe and essential position in electronic and pop spheres.
The 10 song, 39-minute album features vocals from frequent collaborator and former Chairlift member, Caroline Polachek, PC-label mate Hannah Diamond and Alaska Reid, Cook's girlfriend for the past two years. Like 7G, which was released just one month ago, Apple is full of many moments of fresh experimentation as it is emblematic of the singular sound of PC Music and its prodigies. This sound, marked by an exaggerated pop achieved through pitch-heightened vocals and textured sounds, has had a profound impact on the landscape of pop music today, ushering in the rising popularities of groups like 100 Gecs and Kero Kero Bonito, artists such as Dorian Electra and Rina Sawayama and the infiltration of what is often dubbed "Bubblegum" or "HyperPop" into the relative mainstream.
At its heart, Apple is full of conflicts. There are inherent contradictions between its parts, both between and within the tracks. And yet, these tensions find a harmony rarely achieved in definite genre albums. "Xxoplex" and "Beautiful Superstar" bear witness to Cook's ever-mutating, generative musical output. "Xxoplex" is an industrial, European dance floor-influenced two and a half minute track with a centrifugal effect on the whole album, achieved through its forceful Euro club sound and Gothic chants. "Beautiful Superstar," in contrast, is drenched in loving lyricism and supported by simple guitar chord progressions. At moments, the genuinity of "Beautiful Superstar," and other more obviously alternative rock-inspired tracks on the album, can feel contingent. And yet, even if these surprising genre-shifting moments were born purely for the sake of ironic contrast, that would not change their sound and nearly undeniable beauty.
There are, of course, songs on Apple which fall outside the purview of these two contrasting tracks. That said, this album begs sparse semantic analysis. Its most arresting and ethereal moments are best explored subjectively on third, fourth or even fifth listens, with their intricacies and tightness in production coming as no surprise but continuing to shock.
Moreover, while creating harmony through difference is certainly the impact of Apple, its whole may perhaps be meditative on the future of pop music, or music generally, when placed in conversation with Cook's whole discography as a solo artist and producer. Cook is clearly no stranger to innovation in pop music, and Charli XCX alone symbolizes that. Serving as Charli's creative director and primary producer for her last four projects, including one of this year's most outstanding quarantine-produced albums, How I'm Feeling Right Now, Cook has been integral in mutating the landscape of mainstream industry into a cyber-oriented, computer-dominated and consumer-loving (irony is for you to decide) behemoth that lacks the same genre restrictions it used to strictly adhere to. The walls between ambient, experimental, electronic, pop, hip-hop and, to an extent, indie rock have been lowered since the early 2010s and we do not just have Cook to thank for that. Frequent collaborator SOPHIE, who has produced for Charli XCX, Vince Staples and LE1F, Arca, the avant-garde artist and producer for Yeezus, FKA Twigs and Kelela, and even the EDM powerhouse Skrillex, are just some of the many other producers responsible for such shifts in sound.
And while an interpretation of Apple may yield itself to thinking about the future of music, there are certainly moments when Cook pays homage to his predecessors. And this is exactly what "Animals" does. A cover of the innovative ambient and experimental artist Oneohtrix Point Never's (Daniel Lopatin) 2015 same-named song on Garden of Delete, "Animals" seems like an interior dialogue on the future of music itself, a temporal collapsing of the past, its ripples into the present and presumed effects on the future. And just what that future is remains unclear. Cook and, more specifically, PC Music now hold a stronghold in the London electronic music scene. The label's ethos and practices have lent themselves to a somewhat radical re-envisioning of music production, so it is not surprising that they have become a staple in gay circles. Their continual uplifting of queer and trans artists and cultivation of queer-dominated spaces may just be where the future of music lies, and Apple certainly points to that, with many tracks which are hard to describe as being anything but gay.