It's taking everything in my willpower to restrain from commenting on Sunday's Academy Awards. After seeing Capernaum, a film by Lebanese actor, writer and director Nadine Labaki, I can discuss the Best Foreign Language Film category. The past year was dominated by foreign films like Roma, The Favourite, Cold War and Shoplifters, but Capernaum stood apart.
For this week's Box Office Hours, I invited Professor of Political Science Cheryl Shanks to view and discuss Capernaum with me. Shanks conducts research that "focuses on fluidity in population and territory, the two central components of sovereignty," topics that fed our conversation.
Capernaum chronicles the emotional journey of 12-year-old Zain, a Lebanese migrant. After his 11-year-old sister is forcefully married, he flees his family and finds refuge in Beirut with Rahil, an Ethiopian refugee and migrant worker, and her infant son, Yonas. After Rahil is detained for working without a permit, Zain is left to take care of Yonas. Zain plans an escape to Sweden by boat; on a trip home to locate his citizenship papers, however, Zain learns his sister has died. He immediately goes to her husband's home and stabs him. Zain is subsequently arrested and attempts to sue his parents for "being born."
My initial reaction was shock. The film had been a raw, visceral experience, and would create a lasting imprint in my memory.
"I've seen a lot of movies about refugees, and this movie was much better than they are," Shanks said.
Unlike Shanks, I had seen only a few movies about refugees, and the only one I can remember enjoying was Alfonso Cuarón's Children of Men. Capernaum, however, offered a more authentic narrative than Cuarón's dystopian thriller. Unlike Cuarón, Labaki didn't need to create a fictional, futuristic society to tell her story; she simply looked at her homeland. Labaki cast mainly nonprofessional actors, including 12-year-old Syrian refugee Zain al Rafeea, who plays the protagonist of the same name. By choosing to cast an actual refugee, Labaki centralizes the refugee crisis in not only the story but the cast as well. Like Roma, the film has faced criticism for being "poverty porn," a term that critiques widely circulated, sensationalized depictions of individuals from developing countries. Labaki responded to these criticisms in a New York Times interview, stating that "what [viewers] see in the film is nothing compared to reality. We should wake up to how many children are suffering in the world. It's unbearable suffering; I didn't put rape scenes in the film, I didn't put real abuse in the film – because I couldn't."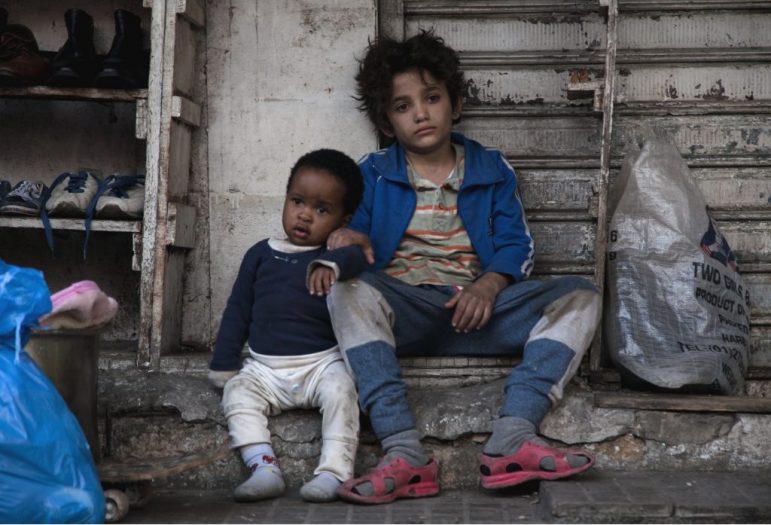 Zain's journey shows the violence, hunger, oppression and poverty faced by migrants and refugees from multiple lenses, whether through following the experience of a young Ethiopian mother or chronicling the obstacles faced by a Syrian refugee about to flee Lebanon for Sweden. Capernaum interweaves their stories, creating a tapestry of human experience. Labaki combines humanist storytelling while revealing the institutional structures that contribute to the characters' plights, particularly Zain's.
"Stories like Roma, and like this story, help us see the relationship between the choices individuals have and the big structures that channel and restrict them," Shanks said. "What [Zain] chose made sense, given what his background was and his character. That's the way I see politics getting woven into movies like this. And ones about refugees that are autobiographical can do that if they're good."
Shanks went on to describe how she sees privilege manifest through international law, an issue she saw expressed in the film. She noticed how there are layers of different groups existing in the same location and time in the film, but the difference between them was defined by their ability to leave or lack thereof. Her observation is reflected in scenes showing 12-year-old Zain in a prison cell, imprisoned migrant workers and Maysoun, a Syrian refugee, preparing for her journey to Europe. Labaki highlights the institutional and structural roots of Zain's parents' negligence, Rahil's inability to work in Lebanon and Zain's decision to stab his late sister's husband in an non-obvious but equally effective way.
Capernaum demonstrates the structural flaws in the Lebanese government, United Nations and international law regarding the refugee crisis, but it does not stop there; it also explores how institutional abuses manifest through public and private life – at all stages of the pyramid.
This conversation with Shanks is the second in a new Record film discussion series with faculty, staff or community members who specialize in particular aspects of films at Images. For those interested in taking part in this new series, please contact [email protected]