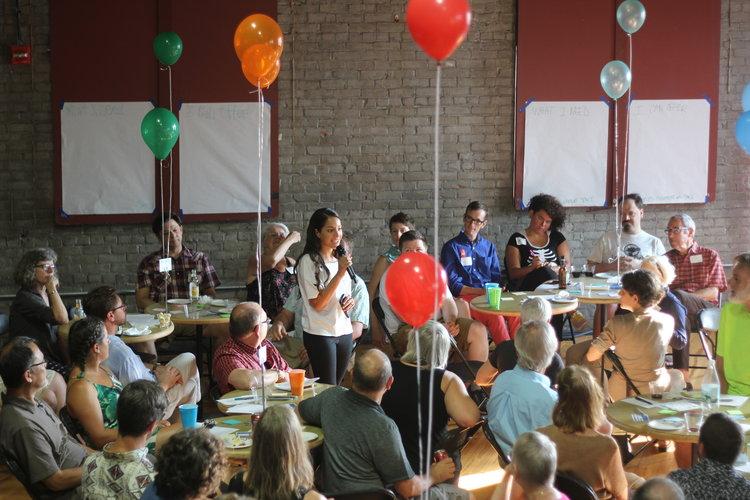 Ashley Strazzinski has a lot going on. She's just gotten off the phone with the team for the O+ Festival, a music, arts and healthcare (yes, you read that right) festival. Her project space hosted a poetry night last Wednesday. She's a creator, a place-maker and an illustrator, and she's been hunkered down in Tunnel City Coffee behind her stickered MacBook since 9:30 a.m.
Strazzinski runs Ashland Street Project Space, a "community flex-space" in North Adams which operates as Strazzinski's semi-private studio during the daytime and hosts workshops with titles like "DIY Sketchbook / Journal Workshop" and "Online Sex Work 101" after-hours. Ashland Street is one of five organizations co-hosting the North Berkshires Artists Meetup, a new, quarterly, informal networking event for creatives in the Northern Berkshire area.
"In Fall 2017, Blair Benjamin from MASS MoCA approached a handful of people from the arts community to organize a gathering of artists and collect information on their needs. From that, we started this thing called the Artist Town Hall," Strazzinski said. "The town hall was meant to bring together all the different pockets of creative people."
The Artist Town Hall did just that: In August 2018, 115 creatives from the Berkshire area gathered at MASS MoCA to exchange information, share resources and promote their services.
"We did this exercise where we asked people to say what they need and what they can offer," Strazzinski explained. "Maybe I'm a photographer and can offer my photography services, while someone else is good with technology and could help me with my website."
After the Artist Town Hall, the North Berkshire Artist Group began a monthly e-resource that compiles information about artistic happenings in the Berkshires and beyond. The e-resource includes links to residency applications, cultural events and a "Classifieds" section for local artists to advertise their needs or services.
The North Berkshire Artists Meetup will continue the work that the Artist Town Hall and e-resource began by providing creatives with a space for conversation and connection. Strazzinski stressed that these meetups are not just for visual artists.
"My roommate is a chef and a baker, and I'd encourage him to come," she said. "Cool intersections happen when you get different disciplines in conversation – like, say, a baker talking to a dancer." Strazzinski also stressed that artists need not be daunted by lack of experience – the meetup is for hobbyists and professionals alike.
These quarterly meetups are hosted by the aforementioned North Berkshire Artists Group – an unofficial "super-council" of local arts groups. The organizations that comprise the North Berkshire Artists Group include hyperlocal community organizations like Ashland Street Project Space and Common Folk, a community organization based in North Adams, as well as residential communities such as the North Adams artist lofts Eclipse Mill and Beaver Mill.
One especially interesting sponsor is Assets for Artists, a project of MASS MoCA that provides financial support for creators of all artistic disciplines. One of Assets for Artists' unique offerings is the North Adams Project, which provides a grant to artists interested in relocating to North Adams. The influx of millennial artists into North Adams has raised some community concerns about the relationship of these artists to older residents, many of whom lost employment after the shutdown of Sprague Electric in 1985 (whose former plant now houses MASS MoCA). Amid rising rent costs, some community members are wary of the intentions of developers who often speak of "reviving" or "reclaiming" the architecture of North Adams, the relative squalor of which fits a neo-industrial hipster aesthetic. The hotel "Tourists," where the North Berkshire Artists Meetup will be held this evening, is a perfect example of this phenomenon. Claiming inspiration from the "classic American roadside motor lodge," the rustic-chic resort – which faces the Stop & Shop on Route 2 – is simply an upscale revamp of its predecessor, the Redwood Motel.
The tension between longtime residents and recent transplants is definitely on the minds of the North Berkshire Artists group. The Ashland Street Project Space even hosted a two-part "Conversation About Gentrification" this past fall to address issues arising within the North Adams and greater Berkshire community. Strazzinski believes, however, that the division between generational residents and newly arrived artists is perhaps misunderstood.
"I opened Ashland Street Project Space to connect longtime generational residents with newer people moving to the area. Not all artists are trying to move in and sell photographs for thousands of dollars," said Strazzinski. "The first mistake is assuming that you're the 'Artist in Town.' There have been artists in this community since before MASS MoCA existed." As evidence, the Artist Town Hall drew in both new and longtime residents of the Berkshire area, and Strazzinski expects that the meetups will create a similarly diverse crowd.
Through the Ashland Project Space and her own work, Strazzinski uses art as a way to promote engagement with the North Adams community. Strazzinski recently received a council cultural grant to produce a zine about the inner workings of the North Adams City Council. "I go to the meetings, and after the meetings, I take the Berkshire Eagle, cut it letter sized and summarize the meetings on it with a Sharpie. The plan is to release [the zines] into businesses where people are waiting, like barber shops or mechanics," Strazzinski said. "The purpose of the zine is to engage people in city government in a more interesting way than reading in the Berkshire Eagle and getting angry about how the Bradley Church Street crosswalk still hasn't been painted."
Strazzinski's main desire for the meetups is to foster an environment that will allow people to connect with each other without the pressure traditionally associated with networking.
"We're trying to create comfortable spaces and inclusive spaces where you don't feel like you're going to an elitist event," she said. "It's about letting people know that wherever you are in the creative process, whether a working artist or a hobbyist, you're still part of a creative community."
The first North Berkshire Artist Meetup is tonight, Feb. 20, at 6:30 p.m. in the Airport Rooms at Tourists Resort. If you are an artist or creative in the North Berkshire area seeking or offering services, email [email protected] with subject line "Classifieds" to have your ad potentially included in the next e-resource.