Noname's Room 25 finds intersection between poetry and rap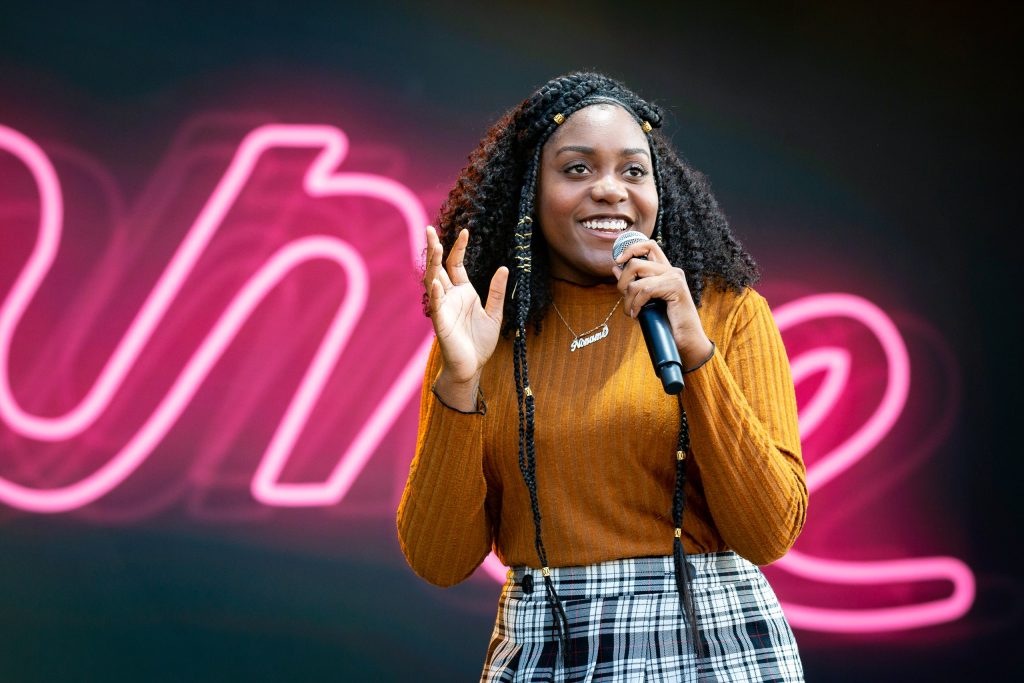 Over two years after her debut album, Noname finally released Room 25 on Sept. 14. Born as Fatimah  Nyeema Warner, Noname is now 27 and has come a long way since her 2016 album Telefone. In Room 25, the Chicago-based artist explores the transformative experiences that brought her to where she is today. The album is an ingenious blending of hip-hop, neo soul, R&B and jazz instrumentals.
Room 25 begins with "Self," a song about self-reflection and questioning one's existence and decisions. It's an ode to all the times she's doubted herself and her attempt to rise above criticism. This is evident when Noname says, "Y'all really thought a bitch couldn't rap, huh?" The opening song begins an 11-song tapestry of the emotions and growth Noname has experienced. "Self" also gives listeners perhaps the best verse in rap of the year: "My pussy teachin' ninth-grade English/ My pussy wrote a thesis on colonialism."
Following suit, Noname explores what has been troubling her in recent months in "Blaxploitation" – for example, admitting to her own hypocrisy for eating Chick-Fil-A when she is supportive of the LGBTQ community. But perhaps what is plaguing Noname most is the current political climate; she attributes her lack of sleep to this: "I'm struggling to simmer down, maybe I'm an insomnia-black/ Bad sleep triggered by bad government." After "Blaxploitation," Noname delves further into political dialogue in "Prayer Song" (feat. Adam Ness) with a reference to the 2016 killing of Philando Castile: "I seen a cellphone on the dash, could've sworn it's a gun/ I ain't see a toddler in the back after firing seven shots." In these two songs, Noname explores both police brutality and the problems brewing in Washington.
In "Window" (feat. Phoelix) and "Don't Forget About Me," Noname pays homage to two artists who've influenced her: Lauryn Hill and D'Angelo. In "Window," Noname references "Everything is Everything" by Hill when she raps, "Everything is everything, just know that I love you." In fact, she alludes to the Hill classic three times in Telefone and in multiple features. Noname connects her opinions on self-doubt with Hill and invokes the legendary rapper. In the song "Don't Forget About Me," Noname talks about her drinking problem and finds consolation in D'Angelo's music: "Tell 'em Noname almost passed out drinking/ Secret is, she really think it saves lives/ Somebody hit D'Angelo, I think I need him on this one." Her connection with D'Angelo is present in both the neo-soul nature of the song and their common struggle with alcohol. The song ends with Noname voicing her fear of disappearing; she understands the inevitability of death but wants to live on in spirit: "But if I have to go, I pray my soul is still eternal/ And my momma don't forget about me/ I pray my momma don't forget about me/ I pray my daddy don't forget about me."
After "Don't Forget About Me," Room 25 transitions into a more optimistic state in "Regal," where she raps about finding hope and growth in her experiences. Throughout the course of the song, she repeats, "I swear I look so regal. I swear I look so regal." Continuing down that path of happiness, "Montego Bae" (feat. Ravyn Lenae) contains elements of love and what it means to find love. Common collaborator and fellow Chicago-based artist Ravyn Lenae beautifully sings,  "I wanna fall in love in Montego Bay/ I know my heart is wherever he may stay." Adding onto this idea of environment, Noname describes her ideal conditions for falling in love: "Smoking backwoods in the backwoods, living lavishly/ Ooh ooh that's my Montego Bae."
The eighth song on the album, "Ace" (feat. Smino and Saba), is the intersection of three rising Chicago artists: Noname, Smino and Saba. Smino brings a smooth R&B flow to the track and sings with clever analogies, such as, "I'm roll on track, I'm in this field/ I'm shot, you put me in my feels." Noname and Saba bring the track along with faster raps and assertions of the trio's recent successes, "Smino Grigi, Noname and Saba the best rappers," sings Noname. "Room 25, the best album that's coming out." Saba adds onto this confidence with an allusion to his growing popularity when he raps: "I can't recall the last time that my live show was intimate." After this upbeat rap and R&B fusion track, Room 25 turns to a jazz-heavy "Part of Me" (feat. Phoelix). The song finds its base in self-actualization and the role of family in shaping self.
Noname begins to close herself off from the world in "With You." She sings, "This is my happy every suicide." She then invites listeners to build on her story and the love she provided in the ending verses: "Little love from me, we can build this home alone, alone/ Forever with you, forever with you."
In a moment of utmost peace and contentment with her life, Noname ends Room 25 on the track "no name." She raps to the power of her 25th year and how it saw a complete turn in her life: "Only worldly possession I have is life, only room that I died in was 25." Despite this shift, she knows she must hold onto her past, for it shaped who she is now: "Through all the joy and all the pain/ Don't forget from where you came/ The avenue remembers you/ Your song, your truth, your light is proof/ That love is still with you." Room 25 ends with a piece of advice for Noname's listeners. She now knows how sacred life is and doesn't want people to take it for granted: "Your life, you life, is your life, baby/ Don't let it pass you by, don't let it pass you by."