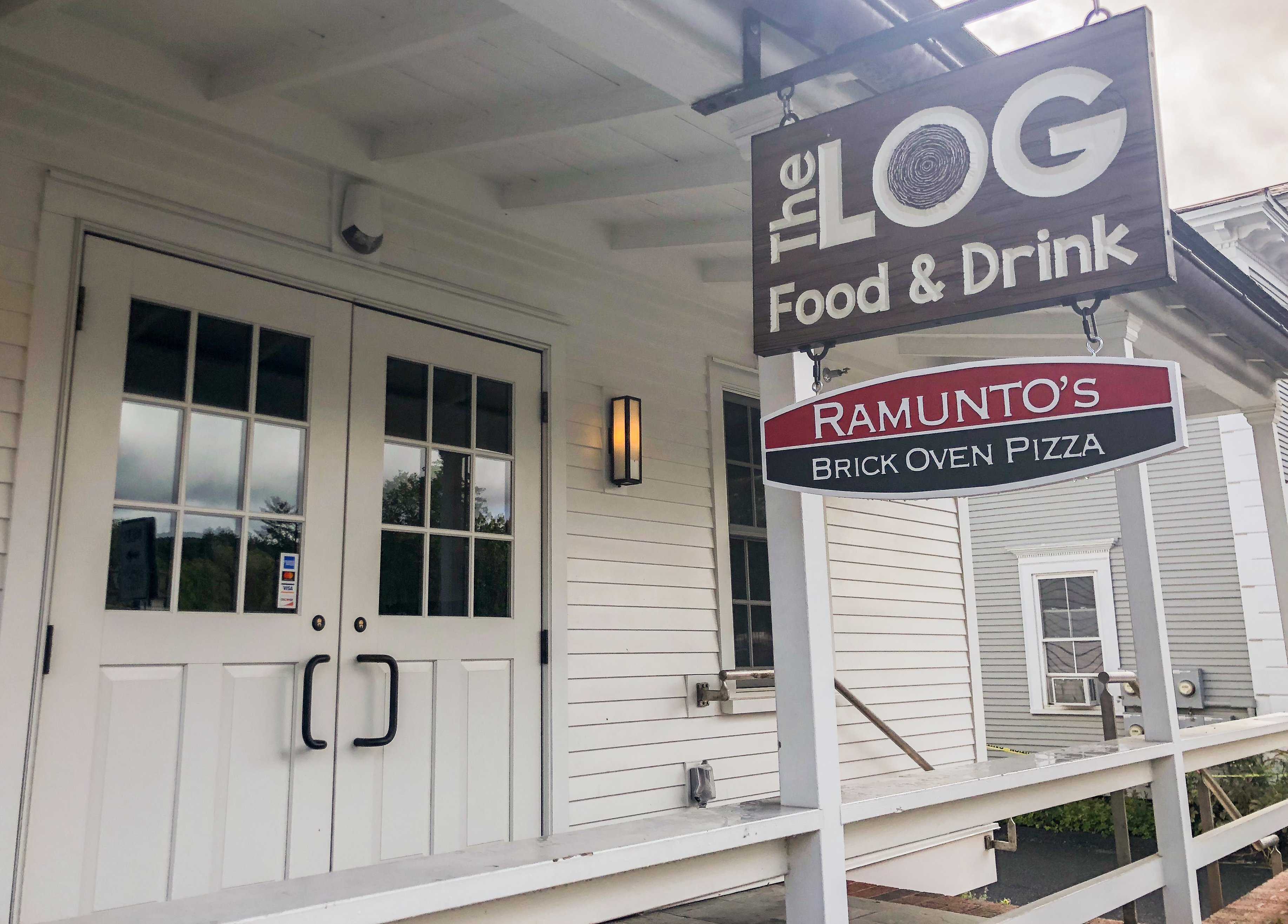 The Log, home to Thursday night trivia and a hangout place for students and community members alike, is now the host to Ramunto's Brick Oven Pizza. This pizzeria is the newest out of seven other branches scattered across New England, all of which have positive reviews. After a dinner at Ramunto's, it is easy to say that this branch will soon follow suit.
Garlic knots are a staple in pizzerias, and the knots here ($4.50 for six, $7.95 for twelve) did not disappoint. Served warm with a side of marinara sauce, the garlic aroma was hard to forget. The fried exterior crackled against my teeth, but only for a brief moment as it quickly gave way to a soft and doughy interior. Oftentimes, garlic knots suffer from being overly oily, but these were well-balanced, with enough garlic to be flavorful but not overpowering.
Ramunto's Jumbo Wings ($10.95 for ten) were not noticeably bigger than the average buffalo wing, but the misleading name should not take away from the intense flavor. We had it mild, but the wings also come in hot or kamikaze, along with a choice of either blue cheese or ranch dressing. The wings themselves were cooked to a lovely golden color, and the skin was nice and crisp, though a bit tougher than I expected. The buffalo sauce was tart with a little bit of kick – enough to feel it, but not enough so to start chugging water.
For those looking for something lighter, the cranberry, goat cheese and almond salad ($8.95 for half, $11.95 for full) was a refreshing, though slightly pricier, option. The cheese looked crumbly, but it was actually rather creamy and almost reminiscent of mild yogurt. It paired well with the tangy, sweet cranberries and tomatoes, though the almonds were lost in the other flavors. And unlike other salads that need to be drowned in dressing to enjoy, the toppings were enough to make this one a delight to eat.
For pizza, Ramunto's offers either 14- or 16-inch pies, as well as a daily rotating selection of individual slices. The cheese slice ($2.00) checked all the boxes of a good slice of pizza: a lightly toasted crust, rich flavor and stretchy cheese – though probably not as stringy as Whitmans' mozzarella sticks. While the tomato sauce was lacking – I often couldn't taste it – it is no wonder why the lunch special (two cheese slices and a fountain drink for $3.75) is so popular. For those who prefer the Sicilian slice ($2.40), the crust was thicker and doughier compared to the regular cheese, and the tomato sauce was slightly sweeter.
The specialty slices (about $3.00 each) were a good way to spice things up. The buffalo chicken with blue cheese slice had soft and tender chicken, and the sauce was a little hotter than mild. The pesto slice with black olives and roasted red peppers was an even greater departure from the cheese. While the pesto flavor was distinct, it faded from the tongue quickly, and the toppings provided a nice texture that left me wanting more. All the slices were satisfyingly crisp, though unlike the regular slice, the cheese almost disappeared under the other flavors.
On days when you don't feel like pizza, Ramunto's also offers a variety of other options. The spicy jalapeño burger ($10.95) – comprising of Monterey Jack cheese, lettuce, tomato and jalapeños – is for those who enjoy the heat. The spiciness was the first sensation that registered, but the beefiness of the burger itself took enough edge off of the burger to reveal the tartness of the peppers. The grilled chicken wrap ($8.75), consisting of chicken, bacon, tomato, lettuce and ranch dressing in a flour tortilla, was average. The chicken was a bit dry, but there was a good meat to vegetables ratio. It also came with a side of homemade chips, which were surprisingly good. A nice shade of golden orange, they were lightly salted and almost crunchy, which paired well with the texture of the wrap.
Overall, the service at Ramunto's was friendly and food came out in a timely fashion (aside from one dish, which was quickly remedied once we brought it up). Factoring in the student discount, Ramunto's Brick Oven Pizza is a good place to grab a meal when dining hall food starts to bore or if family come to visit!